Kyle Farnsworth: Tampa Bay Rays Closer Has Come a Long Way
July 18, 2011
Michael Heiman/Getty Images
It took 13 years, but Kyle Farnsworth is finally doing what he was always meant to. 
A high school standout, Farnsworth was drafted by the Chicago Cubs in the 47th round of the 1994 MLB amateur draft.  At 6'4", 180 lbs. with an electric fastball, Farnsworth projected to be a power-pitching starter. 
He threw hard and he threw downhill, but never excelled for more than half a season in the minors.  Farnsworth won 13 games and struck out 152 batters in 1998, but sported and ugly 5.09 ERA.
Still, the call to the big leagues came in 1999, the year after Farnsworth's hometown Braves swept the Cubs out their first playoff appearance in a decade.  The right-hander started 21 games for the major league club and was an unimpressive 5-9 with a 5.05 ERA, all while giving up a glaring 28 home runs.
But Farnsworth's arm kept him in business.  He touched triple digits on the radar gun routinely, in a day when power hitters and pitchers started to become a necessity.
The Cubs made the decision in 2000 to move Farnsworth to the bullpen, and from that point on in his career he was never far from the closer's role.
But Farnsworth was a thrower, not a pitcher.  He didn't know when to use his overpowering fastball, and when to mix in his not nearly tight enough slider.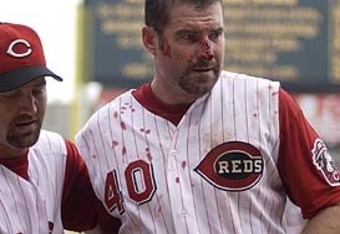 While he had flashes or brilliance, flashes of closer, Chicago remembers Farnsworth for throwing too many sliders and for his temper. 
Farnsworth famously bloodied Reds pitcher Paul Wilson when he attempted to charge the mound after Farnsworth threw inside on him in 2004.  The beat down rivaled Nolan Ryan's famed bout with Robin Ventura.  Wilson was drafted No. 1 overall by the Mets in 1994—1,289 picks before Farnsworth.  He pitched less than one more season after Farnsworth got a hold of him.
An electric fan famously met its demise in 2004 when Farnsworth kicked it, but managed to bruise his knee and land him on the disabled list in the process.  The incident, along with his poor showing in the 2003 playoffs, played a role in the Cubs decision to trade Farnsworth in February of 2005.
The Tigers received Farnsworth a few months after being swept out of the World Series.  He pitched surprisingly well and got a few save chances in Detroit, and was traded to his home of Atlanta just before the trade deadline.
Farnsworth saved ten games for the Braves, and seemed to finally be settling in as a back of the bullpen fixture.  But Farnsworth decided to sign with the Yankees in the offseason to set-up for Mariano Rivera, a decision he would soon regret.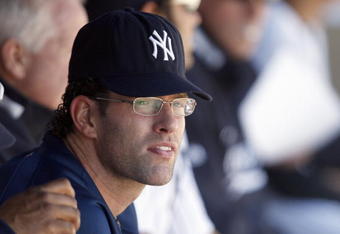 Nick Laham/Getty Images
Farnsworth was ineffective during two-and-a-half seasons in New York, and earned a trade back to Detroit in exchange for Ivan Rodriguez.  He continued to bounce around, signing with the Royals in 2008 and being traded to back to the Braves a year and a half later. 
He still tried to blow hitters away with his fastball, even though it didn't fly nearly as fast as it used to.  The notion of Farnsworth being a full-time closer was all but gone with the Atlanta wind.
For most relievers with a career ERA well over four, it would be difficult to find work.  Farnsworth caught a break by signing with the Rays in 2011.  Tampa Bay had recently blown up their bullpen, and brought in the 12-year veteran on a one-year contract.
Farnsworth was given all of the team's save chances from the start, the first time he had outright been given a closer's job in his career.  The Rays showed confidence in the 35-year-old journeyman, and they were rewarded.
The team started out 0-6, but got their first win on April 8 when Farnsworth slammed the door on the White Sox for his first save in five years.  After that Farnsworth never looked back, out to prove the world that he can be a closer at the major league level, he has saved 18 games in 20 chances.  The Rays are 50-37 since April 8.
Farnsworth's 1.89 ERA and 0.92 WHIP are by far the best of his career.  Seemingly overnight, he became a pitcher.  Changing speeds, hitting spots, and using his still low-to-mid-90s fastball effectively.
It took 13 years, but Kyle Farnsworth is doing it.  Kyle Farnsworth is the Tampa Bay Rays closer, and that's not changing any time soon. 
In a day where players' primes come by their late 20s, Farnsworth his finally hitting his stride at 35.  It's been an interesting road, but all that he's learned over the years has finally come together.
He's learned to pump his fist instead of punching with it.  He's learned to pitch instead of pout.  He's learned to close instead of lose.