FJM'd of the Week: "Phils' Portfolio Loaded with Tradeable Assets"
July 19, 2011
Mike Stobe/Getty Images
Since my last article using the Fire Joe Morgan style critique did so well as far as comments go, another in time for the upcoming trade deadline seems appropriate.
Like Ryan Howard and RBI, the trade deadline sparks debate amongst Phillies fans, each with their own opinion. When those those trade discussions are based on flawed logic, then it becomes a problem.
That brings me to this week's article from writer Jack McCaffery. If you are expecting an article going over trade values of various Phillies prospects, think again.
The main problem with it is that he thinks certain players on the team have much more value than they actually do. Unfortunately, this is not an isolated event, as many other fans think we can get good players from a combination of players that even a video game wouldn't accept.
"They have baseball's best record, haven't lost consecutive games in more than a month and haven't finished a season anywhere but first place since 2006.

And the Phillies have everything it will take in the next two weeks to get better."
Okay, not so bad. Looks like we may have an interesting article on their tradeable assets in the minors, right?  
"Such was the revelation in a weekend series in Citi Field.

Such was the message Sunday when they smothered the Mets, 8-5, not with former MVPs, not with Cy Young candidates, not with All-Stars, but with hidden-value depth that could allow them to manipulate the trade market at the on-rushing deadline."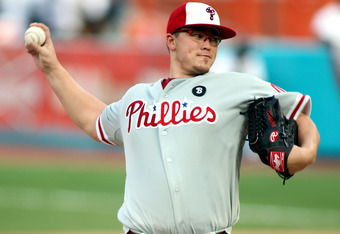 Marc Serota/Getty Images
Uh oh, I'm beginning to worry. It sounds as if someone is about to make judgments using a whole sample size of three games. And from what I remember, Jarred Cosart, Jonathan Singleton or even Matt Rizzotti did not play in the series. 
"From Friday night when John Mayberry collected a career-high five RBIs and Vance Worley improved to 5-1 through Sunday when Kyle Kendrick walked just three in seven innings and Michael Martinez provided four RBIs, the Phillies presented a virtual bazaar of available, alluring and reasonably priced trinkets."
Oh no, he did. Using one game sample sizes as evidence of increased value. Be damned of early season struggles (Martinez), future regression to the mean (Worley), age for a player with such little Major League experience (Mayberry), or a just plain lucky outing for an overall mediocre pitcher (Kendrick).
Three walks in seven innings is not impressive. Zero strikeouts and only three swinging strikes in 109 pitches will not leave scouts weak in the knees in awe. In fact, despite giving up just one run, his game could actually be a display in negative value added.
Perhaps now we can re-sign Hamels for just three-quarters of his value coming off of such a bad game. Surely he'd accept.
"In a baseball season so competitive that even the Pittsburgh Pirates may wander to the trade deadline with champagne fantasies, the Phillies are showing enough talent in reserve to provide every possible roster-massage option. That would include everything from stalking the best players available (Hunter Pence?) to the settling for a mild tune-up."
Thankfully, he didn't say Jose Bautista. Still waiting to hear about all this talent on the bench.
"'We'll be tinkering around the edges,' assistant general manager Scott Proefrock said, 'if we do anything.'

They have won two championships in their existence and will never be better positioned to win a third. They cannot tinker, not now, not this time. They need hitting. Even after the eight-run outburst in Citi Field, Charlie Manuel was all but howling for some … and with Proefrock in the very room, listening from a nearby couch."
Common sense can tell you Proefrock cannot just come out and say "We are going for everybody! No one will make a bigger splash than us!" And then burst out in evil laughter.
"'If look up there and see our batting averages and you see .240, .240, .240, .230, .220 and things like that, we better have somebody coming (off the bench and helping) on different days,' Manuel said. 'So that's what it is going to take. When you are hitting low like that, that's definitely not consistent.

So if we have anybody who wants to hit .300, they can. I'm definitely not stopping them.'

It's not going to happen, not after 94 games with the highest-paid regulars all over 30. Yet suddenly, the Phils have enough understudies playing respectably at just the right time to trick some possible trading partner into a panic buy.
Not all batting averages are created alike. Some guys (Domonic Brown, Ben Francisco) have been hampered by some bad BABIP luck, others cannot help offset it with drawing walks (Martinez, Ibanez, Valdez), and the worst (Martinez, Valdez) have no power.
It is not uncommon for a .240 hitter to still be better than a .300 hitter when taking in the other factors. Not even Ed Wade is gullible enough to see Martinez's .375 average in his last 18 plate appearances as anything more...even if you put an Albert Pujols mask on him.  
"Begin with Kendrick, who improved Sunday to 5-4, trimming his ERA to 3.34. He has as much chance to catch for the Phillies in the postseason as he does to pitch. But he is a healthy 26-year-old who for about the $1 million he is due might make a difference in a wild-card race.

"Joe Blanton's elbow is not healing as the Phillies had hoped, but injections have eased the pain in Roy Oswalt's back. And that makes Kendrick a No. 5, 6 or 7 starter … but a potential No. 3 or 4 someplace else.

'If I can pitch like that every time,' Kendrick said after allowing one run Sunday, 'I'll take it.'"
ERA in itself is not a great indicator of skill. No general manager is going to believe he is anything close to that of a true 3.34 ERA pitcher. His ability is still that of a mid to high four ERA type guy, as evidenced by this year's 4.63 xFIP and 4.71 SIERA.
A No. 3? Really? If that someplace else is the International League, maybe he does have a shot as a No. 3 pitcher.
I'm curious by Kendrick's comment if knew he did not pitch well and just got lucky to give up one run or not. This may be a newsflash to some, but it's possibly to only give up one run and still not pitch well. Zero strikeouts and three walks in seven innings would be a prime example.  
"At the minimum, his decency could stop Ruben Amaro from punching the ignore button should a call ring through for Worley, as close as any young Phillie to untouchable."
No, Kendrick's false sense of "decency" should not stop Amaro from punching the ignore button. What should stop it is the possibility of another team overvaluing a young, cheap arm who has been pitching above his head for awhile now. See: J.A. Happ. A good case of selling high.
"The Phils could keep Worley and improve at the deadline. Domonic Brown doesn't have the value he had two summers ago when he should have been traded for Roy Halladay. But he is not yet a spent prospect.

"Mayberry is proving a special defensive center fielder with some ability to hit. Martinez would be available only with Rule 5 complications, but his switch-hitting and defensive versatility make him interesting."
Well Captain Hindsight, I'm pretty confident from my memory, that the offer was not Domonic Brown for Roy Halladay straight up. They would still have had to either add Kyle Drabek, Michael Taylor, Travis d'Arnaurd, or a player still left in the farm such as Jarred Cosart.
If you'd rather have one of those players traded away than Domonic Brown, you are a very confused person.
188 innings is enough of a sample to assume he's the next great defensive center fielder along the likes of Victorino, Andrew McCutchen and Michael Bourn?
"Antonio Bastardo is the closer, at least until Ryan Madson labors back into shape. But in Kendrick, Worley, Bastardo, Madson, Brown and Mayberry, along with whatever prospects they are warming in the bush leagues, the Phillies can do more than fiddle with a roster one world championship from being considered a dynasty.

If they took nothing else from it, then, their weekend in New York had value."
Perhaps this article would have much more merit if you named at least one said prospect. But to think all of a sudden Kendrick and Martinez actually have trade value because of a three game series is ludicrous and short-sighted.
Even Mayberry, who I'd support as an everyday outfielder over Ibanez, does not have that much value. 27-year-old outfielders with less than half a season's worth of major league plate appearances and a questionable minor league career do not typically have much value.
And in Worley, he'd probably have the same value has previously traded Philadelphia starter, J.A. Happ. 
At least he didn't say anything extraordinarily dumb like assuming Ibanez, Baez, and Lidge have any value that I see on some comments and boards.

The only thing they took away from their weekend in New York is two more wins.