Monday Morning Rehab: Arian Foster Knee Concerns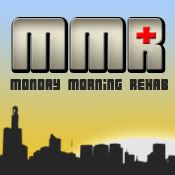 While Arian Foster was pacing fantasy owners to championship games last season, he was doing it with a flat tire.
According to a recent report, Foster played with a torn meniscus in his knee last year. Luckily for his fantasy owners he did not miss a beat.
Foster now has had an entire offseason to get the knee back in order. But fantasy owners need to take this into consideration when drafting him this summer. Not that anyone should knock him down the rankings since he played through it and everything last year.
Dude is a beast. Hope he can keep it up in 2011.
Arian Foster [RB, Texans]
From ProFootballTalk:
Texans tailback Arian Foster, who would merely become the NFL's leading rusher in 2010 with 1,616 yards, tells Matt Crossman of Sporting News that Foster secretly played with a torn meniscus in his knee.
Read the links. It goes on to say that Foster did not tell anyone about the injury until the season was over because he did not want to lose his job. You have to love that as a Foster owner, not that he was doing it for you or anything.
Still, beastly.
Montario Hardesty [RB, Browns]
From FFToolBox:
But Hardesty told the Lake County News-Herald on Thursday that his knee is getting healthier and he'll be ready when he's called upon to perform. "I can't wait to get out there and contribute to our team," Hardesty said. "It's been a long time, but I'm feeling good. I'm continuing my rehab. When training camp starts, I'll be ready to go. … I think Peyton and I will bring out the best in each other. Competition is good for everybody."
The Browns had big plans for Hardesty last year, but his season was lost due to a knee injury. And the rest was history for Peyton Hillis.
It will be interesting to see what the Browns plan on doing with that backfield with both Hillis and Hardesty healthy. I think fantasy owners should expect Hillis to lose some playing time because he took a beating last year.
Cedric Benson [RB, Bengals]
From The Big Lead:
Former #UT running back Cedric Benson has been arrested & charged with assault on a family member. In Travis County Jail. #Bengals
Not injury-related but we do these kind of updates every now and then too. Benson really needs to stay out of Texas, always seems to get in trouble there.
From the fantasy side of things, he is a free agent and could be out of Cincinnati. Not that the Bengals have had any issues keeping people around with checkered pasts. Worth watching, though, if you are interested in seeing Bernard Scott get a crack at the starting job.
The MMR will continue to run every Monday morning as scheduled during the regular season. If you have an injury update or want an update on a certain player, please leave a note in the comments.
This article is
What is the duplicate article?
Why is this article offensive?
Where is this article plagiarized from?
Why is this article poorly edited?