Liverpool Transfers: What Stewart Downing's Arrival Means for Joe Cole
July 18, 2011
Stanley Chou/Getty Images
When Joe Cole signed for Liverpool one year ago, it was acclaimed as a major coup for the club. Many people believed that the England international had made a mistake by choosing to play at Anfield ahead of Arsenal and Tottenham.
One season on and the football community is singing a rather different tune.
Cole failed to impress during his first season at Anfield, the 29-year-old made just eight Premier League starts last season, scoring on two occasions. The England international has spent more time on the injury table than the pitch.
The £20 million capture of Stewart Downing certainly makes Cole's future at Anfield appear bleak; the left winger has already witnessed the arrival of Charlie Adam and Jordan Henderson in Liverpool's congested midfield. Downing's arrival could push his future further into limbo.
Downing's career achievements to date may appear modest to Cole's trophy haul, but the former Aston Villa and Middlesbrough star has emerged as one of the best midfielders in the Premier League in recent seasons. Over the past three years, no one has completed more successful crosses than Downing.
It is Downing's crossing ability that is the biggest threat to Cole's chances of playing first team football. With the height of Andy Carroll up front and the dependable service that he will receive from Downing, Liverpool will pose a genuine aerial threat up front for the first time in a long while. This, combined with the footwork of Steven Gerrard and Luis Suarez, means that Liverpool is attack in a range of different ways.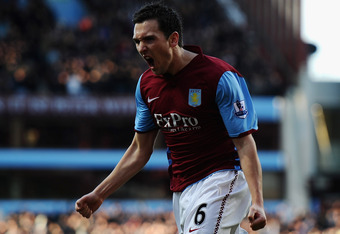 Laurence Griffiths/Getty Images
Kenny Dalglish has built his reputation on a basic 4-4-2 system of football. He was the last in a long line of great Liverpool managers to successfully deploy such a tactic. If Dalglish was to continue with this style of football Downing would fit superbly into the system. He is a genuine left winger.
No team, however, has won the Premier League by playing a simple 4-4-2 formation since Liverpool won their 18th league title. Today a more attacking style of football is needed and it seems that Dalglish has recognised this by adopting a 4-2-3-1 system, another that Downing could slot neatly into.
If Liverpool were to continue playing a 4-2-3-1 formation, Cole would not only have to compete with Downing for his position, but also Suarez. Throw in Maxi and it is difficult to see how Cole could rebuild his Liverpool career.
The signing of Downing could demonstrate a lack of faith that Dalglish has in Cole. There is little in his game that Downing is unable to offer, which could force the former Chelsea star to leave the club.
Liverpool, however, may find it difficult to offload Cole. The winger is on £90,000 a week; that's more than what he was earning at the free spending Chelsea. Given his poor form, he may have to accept a pay cut if he was to leave the shores of Merseyside for good; something that he might not be too keen on given that he has three years left on his current deal.   
Cole is also a player of proven quality. Although at times injury prone, he is capable of winning a team matches by a feat of individual brilliance; a spark that Liverpool may need to turn to at some point this season.
Given the depth that Liverpool has in Cole's position, Dalglish could be willing to let him go, for the right price of course. Speculation about the England international's future has been ripe in the media, with reports linking him to Hamburg, Tottenham and Fulham.