NFL Rumors: Daunte Culpepper Wouldn't Be a Bad Pickup for Needy Teams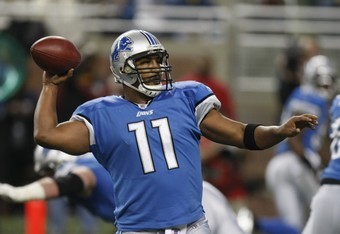 Somewhere out there is a quarterback who is old, over the hill, and a little too well-rested, but he's looking for work anyway.
Nope, we're not talking about Brett Favre. We're talking about Daunte Culpepper. He's been out of the NFL since 2009, but he's supposedly looking for a way back in.
It's true. Jason La Canfora of the NFL Network broke the news on Wednesday, and he had quotes from Culpepper himself to back it all up.
"I am itching to get into an NFL training camp so that I can practice again," said Culpepper.
Culpepper also said that he is "optimistic" that somebody is going to need a QB like him sooner or later, and he's prepared to go to great lengths to show off how fit for duty he really is.
"I am prepared to come in and conduct a 'pro day' for any NFL team that is interested in seeing what they will get with a healthy, motivated Daunte Culpepper," he said.
Pretty big talk for a guy who hasn't played a full season since 2004, not to mention a guy who spent 2010 playing in the United Football League.
But believe it or not, Culpepper actually did make a good point:
Based on my estimate, there will be 96 quarterbacks on active rosters this season. I have to believe that there will be room for a three-time Pro-Bowl quarterback who is willing to get in where he fits in.
Roughly translated, there are going to be nearly 100 quarterbacks in the NFL this season, and there's just no way that all of them are going to be better options than Culpepper.
He's right. Culpepper's best days have long since passed him by, but surely he can still hold his own with the likes of players like John Skelton, Kyle Boller, and Matt Moore. With all respect, of course.
Speaking of Moore, both La Canfora and myself think that the Miami Dolphins could benefit from having a player like Culpepper around. If nothing else, they could use some help at the quarterback position. La Canfora also suggests the Carolina Panthers as a possibility, as surely Culpepper would be a good mentor for Cam Newton. Shoot, he'd be better than Derek Anderson, anyway.
Elsewhere, one wonders if the Washington Redskins might like to take a look at Culpepper. While Culpepper doesn't seem like a Mike Shanahan kind of guy, Shanahan might not have a choice if Rex Grossman and John Beck crash and burn this season. The possibility of that is pretty high if you ask me.
For now, all Culpepper is merely trying to get his name out there. It's questionable whether or not he's going to get any nibbles in the immediate future, but you have to think teams will at least consider him once QBs start dropping like flies.
At that point, interested teams are going to have nothing to lose.
Most recent updates:
This article is
What is the duplicate article?
Why is this article offensive?
Where is this article plagiarized from?
Why is this article poorly edited?