NFL Rumors: Clay Matthews Claim He Played on Broken Leg is Preposterous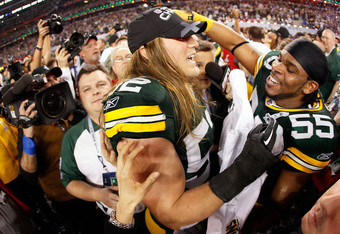 Clay Matthews is either lying or one super human dude.
The Green Bay Packers linebacker was an indispensable part of the Super Bowl champs and is one of the best defenders in the game.
He collected 13.5 sacks with another 3.5 sacks in the playoffs.
He is claiming to have played the entire second half of the season and playoffs with a broken leg. Here was his response when asked if the team will miss the loss of defensive lineman Cullen Jenkins to the Philadelphia Eagles:
I also had a stress fracture in four of those games. But nobody knows that. A sore shin as you guys call it, but that's all right. Obviously, I'm not making any excuses. Cullen is a terrific athlete, and we're definitely going to take a hit in our defensive line, but at the same time I think they have confidence in the guys coming up.
I've heard of players gutting it out with some tough injuries…but a broken leg?
That's insane.
It's the kind of injury that makes the stretcher useful. How in the world could he play with an injury like that for one game, let alone 12?
I'm not sure he would have a reason to lie about something like this, but wow.
It has to be a tiny bone around the leg thay was broken—there is no way it was something like the femur right?. He has to be exaggerating to some extent.
If not, this is one of the greatest achievements in modern NFL history and Matthews wins the title of toughest player.
So which one is it?
Turns out it was a stress fracture in his lower leg, an injury that would shelf most players right away.
But with so many Packers landing on the injured reserve in 2010, Matthews knew his team couldn't afford to lose him. It's strange that it took him this long to tell the world of his injury. Obviously he didn't have to use an excuse judging by the terrific football he played.
So why announce it at all?
Who cares, that guy is one tough dude.
Most recent updates:
This article is
What is the duplicate article?
Why is this article offensive?
Where is this article plagiarized from?
Why is this article poorly edited?