NFL Rumors: Eagles' Danny Watkins Already a Hero in Philadelphia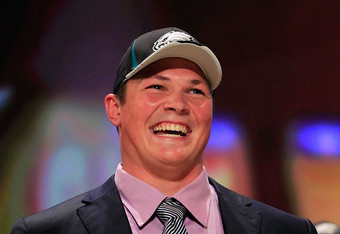 Philadelphia Eagles have provided the NFL world with the most drama of any team in the league as they continue to bring in superstar after superstar. Yet this morning's training camp took a turn for the worst when defensive tackle Mike Patterson was escorted to the hospital after suffering a seizure from dehydration.
Unfortunately, these situations come with the territory and there is nothing we can do about that. Yet this is the type of situation that will surely bring a team together. Throw your chemistry issues aside, because the camaraderie will be flowing out of Philadelphia for the remainder of the season. It wasn't just Patterson's unfortunate situation, but it was 2011 first-round pick offensive guard Danny Watkins coming to his rescue in his first day at camp.
"First-round pick Danny Watkins relied on his experience as a firefighter when he went to help his new teammate Mike Patterson, who experience a seizure during Wednesday morning's practice.
'You see something like that and you automatically want to help the guy,' Watkins said. 'You want to help him even more because he's your teammate. My thoughts and prayers are going to be with him tonight.'

Patterson was taken to Lehigh Valley Hospital where he is being tested to see why he experienced the seizure. Patterson has had no complications from the seizure," according to Chris McPherson of PhiladelphiaEagles.com.
No matter how you feel about the Eagles, you simply never want to see a player deal with health concerns. I hope Patterson is back on the field quickly and healthy. Yet this could be a blessing for this team of motley crew superstars.
This team will be closer after watching their teammate fall and seeing a rookie jump to his aid. It must be reassuring for the players that Watkins is trained to help, but even more that they know a man is willing to jump into action at any moment in time.
This is what brings players closers together as a family, and Watkins' display of heroics will not be overlooked by the media or his teammates. Just a rookie in his first day on the field, Watkins has now cemented himself in the locker room.
Yes, he'll probably still be hazed later on, but he definitely has earned the respect of his peers and superiors.
He will most likely start for the Eagles to protect Michael Vick and pave way for LeSean McCoy and Ronnie Brown. At this point, I doubt any of these men would rather replace him with somebody else in their fox hole. Watkins' display is exactly what players are looking for from their teammates, this is what brings teams closer together as they make a run as a unit towards perfection and a Super Bowl.

Brandon Galvin is a Bleacher Report Featured Columnist and Syndicated Writer.
Most recent updates:
This article is
What is the duplicate article?
Why is this article offensive?
Where is this article plagiarized from?
Why is this article poorly edited?