Lords' Tons Have No Muscle: Vengsarkar Loses to Don Deshmukh, Politics Rules!
July 18, 2011
Getty Images/Getty Images
Kirti Azaad, Bishen Bedi, Atul Wassan and several other ex-cricketers have expressed anguish that Dilip Vengsarkar, that brilliant batsman who could for a time lay claim to the Lords' wicket as his own, lost the elections for the top spot at Mumbai Cricket Association.
I guess it might have been okay if he had lost to, lets say, a Sunil Gavaskar or a Ravi Shastri. But then, he lost to Vilasrao Deshmukh, a former CM of Maharashtra.
And, if technicalities hadn't intervened, he would have lost to Sharad Pawar, the former ICC President, another former CM and a central minister like Deshmukh.
The dismay and the anger of ex cricketers is understandable. Time and time again, sports bodies find themselves under the control of self-serving politicos, bureaucrats, administrators and businessmen.
I do not know as to how many of them understand the game, how many actually get into sports administration for the love of the game and how many actually further the cause of the game.
The BCCI is run by politicos and their cronies. It is touted as one of the best governed bodies in India, has a clout that has the world of cricket dancing to its tunes with eminent people like Michael Holding protesting about its stranglehold.
But it might be a good idea to look at BCCI's record before 1983, the watershed year that changed everything. Was it an efficient organization? Was it not run on the whims and fancies of a select few, who weren't cricketers, not even by a long shot?
And who helped it become the rich body with some claims to professional administration? It was the players, and it was never the other way around. And each of these players had come through to the top of their games through individual hard work, despite the system and not because of it.
The sole aim of the administrators, even then, had been to wield power on players and use their positions at BCCI to network for bigger gains elsewhere.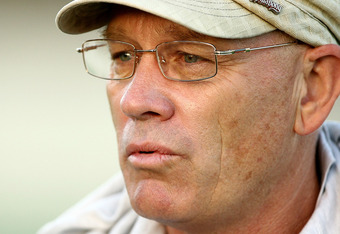 Paul Kane/Getty Images
This desire to wield power over players, and to find personal gain through sports bodies starts at the very grass root. The school PT or Sports Master, the one who knows all games and actually knows none, plays favourites.
In some cases, in richer schools, he might even be doing so to get rewards from parents so that their wards find a place in school team.
A similar story gets repeated as we go higher up, and as someone who went to the University during the '80s, I know how two senior professors of Lucknow University, selectors for the University Cricket team, went underground a few days before the selection.
They surfaced on the day of the selection, selected a team that had already been given to them, and went home safe. I am sure similar events elsewhere, in other universities, worked to kill a tournament called Rohinton Baria, once the stepping stone into national limelight for talents like Gavaskar, Gaikwad, Kapil Dev etc.
And if I remember right, the last time a Combined Universities team played a visiting team was 1981, when K Srikanth of TN and S Khandekar of UP took the field against the touring England Team, took on Botham and company, and at least one of them reached where we all know he did.
Yes, Indian cricket has lost, perhaps forever, one of its best nurseries for talent. But the story is no different in other sports, only worse.
Our Hockey players do not know which abbreviation they will be playing under, and the administrators of our national game can take credit, 100 percent, for ensuring the decline of our national game.
They have been good enough to ensure that legends like Charlesworth leave India with a bitter taste, and the Indian team struggles to qualify for top tournaments.
The doping scandal in athletics should have shamed the officials. But these powerful men will retain their jobs, in fact, get even more powerful, while the athletes will shed tears, promising careers destroyed because these gullible kids believed their coaches and administrators.
Of course, any one who believes that the administrators didn't actually run doping is living in a fools' paradise.
The malaise runs deep in India. It also surfaces itself elsewhere. Christopher Gayle's letter to Ernest Hilaire and Sangakara's MCC address should be taken as warnings by Governments across the world.
There should be a quick move to purge sports bodies of politicos, in fact of people who have no connect with the game. Why can't we have a Sandip Patil or Saurav Ganguly run BBCI, and Ajitpal Singh or Pargat Singh head Indian Hockey?
Why should Usha run an academy and beg for resources when she should be leading the athletics' federation? Why should we have the Kalmadis, Bhanots, Pawars and Gills run, rather ruin the sport?
Its time that the people who talk about India being a young nation took note of this, and put the talent of this youth under the right supervision.
I am sure that a Balwinder Sandhu knows better than Vilasrao on how to shape a budding team. I am sure he also knows better about other aspects of running the game.
Or else, we shall continue to have gold-winning athletes serving tea to officials in NIS Cafetaria.