WWE Money in the Bank 2011: CM Punk Walks out with the World Title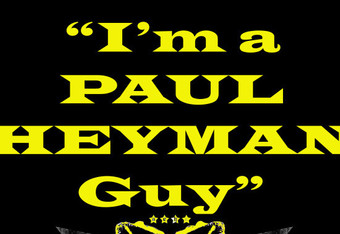 Punk misses an elbow off the top and the Five Knuckle Shuffle hits for real but an Attitude Adjustment in countered to a kick series for two. GTS is countered to a gutwrench for two and Punk counters an Attitude Adjustment to two Shining Wizards and a bulldog. Flying clothesline off the top gets two and Punk goes back to kicks but Cena surprises him with the STF. Punk wills himself to the ropes and the crowd breaths a collective sigh of relief as Punk grabs the bottom rope.
Punk recovers and hits a high kick for a near fall and both guys sell for some recovery time. Punk goes up for a high cross body and Cena rolls through and they go through an awesome finish exchange sequence that ends with Cena having Punk trapped in the center of the ring with an STF. The crowd goes absolutely nuts as Punk fights it and counters to the forgotten Anaconda Vise. Cena fights to his feet and hits an Attitude Adjustment out of nowhere...for two.
Now the crowd is getting seriously into this match as both guys sell but Cena gets to his feet first and heads up top. Cena tries his legdrop but Punk turns it into a sloppy powerbomb for two a la Batista. GTS attempt but Cena slides to the apron and clotheslines Punk on the ropes and this time hits the legdrop to the back of the head for another close two, drawing frustration from Cena.
Another Attitude Adjustment hits and it looks like the end for Punk...but it only gets two. Cena starts to get desperate and drags Punk's carcass to the top rope and tries for the AA off the ropes. Punk is more desperate though and elbows his way out of it and hits a hurricanrana off the top. Punk hits the GTS (after pulling down the kneepad of course) but Cena tumbles to the outside and Punk's reaction is awesome.
Vince McMahon and John Laurinaitis make their way to the entrance ramp, distracting Punk and allowing Cena to trap Punk in the STF. McMahon sends crony Laurinaitis to ringside to get him to ring the bell but Cena cuts him off because he wants to win his way. Punk catches Cena coming back in with the Go 2 Sleep and yes, gets the three count as the crowd goes absolutely insane.
Winner and NEW Champion: CM Punk
-BUT WAIT, this is not over. Vince grabs Lawler's headset and calls for Alberto Del Rio to come to ringside to cash it in. Punk catches him with a kick to the face before the bell can ring, knocking him out. Punk blows a kiss to Vince McMahon and heads through the Chicago crowd as world champion...and we fade to black.
-Well, you can't say they didn't bring the drama here. They went with the slow build during the match and it was very effective since it had three stages: First, they worked headlocks and other submissions letting them get their chants out of the way. Then, they did a typical match, calming the crowd done and teaching them to react to normal spots. Finally, they busted out the awesome finishing sequences and had the crowd with them the whole rest of the way. That, my friends, is a well-booked match. Call the whole thing ****1/2 and a rousing success.
Final Word
Needless to say, I didn't think Punk was walking with the title but they must have worked something out. The MITB matches always deliver and the main event was Drama City, Population: Me the whole time, so that means this is definitely a recommended PPV and something people will be talking about for quite awhile...order the replay NOW.
Make sure to check out my Raw coverage tomorrow to find out what's going to happen next.
Most recent updates:
This article is
What is the duplicate article?
Why is this article offensive?
Where is this article plagiarized from?
Why is this article poorly edited?