WWE Money in the Bank 2011: Christian Defeats Orton by DQ, Wins Title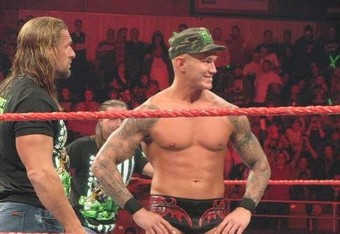 -Alberto Del Rio brags about his MITB win and says it's a mere formality on his path to the title.
World Heavyweight Title
Randy Orton vs. Christian
If Randy Orton is disqualified, then Christian wins the title because of some creative contract work by Captain Charisma. Shouldn't the world title be held in higher regard than the WWE title or are we supposed to think that the "WWE Universe" that they always shove down our throats is somehow related?
Anyways, Christian throws a chair in the ring to bait a DQ but Orton would break Sting's record for stupidity if he did actually fell for that one. Orton dominates to start and hits a clothesline before dodging a plancha attempt and introducing Christian to the ringside steps. Christian recovers with an elbow from the second rope for two and another elbow gets a near fall. Christian chokes Orton out on the ropes for two but gets rolled up on a corner charge for two. He recovers with a spinebuster for two and looks for the Killswitch but both guys tumble to the floor for a double KO.
Back in, Orton catches Christian's feet on a dropkick and hooks a jackknife cover for two then follows with a dropkick for another near fall. Nothing of note happens until Christian hits a diving headbutt off the top for two. Christian looks to finish again and that launches Orton's comeback but Christian hits a Killswitch out of nowhere...for two.
Christian preps a spear but Orton leapfrogs and lifts Christian on his shoulder upside down before dropping him into a neckbreaker for two...nice move there. Powerslam sets up the hangman's DDT and then goes into his little tribal dance which signals the RKO. Christian cowers away but spits in Orton's face, which triggers Orton's temper. Orton can't help himself and punts Christian in the family jewels...whoops.
Winner and NEW Champion: Christian
-Orton goes nuts at ringside, bashing Christian with a monitor and RKOing him through the Spanish announce table, which doesn't break...ouch. As Orton is leaving, the crowd chants "one more time" so Orton returns with great facial expressions and hits another RKO on the table which AGAIN doesn't break. That's one well-built table right there.
OK, here's my problem with this match: The win does absolutely nothing for Christian whatsoever. Sure, he won the title but he comes off as a coward who knew he was going to lose and was bailed out by stipulations instead of a heel mastermind who outsmarts his opponent.
Anyways, the match wasn't nearly as good as their previous two efforts and I didn't like the booking, so it gets **3/4 and likes it.
Most recent updates:
This article is
What is the duplicate article?
Why is this article offensive?
Where is this article plagiarized from?
Why is this article poorly edited?