WWE Money in the Bank 2011: Daniel Bryan Wins Money in the Bank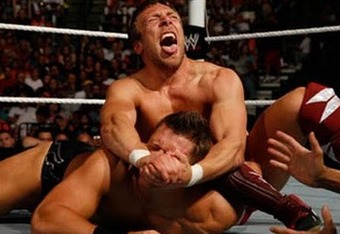 -We are LIVE! from Chicago, IL (an awesome wrestling town who will boo the ever-loving crap out of Cena tonight).
Smackdown Money in the Bank Match
Sin Cara vs. Wade Barrett vs. Justin Gabriel vs. Sheamus vs. Cody Rhodes vs. Kane vs. Heath Slater vs. Daniel Bryan
I guess they had to put the Miracle Jobber Connection of Gabriel and Slater in there but I have as much of a chance of winning as they do. Huge brawl to start until Kane clears the ring but he takes a ladder to the face courtesy of Bryan, who quickly suffers the same fate. Cara gets blasted by Slater and Gabriel and Gabriel makes a climb attempt but gets stopped by a Bryan dropkick. Cody also makes an attempt but gets stopped by Sheamus, who beats on Cody until Kane returns and dumps them.
Barrett tastes a ladder setup in a corner and Kane dumps a ladder on Cody and Sheamus on the outside. Sidewalk slam takes out Slater but Cara returns and gets rid of the Big Red Machine. Bryan smokes Barrett with a dive through the ropes to the outside so Gabriel one-ups him with a swanton to the outside. Slater says "that's too easy for me" and hits a corkscrew plancha and Cara closes us out with a dive from the top to the floor on Kane...very cool.
After some recovery, Cara dumps Gabriel and takes Bryan off the top with a moonsault side slam. Barrett takes out our Mexican hero and preps the Spanish announce table (poor guys) before bridging a ladder from the table to the apron. Barrett hits the post on a charge and Cara gets destroyed by a Sheamus pump kick. We head to the apron and get our first holy s*** spot as Sheamus powerbombs Cara off the apron and through the aforementioned ladder. It was definitely a wooden ladder but it was still a very cool spot. Cara does a stretcher job as Kane and Sheamus square off in the ring and Booker proclaims Sin Cara dead.
Cody and Bryan team up against Kane but he takes them both out with a ladder and makes his first attempt at his briefcase but is stopped by the Original Nexus. They hammer on all the faces (and Cody) and Barrett convinces his former friends to let him win the briefcase....before they immediately turn on him and dump him to the floor of course. Gabriel and Slater's attempt at the case is stopped by Cody tipping over the ladder and he hits Barrett with Cross Rhodes to establish dominance.
As my wife asks "where's Sheamus?", he returns with an Irish Curse backbreaker on Rhodes (if you weel) and Bryan joins him in a briefcase attempt. Sheamus puts Bryan on his shoulders and Kane comes off the top with a clothesline to hit a Doomsday Device, which the crowd responds to by chanting "LOD! LOD!" I love Chicago.
Sheamus wedges a ladder from the second turnbuckle to a set-up ladder in the middle of the ring but Kane chokeslams everyone. Bryan stops Kane with a DDT and Slater tries to sneak in a climb attempt. They head up the same side of the ladder but Heath brings Bryan down with a neckbreaker from the top of the ladder. Barrett and Kane try to use a ladder to direct Slater from the top rope to the floor but almost drop him on his head, so they abort the spot and he falls on Kane.
Now it's Sheamus's turn to dominate and he lays a ladder across a corner before hitting Snake Eyes on Gabriel. He make a slow attempt at the case but Kane climbs the other side and they have a slugfest. Kane gets smart and climbs down, reaching up and chokeslamming Kane on the corner-bridged ladder. Holy crap, Sheamus actually BOUNCED. That is bad, bad times.
Barrett takes out Kane with Wasteland and Gabriel goes Nexus Old School by adding a 450 splash from the top to effectively eliminate Kane. Barrett shows his thanks by dumping Gabriel like a sack of horse crap to the outside. Wade clears out the others and makes an attempt but Cody dumps him and Bryan wills himself to make a case attempt. Both guys fight on the same side of the ladder while Barrett climbs the other. Cody goes tumbling and Barrett tries to finish Daniel with Wasteland off the top but a kick send Barrett to the canvas and DANIEL BRYAN of all people claims the briefcase for the win.
Winner: Daniel Bryan
-Totally didn't see that finish coming and it was a great booking call to try and elevate Bryan. The crowd gave him a great response and even chanted "Daniel Bryan" while he was celebrating his win and Bryan seemed genuinely touched. The match was the usual good stuff as they were sick spots, no "slow climbing" fake drama and a solid finish ***

Most recent updates:
This article is
What is the duplicate article?
Why is this article offensive?
Where is this article plagiarized from?
Why is this article poorly edited?