MLB Realignment: Arizona Diamondbacks Should Move to AL, Not Houston Astros
July 17, 2011
Christian Petersen/Getty Images
First off, let me say that I think re-alignment is a dumb idea.  If interleague play becomes an everyday occurrence, it will lose its luster.  There used to be less NFC-AFC games in the NFL, now there are a lot.  Do interconference games have any additional luster in the NFL? No!
Interleague play also de-emphasizes divisional play, which I think is much more important.
Which is why I'm glad that realignment is saddled for the next few years, though I'm quite certain the drumbeat for it on ESPN will continue.
But if you are going to have realignment, don't move the Houston Astros to the American League West.  Move the Arizona Diamondbacks instead.
In this proposal, the divisions would look like this:
American League West
Arizona Diamondbacks
Oakland A's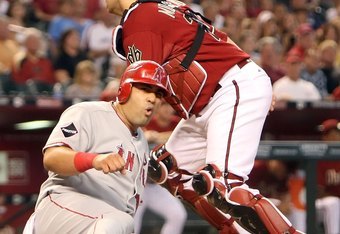 Christian Petersen/Getty Images
National League West 
Here are several reasons, primarily geographical, why it should be the Diamondbacks that move:
There are five National League teams in the Pacific and Mountain Time Zones, and only three American (this would continue to be the case in a realignment that moves Houston).
That means that there are two NL teams in the states between the West Coast and Texas; and zero AL teams.
If you draw a circle 300 miles around Angel Stadium, you encircle three NL teams (Diamondbacks, Padres, Dodgers) and no other AL teams.
The NL West has two teams that are less than 20 years old (Arizona and Colorado); the AL West has none.
Arizona may think it has a rivalry with the NL teams in California; the NL teams in California only consider their rivals to be each other.  On the other hand, a Halos-D'Backs rivalry could have serious potential.
The AL West needs another decent-sized media market; at present it contains one large media market, one medium-sized one, and two stepchildren in media markets that root mostly for the Dodgers and Giants.
Houston used to be in the NL West; a return to the NL West would rekindle rivalries with the Dodgers, Giants and Padres.
And lastly, when the Dodgers are playing the Angels in interleague play, who would the Rangers play? The Rockies? The Diamondbacks? (In my system, the primary interleague rivalries would be Rangers-Astros, D'Backs-Padres and Mariners-Rockies.)
In summary, for a myriad of reasons, Diamondbacks to the AL makes more sense than Astros.