MLB Trade Rumors: Why the Minnesota Twins Must Trade for Closer Heath Bell
July 16, 2011
Hannah Foslien/Getty Images
What was once a position of great stability has turned into a position of dire need for the Twins over the last 16 months and has been further magnified over the last several weeks.
Until Joe Nathan was forced to undergo Tommy John surgery in the spring of 2010, the closer position was one of little worry for manager Ron Gardenhire and general manager Bill Smith. Nathan arrived in 2004 and has become arguably the greatest closer in franchise history. Prior to that, Eddie Guardado had back-to-back 40-plus save seasons.
The Twins came of out spring training last year with Jon Rauch replacing the injured Nathan in the closer role. Rauch was decent early, but he made many of his outings very interesting to say the least.
Despite being nearly seven feet tall, Rauch's stuff was not overpowering, and he often struggled with command.
The organization felt it could improve and went out and acquired Matt Capps from the Nationals in exchange for prized catching prospect Wilson Ramos—a trade that has been heavily scrutinized, especially in recent weeks.
Capps finished 2010 as closer and was relatively successful, although most still felt the Twins gave up too much to acquire him.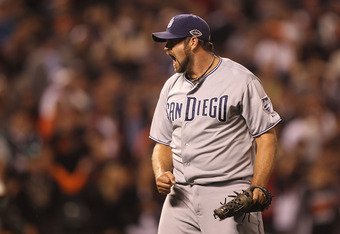 Jed Jacobsohn/Getty Images
At the start of 2011, Capps went into the spring competing with Nathan for the closer role. With Nathan returning from surgery and pitching well, Capps broke camp as the setup man but would regain the finishing role as Nathan would struggle mightily once the season started.
To put it bluntly: Capps has been terrible, especially over the last month. With a 2-5 record, an ERA approaching five and seven blown saves, Capps has clearly lost the confidence of fans, teammates and his manager.
In his last four appearances at Target Field, Capps has an ERA of 23.63 (2.2 IP, 7 ER) with 11 hits, two walks and two home runs allowed.
For the Twins to continue their ascent in the Central division standings, they have to get bullpen help. After watching another Capps implosion last night, one thing is clear: A deal must be made for a closer.
Nathan has been solid in the righty setup role since coming back from the disabled list, but he's still not 100 percent back. Glen Perkins has been outstanding as the late inning lefty, even closing a few games that Capps nearly blew.
Keeping Nathan and Perkins in the roles they are in would seem to be the best option right now.
Acquiring Padres closer Heath Bell would send a major statement to the rest of the division.
Bell has been one of the best closers in baseball over the last three years and has saved 26 games in 27 chances in 2011. Last week, Bell allowed his first home run since April of 2010, spanning 99 appearances and 102 innings pitched.
Let me say that again. It was the first home run allowed by Bell in 99 appearances and 102 innings.
The Twins had actually talked about acquiring Bell in 2010 after Nathan's injury but a deal was never completed. In fact, one of the names brought up in that potential deal was Perkins, who was in the organization's dog house at the time.
Bell will be a free agent at the end of this season, freeing the Twins of any responsibility toward him beyond 2011 if they choose.
With the amount of bargaining chips the Twins seem to have now—Slowey, Young, Kubel and Span—it would appear now would be the time to make a deal for Bell before another team does.
Swinging a deal for Heath Bell could be exactly what this team needs to get over the top in the AL Central.