Oakland Athletics Trade Rumors: Josh Willingham and Andrew Bailey on the Block?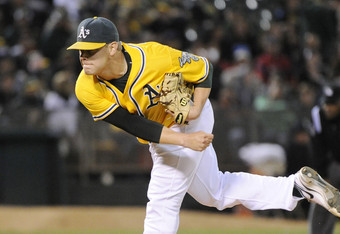 Thearon W. Henderson/Getty Images
It comes as no surprise that Athletics' names are starting to pop up in trade rumors.
Expectations are that Josh Willingham, Coco Crisp, David DeJesus, Hideki Matsui, Michael Wuertz and perhaps Grant Balfour and Brian Fuentes will at least be shopped before the deadline.
What did come as a surprise, though, was Andrew Bailey's name popping up on MLBTraderumors.com yesterday.
Let's quickly explore a few of the A's players that have been rumored to perhaps be available in the coming weeks.
Check back as this thread will be updated as information about any potential trades becomes available.
This article is also featured on Bayseball.com

Jed Jacobsohn/Getty Images
Despite the A's history of trading star players for packages of prospects, it still came as a surprise to see Andrew Bailey's name pop-up on the trade rumor website, MLBTradeRumors.com, this past Friday.
According to the website, which was reporting from a tweet by Fox Sports' Ken Rosenthal, the A's are receiving calls regarding Bailey, however they would need to be "overwhelmed" in order to trade their closer.
Saturday morning a report from The Dallas Morning News' Evan Grant surfaced suggesting that the Texas Rangers are one of the teams that have inquired on Bailey.
According to Grant, and two of his unnamed sources, "the Rangers are among those teams and the A's have at least started looking more in-depth at the Rangers farm system."
Trades don't typically occur within division, although the Rangers did connect with the Mariners last season to acquire Cliff Lee for a playoff push that ultimately saw them reach the World Series.
"If a trade is in the best interests of the Rangers, we don't have a problem trading within the division," Rangers GM Jon Daniels told Grant.
Despite concerns over Bailey's health-risk, he has huge trade value for the Athletics.
Bailey will reach arbitration for the first time following this season, and although he will be due a significant raise from his current $465,000 salary, he will remain under club-control through 2014, making him extremely attractive to contending teams looking past just this season.
While Grant accurately points out that the A's stance that they would need to be "overwhelmed" "essentially means he's available," when that term is used by Billy Beane, it typically means a trade will not occur.
Susan Slusser, A's beat writer for The San Francisco Chronicle, set the record straight through a series of tweets Saturday afternoon.
According to Slusser, "despite what you might read elsewhere, when the Athletics say they'd have to be overwhelmed to trade a player, they almost never do a trade."
She then continued, "there are far more reasons to keep Bailey than deal him, especially the fact he's not a free agent until after the 2014 season."
And finally wrapped up her rebuttal by stating, "so the Athletics really would have to be overwhelmed to deal Bailey, and that means, at the least, a can't-miss young power hitter."
If the A's were to trade Bailey, they do have Joey Devine and Fautino De Los Santos as back of the bullpen guys with the type of stuff to make them effective, if not filthy, closers.
Brian Fuentes also could revert back to closing duties if absolutely necessary. Fuentes did pitch effectively in save-situations earlier this season (12 saves, 3 blown saves, 3.50 ERA, 9.0 SO/9).
The A's are likely to hold onto their two-time All-Star closer throughout this season, however.
I wouldn't rule out the possibility that the A's are establishing a market for future talks in the offseason to acquire a power bat though.
This article is
What is the duplicate article?
Why is this article offensive?
Where is this article plagiarized from?
Why is this article poorly edited?
Thearon W. Henderson/Getty Images
Josh Willingham is perhaps the most likely Oakland A's player to be on the move before the July 31 trade deadline this year.
The A's offseason acquisition is a free agent at the end of the season and represents one of the better power bats available on the trade market this season.
Although his batting average (.249) is below his career average (.263), his power numbers are right in line with his career averages.
In 69 games so far this season, Willingham has hit 12 home runs and driven in 46 RBI for the Athletics while posting a .446 SLG and .763 OPS.
Willingham expressed his interest in signing a long-term deal with the Oakland Athletics when he was acquired last season. Although unlikely, it does remain a possibility the A's could choose to lock him up long term.
He has spent some time on the disabled list this season with an achilles injury that could have diminished his trade value and made it difficult for the A's to receive the value they would want in a trade. Signing him to a team friendly contract and letting him reestablish his value could be in the A's best interest.
Most baseball analysts expect the A's to trade their top offensive threat though.
ESPN's Buster Olney has offered his opinion (via MLBTradeRumors.com) that Josh Willingham "is going to be traded at some point."
Trading Willingham would open up an opportunity in the outfield one of Oakland's prospects in Sacramento to receive an extended look the remainder of the season.
Conor Jackson could potentially shift to a full-time outfield role, opening first base for Chris Carter.
Michael Taylor or Jai Miller could be given an opportunity and be called up to make their Major League debuts.
Ryan Sweeney could also take over the full-time starting role.
Here's a quick rundown of a couple teams that could be potential fits for Willingham's services via a trade with the A's:
Atlanta Braves
The Atlanta Braves are known to be in search for an outfield bat to help boost their offense.
Willingham would seemingly be a fit for the Braves, especially given his experience playing in the National League East for the Florida Marlins and Washington Nationals.
Fox Sports' Jon Morosi tweets, however, that "Josh Willingham isn't high on their list, source says."
Philadelphia Phillies
The Phillies have long been rumored to be interested in Josh Willingham, dating back to his time with the Washington Nationals.
They were unable to acquire him in the past due to the Nationals reluctance to deal within the division. Now that he is a member of the American League West, though, he could be acquired in exchange for the right package of prospects.
The Phillies probably represent the most likely destination for Willingham.
San Francisco Giants
While it remains unlikely that the A's would deal with their cross-bay rivals, the San Francisco Giants could use an upgrade in left field over Pat Burrel, and would be a fit for Josh Willingham.
The A's asking price to help their market rival would most likely be prohibitive for the Giants to seriously consider his services.
If they miss out on Carlos Beltran and other higher-profile targets, though, they could place a call across the bay to see what it would take to acquire Willingham.
Boston Red Sox
The Red Sox, currently using rookie Josh Reddick in left field, could decide to acquire a corner outfielder to help boost their offense.
Willingham would represent a power boost in left field as well as a dangerous bat off the bench if Reddick or Carl Crawford keep him out of the lineup.
He could also split time at DH, offering a right-handed option, with David Ortiz.
Expect to hear additional teams at least checking in, or distancing themselves from Willingham over the next two weeks.
This article is
What is the duplicate article?
Why is this article offensive?
Where is this article plagiarized from?
Why is this article poorly edited?

Oakland Athletics: Like this team?