NHL Jerseys: My Personal Favorite Threads of Each Team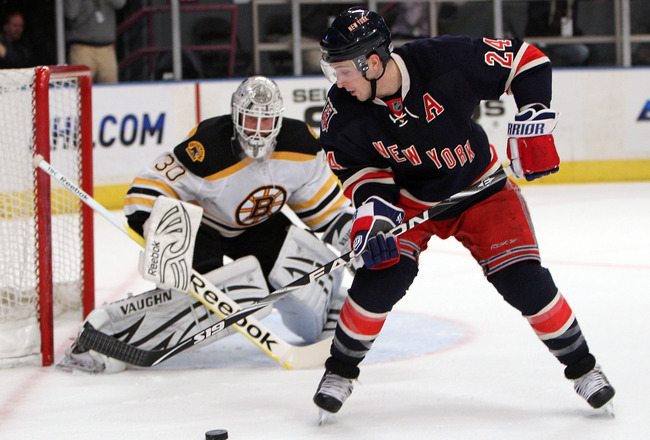 Bruce Bennett/Getty Images
Hey guys, what's up?
After recently reading an article here on Bleacher Report listing each NHL team's worst uniforms, and more recently, today Jason Sapunka's article on each team's best uniform, I decided to write a list of what I think is each team's best uniform.
Please understand that all of these pictures on this list are my personal choices.
You may notice that most of these are new jerseys, but as I only really got into hockey in 2006, I didn't get to see some of the older designs!
Once you've given it a read, feel free to let me know what you think and what your choices are.
Follow me on Twitter: @DaruishG90
Anaheim Ducks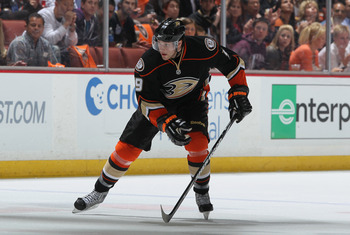 2010 - Present Alternate Jersey
Jeff Gross/Getty Images
Starting off with the Anaheim Ducks, my favourite Ducks jersey is their latest effort.
When they became the Anaheim Ducks in 2006 and moved to more bog-standard black uniforms, I was a bit disappointed. However with this jersey, I love the bright orange as it gives it a bit more to look at than the current home jersey, and I also prefer the D logo to the Ducks logo on the home jersey.
I would not be too annoyed if the Ducks decided to make this their home jersey, especially since they wore them at home during the playoffs last season.
Atlanta Thrashers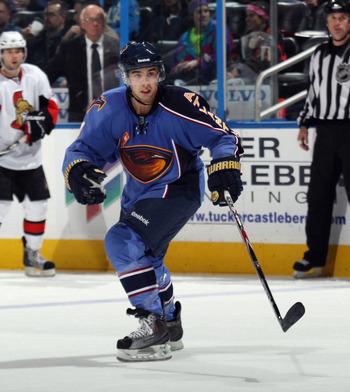 2007-2011 Home Jersey
Bruce Bennett/Getty Images
I know that the Atlanta Thrashers aren't an NHL team any longer, but I thought I'd just put this on here for old time's sake.
Now in the brief history of the Thrashers, there were no standout great uniforms—not by a long shot. However, I know that a lot of people did not like this jersey, but I personally am a fan of powder/baby blue and like the colour, and compared with the other jerseys in the team's history, this is my personal winner.
(To all you Winnipeggers that might be reading this, Let's Go Jets! Wow, that was weird to say...)
Boston Bruins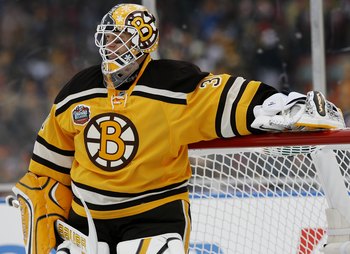 2010 Winter Classic Throwback
Elsa/Getty Images
With the Boston Bruins being an Original Six team, there have been a few different jerseys over the years of the storied franchise.
Most of them have been really nice, and there has been the odd disaster too (see golden jersey with brown bear!) but I truly like the throwback jerseys the team wore in the 2010 Winter Classic.
It was a tight contest between these and the current home jerseys, but I just love the old style B and the gold and brown colour combinations.
I wish the team would ditch the all black alternates in favour of these bad boys because they are truly awesome!
Buffalo Sabres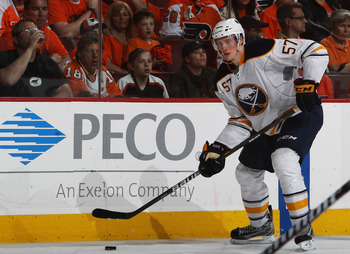 2010 - Present Road Jersey
Bruce Bennett/Getty Images
After starting off their existence with this design, the Sabres then decided to go black and red, then onto some buffaslug logo before finally coming to their senses and using their classic, original design.
Now I have to say that I think this jersey is awesome, and the contrast between the white and navy with the gold trim is such a great touch.
Along with that, the original logo gives the jersey the ultimate seal of approval from me.
Calgary Flames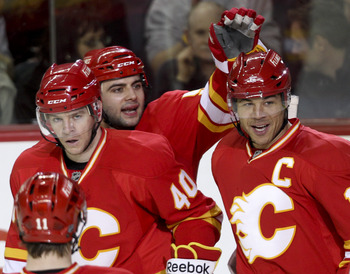 2009 - Present Alternate Jersey
Mike Ridewood/Getty Images
This remake of the original Flames jersey is much nicer than the current home and road jerseys in my opinion.
I do like the other jerseys, but I think that the black just adds too much to the jersey and makes it a little bit more complex.
In my personal opinion, I prefer the simplicity of this jersey and the all red look instead of the red and black combo.
Carolina Hurricanes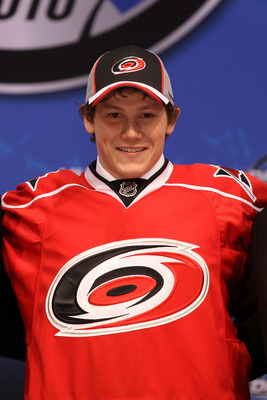 2007 - Present Home Jersey
Bruce Bennett/Getty Images
Of the few different jerseys the Hurricanes have had over their history (I make it three or maybe four), the all red uniforms have to be my personal favourite closely followed by the black alternates.
I think that what swings this jersey in my favour is the logo, which is the original Canes logo compared to the warning flag logo on the alternates.
Chicago Blackhawks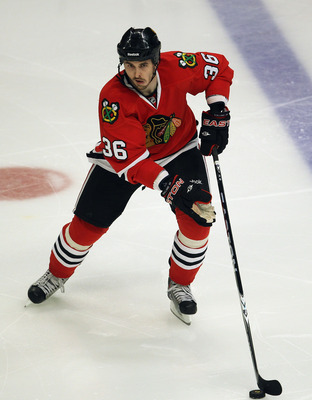 2007 - Present Home Jersey
Jonathan Daniel/Getty Images
In the history of the Blackhawks, this jersey has not seemed to change once, bar the change to Rbk Edge jerseys.
Personally, I think this is brilliant because this jersey is so simple yet so stylish and effective at the same time.
I also have a lot of time for the current alternate jerseys from the Winter Classic, but in the end, the sheer simplicity of these jerseys makes me a big fan.
Colorado Avalanche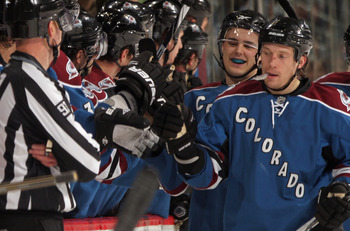 2009 - Present Alternate Jersey
Doug Pensinger/Getty Images
Now, this jersey is a little bit different to the usual maroon jersey with the blue trim and the snowy A, but in case you didn't realise from the Thrashers' slide, I'm a bit of a sucker for a powdery blue colour jersey.
This is no different. As much as I like the normal Avs jersey, I like this jersey because of the reverse colour combination and also the Colorado going down the jersey instead of the A.
I know a lot of people will not agree with my choice, but this is my personal opinion, and I think there is just something that draws me to this jersey.
Columbus Blue Jackets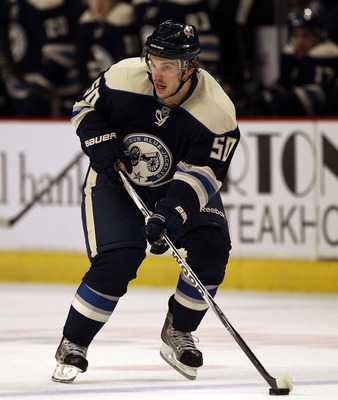 2010 - Present Alternate Jersey
Jonathan Daniel/Getty Images
In the short history of the Columbus Blue Jackets, they mostly got the jersey designs wrong until the introduction of the Rbk Edge jerseys.
Since then, I really like the navy and red design of the home and road jerseys, but their latest jersey has to be their best effort by far.
The look of this jersey really gives me a connection to the name of the team—The Blue Jackets.
For those that don't know, the Blue Jackets name was inspired by Ohio's civil war history, and the colour scheme and logo on this jersey really gives me a feel of that military background in an odd, roundabout way.
Dallas Stars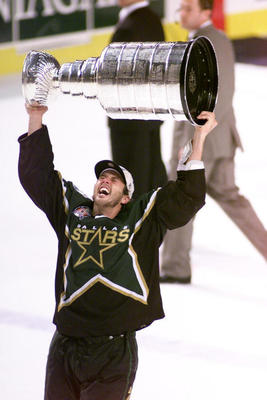 1993-2007 Home/Road Jersey
Now this is how a Dallas Stars jersey should look.
First of all, it has a great big star design, which is pretty cool and also has the traditional dark green and black colour scheme, which is much better to look at than the bland black and white generic Dallas uniforms they wear at the moment.
After hearing that the Stars will be replacing their alternate jersey with a new design this upcoming season, I am really hopeful that they restore this colour scheme, design or even both with their next effort.
Detroit Red Wings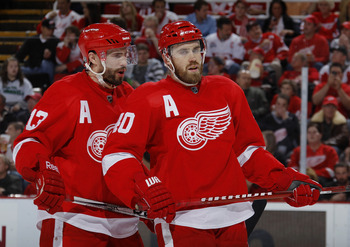 2007 - Present Home Jersey
Gregory Shamus/Getty Images
Now in the long history of the Detroit Red Wings, just like the Blackhawks, there have been very few jersey changes. Now that is totally fine by me.
Now I'm all for change, but when you have something as simple yet stylish and truly classy like the Red Wings home jersey, there is no need to change.
Edmonton Oilers
2008 - 2010 Alternate Jersey, 2010 - Present Home Jersey
Abelimages/Getty Images
This is another instance where the original jersey design was never in need of change, was changed anyway, then years later reintroduced.
Thankfully, the Oilers saw the sense in reintroducing their original glory years' jerseys, because even though they have sucked in recent years, they have sucked wearing awesome jerseys!
Now I absolutely love the blue and orange contrasting each other, and it just gives off such a great impression to me. I am also quite pleased that they have also introduced a new road jersey to match the home one as they also look pretty sweet.
Florida Panthers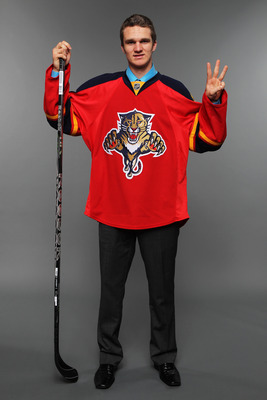 2011 - Present Home Jersey
Nick Laham/Getty Images
Even though I don't hate the Florida Panthers' jerseys, I know a lot of the fans have wanted the red jerseys to be reintroduced. Now they have. And man they look sweet.
I really like the new home jerseys, as they look so simple yet stylish with a really nice red as their base colour.
In my opinion, if the team plays anything like the new jersey, they could be Stanley Cup contenders!
(n.b. please understand that I am not implying that the Panthers will be Cup contenders, they just have a sweet jersey.)
Los Angeles Kings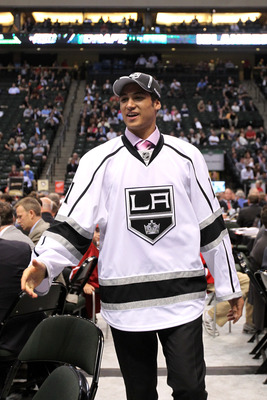 2011 - Present Road Jersey
Bruce Bennett/Getty Images
With regards to the LA Kings, for me, this was a three-way contest between this new road jersey, the black compatriot home version and the sweet purple throwbacks they wore a couple of times last season.
Now, I went with this jersey because pure and simple I think it is sweet. It looks nice and crisp, and the black and silver complements the white really well.
I'm glad that the Kings have decided to ditch the purple from their home and road uniforms for the upcoming season, but I am a bit disappointed that they won't be using the purple throwbacks as the alternates, as they could make a lot of money from sales.
Alas, I guess we will have to wait until next season to see if the Kings higher ups see the light.
Minnesota Wild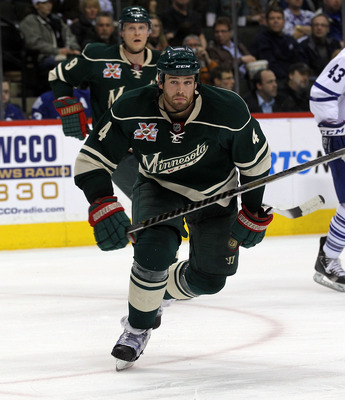 2009 - Present Alternate Jersey
Bruce Bennett/Getty Images
In the short 11-year history of the Minnesota Wild, the team has been mostly synonymous with the forest green colour, which was in my opinion nothing special. So when they changed to the current red home jerseys, I was quite impressed with their effort.
But when they brought out this jersey to wear as their alternate, my general feeling towards the forest green colour went right out the window. Combined with the gold, the forest green looks absolutely awesome and gives out a really stylish look.
If the Wild have any sense, they will make this their home jersey and fast.
Montréal Canadiens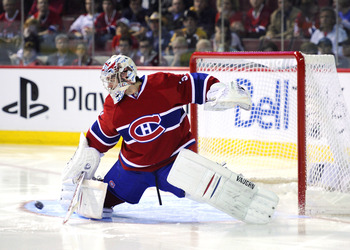 2007 - Present Home Jersey
Phillip MacCallum/Getty Images
Much like the other Original Six teams, the Montréal Canadiens have not seen much change in their jerseys, which is probably a good thing as they seemed to have it spot on early on with this red and blue look, with the different logos the team has had.
However, the rouge jersey with the bleu bar round the middle will always be associated with the Canadiens, and I can't think of any changes they need to make to this.
Nashville Predators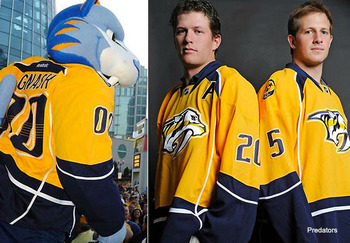 2011 - Present Home Jersey
Now, if I had written this article yesterday, I would have put a picture of the alternate jersey the Nashville Predators have worn for the past couple of seasons.
However, I am writing this slideshow today, and after I saw this picture, my opinions changed big time.
In case you can't tell, I absolutely love this jersey. I love the gold and navy combination, as it is certainly one of the more bolder and brighter uniforms in the league!
Another detail I like on the jersey is the guitar strings on the numbers on the backs.
All in all, this has to be one of my favourite jerseys of this season.
New Jersey Devils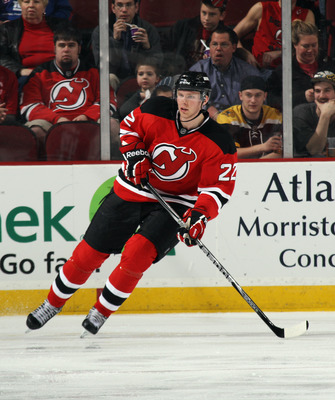 2007 - Present Home Jersey
Bruce Bennett/Getty Images
I believe I am correct in thinking that the Devils have only really had two different uniforms in their history, and the only change was from green trim to black, as displayed now.
Now I am not a big fan of the road jersey, so this is the only jersey I could really choose, and it is simple but quite boring in my opinion.
New York Islanders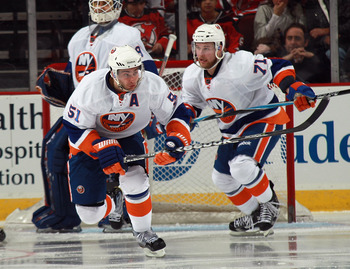 2010 - Present Road Jersey
Bruce Bennett/Getty Images
The New York Islanders are another good example of a team having a nice set of uniforms being worn in the glory days to designing an absolute disastrous set of uniforms (Google Islanders fishermen if you don't believe me) to going full circle and back to a solid set of jerseys.
Personally, I prefer the road version of the jersey because I think the navy and orange go really well with the white, and I'm not so keen on the shade of blue on the home jersey.
(On another totally unrelated note, any Long Island people reading this vote yes on August 1st!)
New York Rangers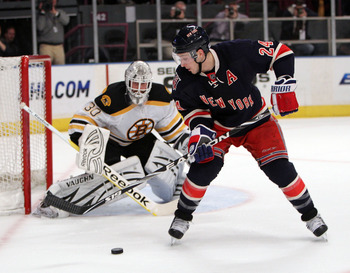 2010 - Present Alternate Jersey
Bruce Bennett/Getty Images
Now, onto my team, the New York Rangers, who for an Original Six team, have had quite a few different designs over the years.
As much of a fan as I was of the Statue of Liberty jersey and the current home and road Rangers jerseys, last year's 85th anniversary jersey has to be my favourite.
I absolutely love the navy with the beige and red colour combinations, and I really like the touch of having New York written down the front instead of the usual Rangers logo.
This has to be one of my all-time favourite NHL jerseys and not just because this is my team.
Ottawa Senators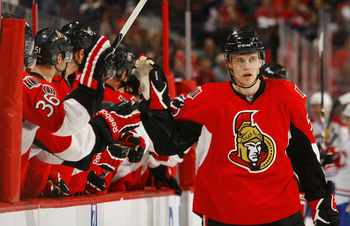 2007 - Present Home Jersey
Phillip MacCallum/Getty Images
This has to be my favourite Ottawa Senators jersey because of the simplicity of it and more so because it features red as the prominent colour as opposed to previous jerseys, such as the jerseys from before the Rbk Edge transition.
Philadelphia Flyers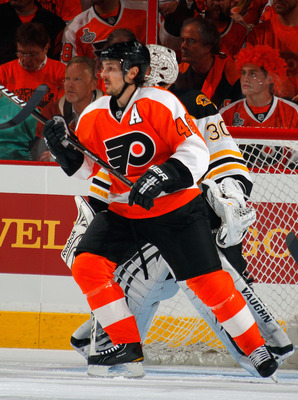 2008 - 2009 Alternate 2009 - Present Home Jersey
Paul Bereswill/Getty Images
The current Philadelphia Flyers jersey has to be my absolute favourite Flyers jersey because I am a big fan of the bright orange crush, and also, it resembles the jerseys from their glory days.
I was pretty happy when it was shown that they were bringing back orange as an alternate, and when they said they were ceasing the black jerseys, I was even more pleased.
Phoenix Coyotes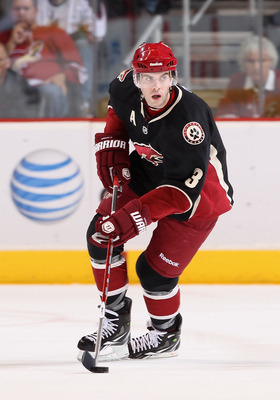 2008 - Present Alternate Jersey
Christian Petersen/Getty Images
For me, this is the nicest Phoenix Coyotes jersey because of the way the black and gold on the jersey complement the red in a nice way.
Plus, I find the all red home jersey quite boring compared with this one.
However, the logo on the front could be improved; this still isn't too shabby.
Pittsburgh Penguins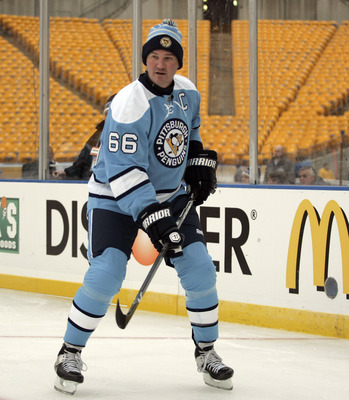 2008 Winter Classic Jersey, 2008 - 2011 Alternate Jersey
Justin K. Aller/Getty Images
Now, I've already mentioned that I am a big fan of powder blue jerseys, so it should come as no shock that I love this jersey. I think that the white and light blue make an awesome combination, and I was always a big fan of this uniform.
I know that this is being replaced as an alternate from next season which is quite disappointing as this was one of my favourites.
San Jose Sharks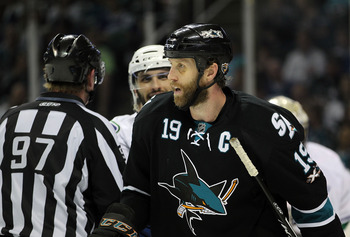 2008 - Present Alternate Jersey
Ezra Shaw/Getty Images
Now, I know that many people think that this jersey is quite boring and a bit too plain, but that is what I like about it.
I would much rather have the angry shark on a sharp black background with a little bit of teal to give it that really sweet look.
I would quite like to see these being used as the home jerseys from next season, seeing as the Sharks did use them in the playoffs last season.
St. Louis Blues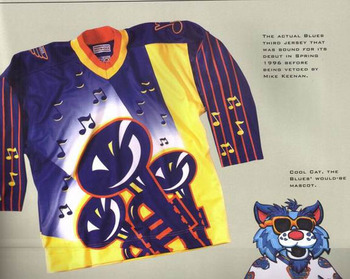 Need I say any more?
Just kidding!
Although, this could make a sweet suit for Don Cherry!
Something to think about there CBC...
St. Louis Blues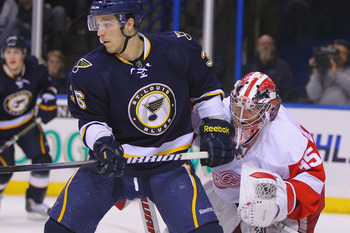 2008 - Present Alternate Jersey
Dilip Vishwanat/Getty Images
This is my real favourite St. Louis Blues jersey, mainly because the navy works so well with the white and gold trim.
I also really like the logo on this jersey, as it actually has St. Louis Blues written on the jersey around the blue note.
All in all, very classy jersey.
Tampa Bay Lightning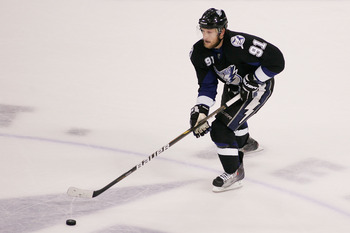 2007 - 2011 Home Jersey
Justin K. Aller/Getty Images
Ever since the Lightning have revealed their uniforms for next year, it has made me realise how much I like these black jerseys.
I really do like the black and blue combination on this jersey combined with the white trim, which all in all made the jersey simple yet awesome as well.
The new Lightning jerseys strike me as a cross between the Red Wings and Maple Leafs. Not good.
Toronto Maple Leafs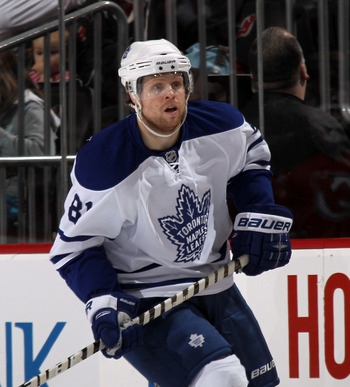 2008 - 2011 Alternate Jersey
Bruce Bennett/Getty Images
Now, I was weighing up whether I was going to choose this one, or the Leafs' current home jersey, but in the end, I went with this one because it is so cool.
It is a great mixture of retro yet modern, and I really did wish that the Leafs would have made this their road jersey and had a blue home jersey with the same logo, but alas, it was not meant to be.
I have also heard that this jersey is being retired for next season in favour of a new alternate, which is really disappointing as this was really popular.
Vancouver Canucks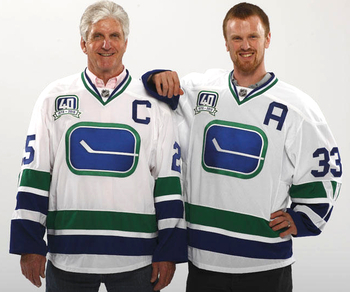 2010 - 2011 40th Anniversary Jersey
I had a lot of time for this jersey as it managed to find a great blend between retro and modern and still look stylish at the same time.
Another great touch of the jersey was the fact that there were no name bars on the back, which was even cooler.
It's a shame that they will not wear this again soon as I really did like this.
Washington Capitals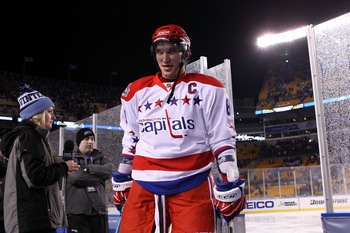 2011 Winter Classic
Jamie Squire/Getty Images
Now, this was a sweet jersey that the Caps wore in this year's Winter Classic.
Again, it was a great throwback to the origins of the Caps jerseys, and it was great to see them go back to the design that they started with back in the seventies.
I would really like to see this as an alternate jersey for the Caps as they haven't brought one out for a while, and they could really sell a lot of these if they did.
Winnipeg Jets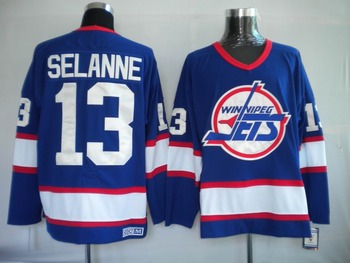 Retro Jets Uniforms
Man it felt good writing Winnipeg Jets in the title box.
Anyways, since the reformed Jets haven't released their new jersey designs yet, I thought I'd go with a popular classic from their first time around.
The blue on this jersey went really well with the red and white, and I have a funny feeling that the True North group are going to go this way with the new designs for the new team.
Keep Reading