Arsenal FC Destined to Win Titles with the Current Team, Says Arsene Wenger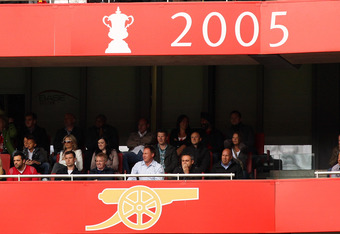 Richard Heathcote/Getty Images
It's mid July and, surprisingly, Arsenal have been biding their time on the sidelines watching the likes of Manchester United and Liverpool invest heavily to strengthen their respective squads.
Having finished fourth last season, Arsenal needed a couple of established players to supplement the youth and pit themselves as realistic title contenders again after a long hiatus of six trophy-less seasons.
As of yet, Arsene Wenger hasn't even added a new centre-back to the squad and if you think Arsenal's defensive frailties can be solved by rigorous training sessions, then praise the god.

Now Wenger seems to be on cloud nine, having beaten the "strong" Malaysia XI and says his team is destined to win the title next season.

Listen to the manager: "I believe that the real destiny of this team is now there. If we need to spend money we will do it."

That's not the first time you're hearing these statements. And the ridiculous part is he's still not convinced that his club needs to bring in a few more quality players to compete for silverware in the domestic league.
Paul Gilham/Getty Images
Had it been "the team is destined to win after five years or so," then it would've made sense.
But how is destiny going to improve a team that has capitulated under pressure on numerous occasions in the past with the inability to soak in pressure as evident as Wenger's blind spot for defenders?
Wenger's also beginning to hint that he will only buy if he finds the right players.
That's something you've heard in the past, which means he's happy with the squad and won't be making any big signings.
Wenger believes destiny will somehow make his team so much better that it will compete for the title next season.
The manager is clearly deluded and is fighting against the entire world to prove that he's right when he should be more sensible.
Age seems to be getting to the manager and his defiant optimism is clouding the club where realistic people are rare these days.
Everyone seems to be under the delusional spell of Wenger and someone has to dig out the magical wand to wave the fans back to the realms of realism and break free from Wenger's domain of illusion.
Adam Pretty/Getty Images
The alchemist that Wenger is doesn't seem to have gotten the grip with the chemistry of modern-day football.
Someone needs to remind him that the Premier League has come a long way since he last won the league and it's no more a two-club monopoly that once dictated the complexion of the English top tier.
The gap between the so-called behemoths and the minnows is getting smaller and smaller and as a result lack of quality gets exposed cruelly.
Top clubs need to be more tactically astute and creative to counter different clubs in the Premier League as each club have a clear strategy in place to beat the big guns, which wasn't the case back in the first half of past decade.
These clubs, including the newly promoted ones, keep feasting on Wenger season after season and the respected Arsenal manager does nothing to reverse the trend.
The team has been fallible defensively over the past few years. It still remains the point of weakness. The team has been susceptible to high balls and set pieces. It still remains a concern. Nothing has been done of note to plug these holes.
To make matters worse, for quite some time his first 11 hasn't been up to the supreme level either. Wenger doesn't have the right players to bear fruits on his tree of idealistic philosophy.
Jasper Juinen/Getty Images
He has come up with the demented statements just when you thought he was finally a reformed man after witnessing one of the most ludicrous and cataclysmic spells of shambolic football during his reign as the tyrant of Arsenal.
If the tragic events of this last season haven't opened his eyes then don't expect them ever to.

From the comments, it seems like Arsenal fans are in for a very long season yet again.

The Bible says, "Man lives by every word that comes from the mouth of the Lord" (Deuteronomy 8:3).
The bread of life has already been given but that doesn't mean everyone will automatically escape from hunger. A person has to eat when he or she comes to the bread of life.
But Wenger is relying on destiny and feels destiny will feed him one day...err, today.
This article is
What is the duplicate article?
Why is this article offensive?
Where is this article plagiarized from?
Why is this article poorly edited?

Arsenal: Like this team?