10 Little Known Insider Tips for Visiting Fenway Park
July 15, 2011
Elsa/Getty Images
Visiting the nation's oldest ballpark is high on the list for any baseball fan.  Whether it's your first time or you're a seasoned veteran, here is a list of things you didn't know to do during your visit. These are the insider tips for making the most of Fenway Park.
 
1. You don't have to trespass onto the field or pay big bucks to touch Fenway dirt.
Many fans are reprimanded or even arrested for leaning over the boundaries and attempting to touch the dirt on the warning track. Even more fans pay money for Red Sox paraphernalia on eBay that contain framed pieces of Fenway gravel. What people don't know is that the trees on Yawkey Way are planted in the same stuff. Confirmed by the grounds crew, the red dirt around the those trees is the same stuff on the field. Go ahead and run your fingers through it. No one is going to arrest you or kick you out of the park.
 
2. Want to offer Mariano Rivera a hot dog?
Since the renovations last winter, the seats in Section 1 have moved farther to the right. This means that if you are in the last seat of a row in Grandstand Section 1, Right Field Box 1, there is only a thin wire fence between you and the visitor's bullpen. In addition, the distance from the main aisle means you are less likely to be caught trying to converse with players by Bill, that section's usher. As a result, opposing team pitchers have been offered a lot of vending food from fans believing they need a mid-game snack. The players rarely accept, though.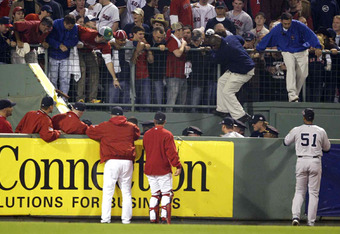 Jed Jacobsohn/Getty Images
3. Trying to get your usher's attention? Shout "Bill!"
The most common name for ushers at Fenway park is William. Most prefer the nickname Bill, regardless of what their name tag says.

4. Boston Baseball Magazine is not actually more expensive inside the park.
No matter what gate you use to enter Fenway, you will hear vendors hawking Boston Baseball Magazine. They are quick to let you know that outside the park you can buy it for $2, but once inside the price will skyrocket to $5.
This is actually not true. Boston Baseball Magazine is simply not sold inside the park at all! The magazine they are hoping you will confuse it with is Red Sox Magazine, the official magazine of the Boston Red Sox, which is the only magazine sold inside the park. Is Boston Baseball still a good buy? Sure. It comes with a scorecard and a bumper sticker and has more opinionated articles. Red Sox is usually a much thicker, more durable magazine, with more player interviews and bigger and brighter pictures.

5. Get a balloon hat on Yawkey Way. That man is famous.
Yes, the short man with the beard who made your son that Wally hat out of balloons is Royal Sorell, an internationally renowned and award winning balloon artist. Royal has invented most of the techniques used today in the creation of large balloon sculptures. He's created a nine-foot tall balloon dragon, a 10-foot tall cat, and has even made sculptures for the White House. He's also a mime, trained by Marcel Marceau. So don't just ask for that standard balloon dog, this man can make anything.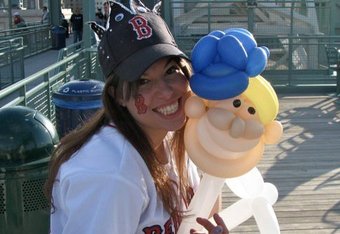 6. You can get a beer after the seventh inning.
At Fenway, all beer vendors will shut down shop during the seventh inning, but sometimes you need a beer after that. Especially, if there's a rain delay in the eighth, or the game goes into extra innings. Have no fear, there is a way to get more beer without leaving the park (once you leave the park you can't get back in!). Who's On First, on Yawkey Way, will be serving beer well past when the game ends, and you don't have to worry about sacrificing your entry to the stadium.

7. Meet the man who made your baseball cap.
OK, so he didn't personally make it, but his company did. Look inside your cap: does it say "Forty Seven Brand" or "Twins Enterprises?" If so, the company that made it was started right here, outside Fenway Park, in 1947 by twin brothers Arthur and Henry D'angelo. Arthur is still alive today and can usually be found in his store during games. He'll be the older gentleman with the World Series rings—yes, he will let you touch them.

8. Head to Lansdowne Street if you don't have a ticket.
Lansdowne Street is the area where you will find the most scalpers and, if you can't get a ticket there, you can still see the game without one. Just be ready to drink—a lot. The Bleacher Bar on Lansdowne is literally built into the outfield wall, under the bleachers. You can sit there and watch the game as long as you are still drinking. If you stay the whole time, your tab will probably be higher than your ticket would've been, and you're not allowed to take any pictures, but it's still a fun bar and pretty good last resort.

9. Luis Tiant sometimes eats his own Cuban sandwiches.
Yes, Luis Tiant can sometimes be found signing photos by El Tiante on Yawkey Way. When this happens, Fenway doesn't make too big a deal of it. He will usually sign the photos for the people who recognize him, have a few conversations and then be on his way. There's no big sign like on autograph alley, you just have know who he is and recognize him before everyone else does.

10. Visit Autograph Alley.
Regardless of whether you run into Luis, be sure to find out where the location of Autograph Alley is. They often move it around, but it can usually be found inside the team store. Usually, the former player signing will be a retired relief pitcher, who only spent one year with the Sox, so you've likely never heard of him. However, sometimes big name players sign there. I've seen Frank Malzone and Johnny Pesky give autographs at the alley, so it's worth checking out.