MLB Trade Rumors: The Greatest Value at Every Position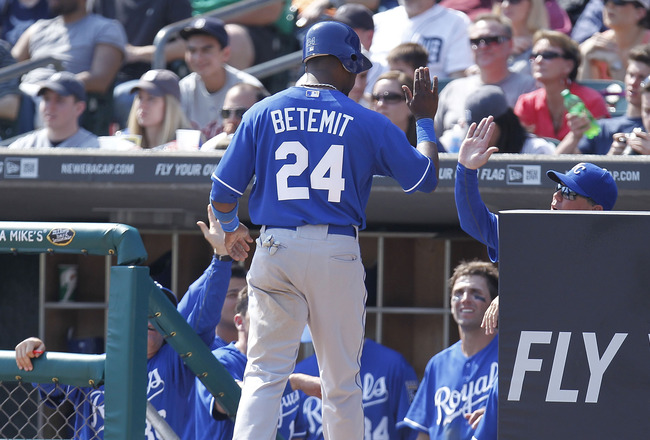 Gregory Shamus/Getty Images
As this year's trade deadline nears, teams are preparing to wheel and deal for the stretch run toward the playoffs.
Finding trades that benefit all parties isn't always easy, and sometimes additions or subtractions are about more than a player's raw talent.
Bringing value to a new team isn't limited to on-the-field numbers. The best player in the game might not be much help if he doesn't fulfill a team's primary need.
Sometimes, the right trade is as much about a player's role, salary, or age as it about home runs, ERA, or RBI.
Going around the diamond, it's time to examine the trade market position by position, seeking out the best values. In some cases, value is represented by elite talent. In others, affordability or versatility are king.
Who should teams be looking at as July 31st draws closer?
Catcher: Jesus Montero, Scranton/Wilkes-Barre Yankees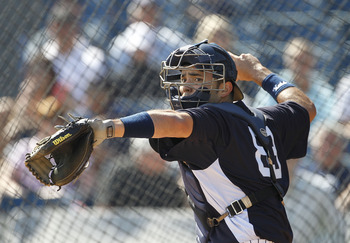 Leon Halip/Getty Images
Not too long ago, Montero was one of the most talked-about prospects in the game. With 40-HR power and an arsenal of other offensive weapons, he was regarded by many as being ready to hit in the majors.
Unfortunately, Montero might have taken the hype to heart and let it affect his motivation. Scranton/Wilkes-Barre benched him earlier in the season for a "lack of energy."
That leaves the Yankees with a problem.
Montero is not a particularly good backstop, and the New York farm system has better catching options just behind him, such as Gary Sanchez. Unless the Yanks want to give Montero a shot in right or as DH, it's time to move him.
There are plenty of clubs who would still relish a chance at such a prospect, especially at a challenging position.
And the Bombers need pitching help in return.
First Base: Carlos Pena, Chicago Cubs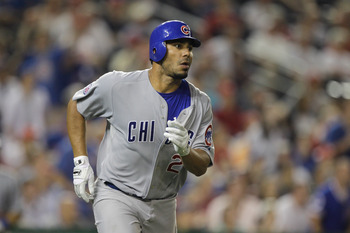 Rob Carr/Getty Images
Pena is one of those players whose value couldn't be more obvious if it was tattooed on his face.
The guy is a slugger, pure and simple. He brings 40-HR potential and the ability to hit in the middle third of any lineup.
Making $10 million this year, $5 million of which is deferred until 2012, Pena is a relative bargain.
Teams with disposable income who covet a power bat will be calling Chicago as the deadline nears.
For their part, the Cubs need to move their costly, aging veterans in favor of younger players.
There are plenty of win-win scenarios to be found here.
Second Base: Michael Young, Texas Rangers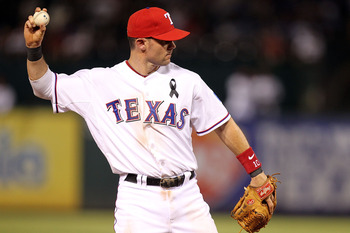 Ronald Martinez/Getty Images
The Rangers want to add key pieces at the deadline to tighten their grip on the AL West. Michael Young was reportedly disgruntled in the preseason. It's reasonable to think that both sides could benefit from a deal involving the versatile player.
Before becoming a DH, Young was a standout at second. And in a year when the market is suffering from a lack of options in the middle infield, many teams would welcome the opportunity to plug him in at his old position.
Impacting Young's value as a trading chip is his big time contract. He's due to make $16 million per year through 2013, and not many clubs can absorb a price tag north of $40 million.
If the Rangers are willing to eat some of that money, however, it's doable.
Third Base: Wilson Betemit, Kansas City Royals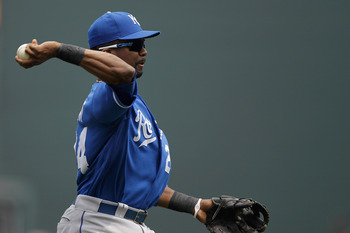 Rob Carr/Getty Images
Based on numbers, the best talent available at the hot corner is probably Chicago's rejuvenated Aramis Ramirez.
But he also carries a hefty salary and age issues: At 33, A-Ram earns a 2012 player option with a trade, and is due to make more than $16 million next year.
Betemit is, in some ways, the polar opposite.
Four years younger and earning a paltry $1 million, he is far more affordable and would likely stick around for a longer period of time.
And though there is an accompanying drop off in production, it's not as extreme as one might think.
Despite inconsistent playing time, Betemit has compiled a respectable .760 OPS. With a larger role, his numbers could improve.
At such a low price, he could be a valuable commodity.
Shortstop: Jose Reyes, New York Mets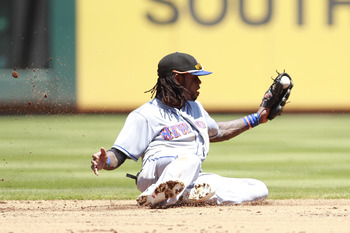 Rick Yeatts/Getty Images
Sometimes, value really is about getting the best possible talent. Of all the position players on the market, Reyes is the one who stands out as being truly elite.
If the Mets elect to move him, Reyes will be the marquee add of 2011. Regardless of his contract demands—said to be more than $100 million—the speedy shortstop would find himself at the center of a bidding war.
In all likelihood he'll stay in New York. The Mets may even try to re-sign him.
But should something happen to put him on the trading block, it will be an exciting deadline.
Left Field: Ryan Ludwick, San Diego Padres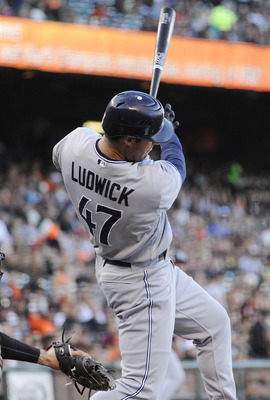 Thearon W. Henderson/Getty Images
Like second base, left field is a thin position in this year's market. But Ludwick has generated interest for the past month or so due to his ability to produce runs.
Looking at his average or on-base percentage or slugging, it's hard to get too excited about this guy, but remember that he's undoubtedly been limited by one of the game's weakest lineups. And playing in Petco Park makes an anemic offense look even worse, so Ludwick would benefit from heading to a better ball club.
With a salary under $7 million, he won't be a problem for most payrolls. His 11 homers and 55 RBI show what he's capable of.
He would have substantial value hitting sixth or seventh for a team with a hope of contending.
Centerfield: Colby Rasmus, St. Louis Cardinals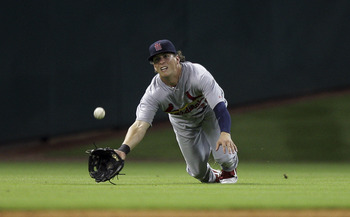 Bob Levey/Getty Images
Rasmus has always had big upside. A center fielder with five-tool potential, the 24-year-old would draw major interest from almost any team seeking offensive help.
Let that sink in a moment.
It may seem like Rasmus has been around forever, but yes... he's only 24.
His tenure with the Cards has been marred by off-the-field issues and alleged dissatisfaction with management.
The St. Louis Dispatch is reporting that, perhaps for the first time, the team is open to dealing the youngster.
Of course, other reports claim the contrary. But his name is already out there as a possibility, and it would be tough for the Cards to turn down the right deal even if it meant letting Rasmus go.
Tampa has expressed sincere interest already, but if Ramus hits the open market he could bring quite a haul back to St. Louis.
He'll be arbitration eligible in 2012, so if the Cards want to part ways before making a seven-figure investment, now is the time.
Right Field: Carlos Beltran, New York Mets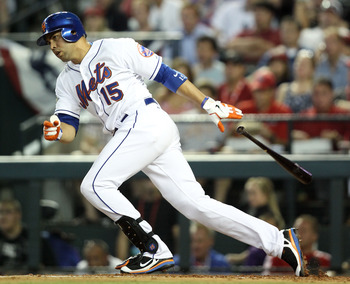 Christian Petersen/Getty Images
If Reyes does stay put in New York, his teammate Carlos Beltran assumes his role as the top available position player.
Beltran has been on a tear in his comeback season, leading the NL in doubles while bashing 14 homers and driving in 59 through his first 90 games.
Beltran's downside is a financial one. He comes with the remainder of an $18 million price tag, and if that's not bad enough, ESPN's Buster Olney tweeted that the Mets are "insisting on a top prospect" in return.
How many teams can bear that kind of salary and raid their farm systems?
Still, there's no questioning Beltran's value. He's an instant game-changer, the type of bat that can elevate a lineup down the stretch and throughout the playoffs.
It's not often that teams can find trade bait that plugs so effectively into the heart of the order.
Designated Hitter: Jason Kubel, Minnesota Twins
Hannah Foslien/Getty Images
It's easy to forget about Kubel. He's not a top-tier bat and has spent a good portion of 2011 sidelined on the DL, but when on the field this year, he's assembled a .310 average and driven in 30 runs in 52 games.
A look at his career numbers might be surprising. Kubel has quietly established himself as a guy who can give a team 20 homers and around an .800 OPS year in and year out, and with a salary near $5.5 million, the 29-year-old won't break anyone's bank.
Kubel has played mostly right field, but no one would miss his defense if he were allowed to focus solely on hitting.
He'd make a solid DH for any number of teams looking for help.
Starting Pitcher: Hiroki Kuroda, Los Angeles Dodgers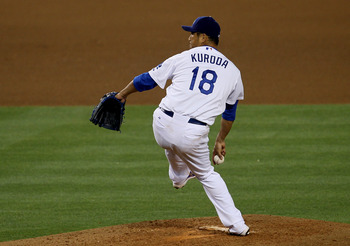 Stephen Dunn/Getty Images
The Dodgers are in the midst of well-documented financial struggles. Kuroda is a highly productive pitcher who will be a prized commodity on the trade market. While his salary is actually quite reasonable, it still represents millions in savings if the team can ship him out.
Top-tier pitching is scarce in this year's market, and Kuroda could well be the best arm out there. His ERA has never climbed out of the threes during his major league tenure, and at $12 million this year, his salary wouldn't be a back-breaker.
A limiting factor could be his willingness to travel to the east coast to find a new home, but even that does little to diminish his value.
Relief Pitcher: Heath Bell, San Diego Padres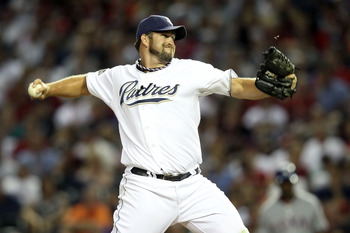 Christian Petersen/Getty Images
No player has been talked about more than Bell. It seems a virtual certainty that the Padres will move him.
At age 33, the free agent to be is likely headed toward the last big contract of his career.
San Diego is hardly know for doling out big contracts.
Wanting prospects in return, the Padres are offering an elite relief arm that can transform any bullpen into a legitimate threat.
Bell is earning $7.5 million this year, which compares favorably to the salaries of the game's other established closers.
Keep Reading