Chicago Cubs' Manager Mike Quade Is a Dead Man Walking
July 15, 2011
Jonathan Daniel/Getty Images
If Thursday night's Chicago Cubs game against the Florida Marlins was any indication of what we have to look forward to in the final 67 games of the season, their games should be on Comedy Central instead of Comcast SportsNet.
Embattled manager Mike Quade kept up his mantra after the All-Star break when asked what the Cubs need to do moving forward, "Play better, execute better, pitch better, hit better. We just have to be better," he told the Chicago SunTImes.
How about managing better?
That's the mantra of everyone in town, from the fans, beat writers and columnists, Cubs' TV color analyst Bob Brenly and on sports talk radio.
Even those people who were in his corner last year after a surprising run at the end of the season have abandoned ship. They say he's in over his head and there has to be a change made before next season. 
That was painfully obvious as he left struggling closer Carlos Marmol in the game last night as he walked the bases loaded and gave up the game-winning hit to pinch hitter Greg Dobbs.
He didn't even have anyone up in the bullpen until Marmol loaded the bases. We have all seen this act before. How come the manager hasn't, or wasn't ready for it before the game got out of hand?
On the play, the Cubs appeared to catch a break when Dewayne Wise stumbled around third base. But in their best keystone kops routine, they threw the ball away, and Marmol was nowhere to be found when he should have been backing up the play at the plate.
In the first inning, starting pitcher Matt Garza failed to cover first on a play.
During spring training, Quade emphasized fundamentals were going to be his main focus.
Obviously something has gone horribly wrong, because they were terrible fundamentally in the spring, and it has continued throughout the season. That all comes back to the manager.
Quade has shown there is no aspect of the job that he is competent at.
He can't teach fundamentals or manage a pitching staff. He either leaves pitchers in too long or pulls them too early.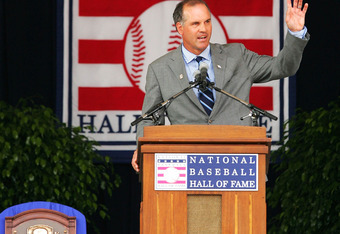 Ezra Shaw/Getty Images
He has no idea how to use the players he does have to take advantage of their strengths or find a way to create runs.
He does not hold players accountable, unless their name is Starlin Castro. He caters to the veterans and says he's happy with the effort his team is giving him, despite guys like Alfonso Soriano and Aramis Ramirez rarely breaking a sweat on the field.
He can't motivate, and has turned the players that were his strongest backers last year for the job against him. When Ryan Dempster went jaw-to-jaw with him last week, that was the final straw in what has been a dismal experiment.
He laughs it off every time a player disses him and admires their "competitive spirit."
Nobody on the team has any respect for him, and the worst part is, I don't think he even realizes it.
In his world, everything is wonderful and, "We just have to go out and get them tomorrow."
He can't be back next season—unless the Cubs want to alienate the rest of the fans they have left.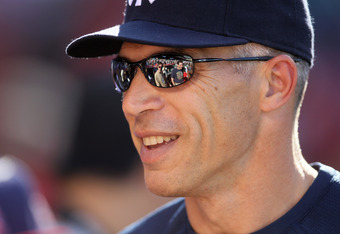 Stephen Dunn/Getty Images
This could have been so different with either of two local heroes managing the ballclub.
Ryne Sandberg would have been a great choice. The Cub icon could have grown with the team, knowing they would be bringing up a lot of the young players he managed in the system in the next couple of years. At least they would be getting taught the right way to play the game.
Or the Cubs could have waited for the local-hero-made-good Joe Girardi to finish the playoffs last year. I have information from an inside source that he wanted the job and would have left the Yankees if the Cubs offered it to him.
Those were two obvious choices that GM Jim Hendry passed over for Quade. Even if he didn't want Sandberg, he could have waited for Girardi, because nobody would have been knocking on Quade's door.
Instead we get the guy who was quoted in Paul Sullivan's column in the Chicago Tribune July 5 saying, "I'm the hardest guy on Mike Quade, and he enjoys being questioned about his decisions."
He took it to the fourth person—can you believe that?
So in my best Mike Quade impersonation, let me sum up, speaking as Mike Quade would.
"Mike Quade as a baseball lifer was really thrilled to finally get an opportunity to manage at the big league level. It's something he had always wished for. Unfortunately, there is a saying, 'Be careful what you wish for,' and even he realizes the minors is where he belonged."
Hendry's not going to get an opportunity to select a fourth manager—is he?