IMPACT Review 7/14: Mid-Summer Nightmare, New Champ, Jarrett's Surprise
July 15, 2011
After missing two weeks I am back with IMPACT reviews!
I found my Fortune t-shirt again and just in time for IMPACT Wrestling.
The 7/14 edition was dubbed the Mid-Summer Nightmare by the now "Insane Icon" Sting.
Opening Segment
Immortal's music hits and every member comes out in a tuxedo. Abyss' tux has the sleeves torn off and looks like a mess. That's Abyss for ya'. There's a poker table in the ring. Bischoff says they're going to gamble with some careers.
Immortal wants to welcome Mr. Anderson into their family. The Immortal family.
Anderson comes out in a woodland camo suit.
Anderson, Bischoff and Hogan all talk. Anderson says that he joined just to stay the top card on the deck. To being the, "Ace of fricken' spades."
The lights go out in the Impact Zone and when they're back Sting is sitting at the poker table.
Sting says he has some aces in the hole for his World title match later tonight. Sting points to the rafters and there's four clowns. (Guys wearing clown masks and trench coats).
Sting flips over the table, lights go out and when they're back, he's gone.
Cool segment for Sting's character.
Match No. 1: BFG Series: Bobby Roode (0) vs. Samoa Joe (0) vs. The Pope (0)
I really liked this match.
All the guys have zero in the BFG Series so it was good to put all three of them in one match.
Pope, Joe and Roode are some of the best all around guys in IMPACT.
Bobby Roode hit his Pay-Off fisherman suplex. Something he hasn't done in months. So it was great seeing the Pay-Off.
Joe had Roode in a rear naked choke and Roode ran up the turnbuckle, backflipped and landed on Joe in a pin. Earl Hebner counted a three and as his hand hit the mat, Roode tapped out.
Roode won by pin fall but Joe thought he won by submission. Joe keeps falling through. He was angry after the match and cursed out Hebner at the end of the match.
I'd love to see Roode start his singles career again.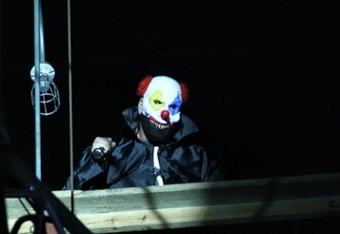 Winner: Bobby Roode (+7)
Backstage, the Jarrett's are back! Jeff and Karen enter the building with a helluva lot of luggage. They're going to find Immortal and give them their gifts. 
Now we're in Hulk's office with Immortal. Hogan tells the guys to take out Sting before his match with Anderson. Abyss tries to get the guys motivated but Bischoff shuts him up and is still pissed about Abyss losing the X Division title to Kendrick.
The Jarrett's walk into the room celebrating. Karen gives everyone sombreros while Jarrett shows Hulk a briefcase. Double J opens the case and pulls out the AAA Heavyweight Championship. Hogan's happy.
Pope is talking with Devon's kids backstage, Devon shows up and says he doesn't trust Pope. 
Match No. 2: Shannon Moore vs. Austin Aries
Aries first match officially under an IMPACT contract. He's a heel but the crowd still loves him.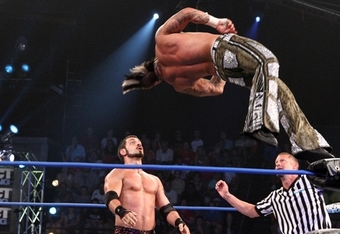 It was a good X Division match. Moore seemed to have an edge the entire time. The match felt too short though.
Aries went to hit Shannon with the book of DILLIGAF but the ref took the book away. Aries then grabbed the chain that is always attached to the book.
Aries wrapped the chain around his fist and hit Moore for a three count.
Winner: Austin Aries
Post match, No. 1 contender, Alex Shelley came out to confront Aries about his cheap win. Shelley says that everyone saw Aries use the chain. Aries smiled, looked into the camera and said, "not everybody saw it."
Abyss is backstage warning Kendrick that tonight he takes back his X Division title. One of Sting's clowns from the top of the show is behind The Monster.
Abyss turns around to get beat down by a baseball bat wielding clown. No X Division title match tonight because of the attack.
Backstage before Tara says she has a gift for Madison. She says she'll give it to her after a match and it's her size, color and everything. She wants to patch things up with Madison.
Scott Steiner is hitting on SoCal Val backstage when, all of a sudden, a clown takes out Big Poppa Pump with a baseball bat.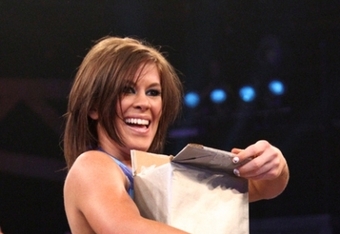 Match No. 3: Madison Rayne vs. Tara
Madison thought Tara was just going to lay down for her. She's dead wrong and Tara starts to beat her down.
Very good back and forth knockouts match.
Madison threw Tara into the steel steps and went for the gift at ringside. Madison unwrapped the gift and inside is none other than, Poison. Tara's tarantula.
Madison starts freaking out and Tara comes back in, hits a Widows Peak and this match is history.
Really entertaining match between Madison and Tara.
Winner: Tara
After the match Tara chased Madison to the back with Poison in her hand. I still love Madison Rayne...
Kurt Angle hits the ring and reminds everyone that he is the No. 1 contender to the World Heavyweight Championship. Whether it's Anderson or Sting he'll be coming for them.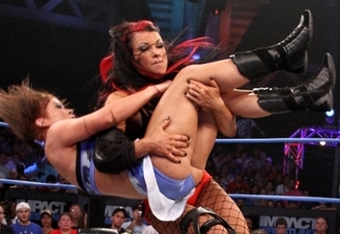 Angle reminds everyone of his match and feud with Anderson last year around time for Lockdown. Then Angle says he's never beaten Sting in his career. That realization kind of pisses Kurt off.
Whoever it is, Kurt promises to leave Hardcore Justice as the IMPACT Wrestling World Heavyweight Champion.
The Jarrett's are packing up their car and about to head home. One of Sting's clowns come and they drag Jeff out of the parking lot while Karen runs away in fear.
Abyss, Steiner and Jarrett all went down due to these clowns. Gunner and Bully Ray are the only ones left standing.
Match No. 4: No. 1 Contenders Match—Mexican America vs. British Invasion
It wouldn't be a Mexican America match without the big flag and a cheap, boring promo in the beginning. 
The Brits come charging down the ramp to start this match.
Good back and forth tag team action.
I never realized how f'n big Magnus is. He's bigger than Williams, Anarquia and Hernandez. He's the biggest guy in the match!
The Brits hit Anarquia with a double team and Magnus went for a pin. Rosita comes out of nowhere to distract the referee. Hernandez pulls Williams out of the ring, does a basic elbow drop on Magnus, puts Anarquia on top for a pin and the win.
Good match, bad finish. A standing elbow drop?
Winners: New No. 1 contenders, Mexican America
Bischoff tells Gunner and Bully Ray that they're the last line of defense. He asks them not to let him and Hogan down. Bischoff walks out.
Gunner tells Ray that he doesn't want to be the hunted. He wants to be the hunter. Gunner leaves Bischoff's office in hopes of finding the clowns.
Bully Ray stays and looks worried/scared.
We get a video giving a recap of all the clown attacks.
Gunner is in the parking lot with a pipe screaming for the clowns to come fight. All fours clowns come with baseball bats and form a circle around Gunner.
Gunner swings at one of the clowns but connects with a bat and drops his pipe. All the clowns pounce (Monty Brown reference. You're welcome) on Gunner and beat him down.
The camera zooms in on Gunner and four clown masks hit him in the head.
Zoom out and the clowns are revealed to be Fortune. AJ, Daniels, Storm and Kazarian. Kazarian says that was fun but now where's Bully Ray?
Fortune walks off. Bad-ass.
Main Event: World title match: Sting vs. Mr. Anderson
Good match and good to see the World title defended on free TV. 
The crowd was chanting this is awesome throughout the match.
Sting throws Anderson into the ref and Sting locks Anderson in the Scorpion Deathlock. Anderson is tapping but there's no ref.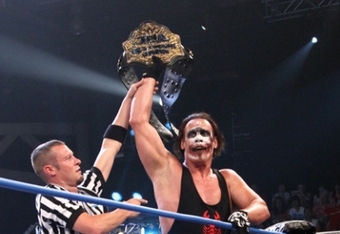 Bully Ray runs out and pushes Sting off Anderson.
Bully Ray grabs his chain as Anderson holds Sting. Lights go out and then there's another clown. 
The clown takes out Bully Ray and squares off with Anderson. The lights go out again (I love that) and everyone is gone.
Anderson is in the ring confused as to who, what, where, when, why and how. Sting, Bully Ray and the clown—gone.
Sting comes from behind Anderson hits a Scorpion goes for a pin and the ref counts a three!
Winner: New World Champion, Sting!
After the match, the final clown is on the stage. He pulls his mask off and it's Kurt Angle!
After re-watching this weeks episode on YouTube, a lot of people are saying how great the show was. IMPACT is finally good.
My question to them: Where the heck have you been all of last month?!?!?!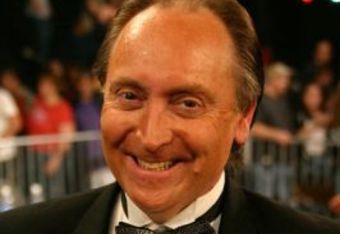 IMPACT has been good ever since "wrestling mattered" again!
Another good show this week but I'm not in favor of Sting as champion. Sure, Angle wants to beat Sting but I think Anderson vs. Angle at Hardcore Justice would've been way better.
I loved the Knockouts match, BFG Series match and Austin Aries on TV. Bobby Roode finally got on the BFG Series board (YES!) and Shelley teased a feud with Aries.
IMPACT confirmed the rumor that they're looking for new X Division talent. Don't believe me? Check their website!
This week was great but next week looks to be even better.
Preview next week:
- X Division title match: Alex Shelley vs. Brian Kendrick
- BFG Series match: Scott Steiner vs. RVD
- BFG Series ladder match: AJ Styles vs. Samoa Joe vs. Matt Morgan vs. Gunner. The winner will receive 10 points.
- Knockouts title match: Velvet Sky vs. Mickie James
I think some people may have read something I wrote (I hope. That'd be cool...) I was complaining about having title matches only on pay-per-view. Now there was a World title match and next week an X Division and Knockouts title match on free TV! If any IMPACT people are reading this: First off, hi and second, TV title match?
Join the Enigmatic Generation of Wrestling already! Will ya'? Check my profile for a link or PM me. Thanks for reading!