San Francisco 49ers: What Is Michael Crabtree's Fantasy Football Value in 2011?
July 15, 2011
Ezra Shaw/Getty Images
Michael Crabtree enters the 2011 season with no 1,000-yard receiving seasons, and he is still stuck with Alex Smith at quarterback. 
Last season, Crabtree ranked 44th in the league with 741 total receiving yards. He was also tied for 29th with six touchdowns. Last year, Crabtree would have been considered a No. 4 receiver on any fantasy team.
In terms of fantasy points, Crabtree came in 34th amongst receivers last season with 103 points at http://games.espn.go.com/ffl/leaders?seasonId=2011slotCategoryId=4. There are a few reasons to believe Crabtree is in for a breakout 2011 season. 
Crabtree was targeted 101 times last season and 86 times in 2009. He is getting targeted at a very high rate, but most of the time Alex Smith can't get the ball to him. 
The supporting cast in San Francisco also takes a lot of the coverage off of Crabtree. Vernon Davis is arguably the best tight end in the NFL, and Frank Gore is one of the best receiving running backs. 
New head coach Jim Harbaugh is a very smart offensive coach. He turned Andrew Luck into one of the most highly regarded quarterbacks in college football, and maybe he can turn around Alex Smith's career. Luck will surely be a top-five pick in the 2012 NFL draft.
The strongest reason to believe Crabtree may have a breakout year in 2011 is the fact that he is entering his third NFL season. Here is a list of a few receivers who broke out in their third seasons:
Roddy White:
2005: 29 Rec, 446 yards, 3 TD
2006: 30 Rec, 506 yards, 0 TD
2007: 83 Rec, 1,202 yards, 6 TD
Miles Austin:
2007: 5 Rec, 76 yards, 0 TD
2008: 13 Rec, 278 yards, 3 TD
2009: 81 Rec, 1,320 yards, 11 TD
1996: 35 Rec, 520 yards, 4 TD
1997: 60 Rec, 936 yards, 8 TD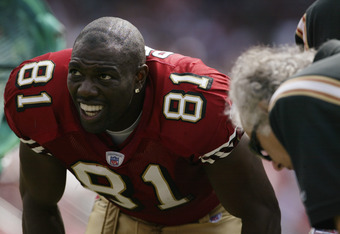 Jed Jacobsohn/Getty Images
1998: 67 Rec, 1,097 yards, 14 TD
Granted, each of the three receivers listed above has a different story than Crabtree. The thing that sticks out in my mind is the quarterback play. 
If Crabtree can get some solid quarterback play from Alex Smith, then he can be very fantasy relevant. Smith was poor in 2009 and 2010, but Crabtree still pulled off decent campaigns.
Below are Crabtree's first two seasons, and my 2011 prediction for him:
2009: 48 Rec, 625 yards, 2 TD
2010: 55 Rec, 741 yards, 6 TD
2011 prediction: 66 Rec, 1,049 yards, 8 TD
I do believe that Crabtree will eclipse 1,000 receiving yards in 2011. Jim Harbaugh is an offensive guru and this will help out both Crabtree and Alex Smith. 
The 49ers division is still one of the poorest in the NFL, and no team in the division has a shutdown corner. 
ESPN.com ranks Crabtree 27th among receivers for 2011. I think this will be the season for Crabtree, and he very well could be a top-20 receiver this year. 
Look for the 49ers and Crabtree to have a successful 2011 campaign. No team in the NFC West is that scary, although the Rams should be considered favorites. New head coach Jim Harbaugh has a great opportunity to make a name for himself in just his first NFL season.