Fantasy Football: 20 Fantasy Targets from Matt Ryan to Calvin Johnson
July 18, 2011
Otto Greule Jr/Getty Images
Sleepers, busts, breakout stars, starters, backups, handcuffs—the list of names we give our fantasy players is nearly as lengthy as the NFL lockout. The bottom line to drafting is simple: whatever you call them you want to target the players whose motivation, situation, and potential equate to statistical success. On the flip side, you want to avoid those players whose concerns, question marks, injuries, or other factors make them more than risky.
Here's my list of 20 players to target for the 2011 fantasy season.
Targets: Players you want to have on your team. Some are big names, some are rookies, some are based on potential. Players are listed in no particular order.

1. Matt Ryan - Target this fourth year QB any time around the fourth or fifth round. His stats last year were solid as he set career highs in yards (3,705), TD passes (28), completion percentage (62.5 percent), as well as tossing a mere nine interceptions. He's got a legit star in Roddy White, steady hands in Tony Gonzalez, and two new toys in Julio Jones and Jacquizz Rodgers. Atlanta will be embracing a pass-first mentality and he'll benefit greatly.
2. Mike Thomas - Built physically like Wes Welker, this third-year receiver for the Jaguars produced a solid sophomore campaign of 820 yards on 66 catches. He'll be the de facto number one receiver in Jacksonville meaning he'll see his fair share of targets. A third-year breakout season could be looming.
3. Jimmy Graham - This former hoops player is in the mold of Antonio Gates. At 6'6" and 260 lbs. he is a formidable matchup for linebackers and safeties alike, especially in the red zone. With Jeremy Shockey in Carolina, don't be surprised to see Graham haul in 50 passes and 6-8 TD's from Drew Brees.
4. Mark Ingram - This pro-ready rookie running back from Alabama is the second straight Saint on the list. Said to remind many scouts of Emmitt Smith, Ingram is a strong, agile back with pass-protection and receiving skills. Sean Payton's been looking for a bell cow in the backfield and he may have found his man.
5. Josh Freeman - The young Buc is a mere 23 and has barely scratched his enormous potential. He's on a team with a potent young nucleus and his ridiculous 25:6 TD to interception ratio in 2010 is reflective of his poise and skills. His completion percentage jumped to over 61 percent last year and he's ready to add to his rushing totals as well. Take this vibrant leader after the top 10-12 QB's are off the board and reap the benefits.
6. Calvin Johnson - Just imagine the season Calvin could put up if his quarterback could stay upright for a full 16 games. Even 12 games of Stafford passes might allow Megatron to fully capitalize on his immense physical talents. Nobody attacks the ball with such vigor and few receivers can match his daunting physical presence. I'm banking on a healthy Stafford and a wide-open Lions' attack featuring Mr. Johnson. This is the year he finishes No. 1 at the receiver position.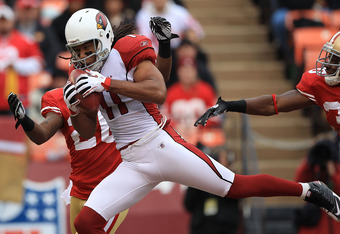 Jed Jacobsohn/Getty Images
7. Ryan Grant - Injured early in 2010, Grant has been completely healthy since February and has plenty of motivation to regain his starting gig and previous form in a contract year. Even with James Starks and Brandon Jackson in the mix, I fully expect Grant to garner the bulk of the carries making him a great value pick after Round 5.
8. Larry Fitzgerald - Fitz may seem like an obvious choice, but he's getting overlooked in my opinion. He's a top five receiver and assuming some level of competency at QB for Arizona (Kyle Orton, Kevin Kolb, Donovan McNabb) he'll be as likely as any receiver to post 1,400 yards and double digit TD's.
9. Owen Daniels - Slow to recover from a knee injury in 2010, Daniels rewarded fantasy owners with a late season resurgence amassing 22 grabs and nearly 300 yards over the final four games. Fully healthy in an explosive offense expect Daniels to play like a top-six tight end. Best of all, he can be had in the middle rounds.
10. Mikel Leshoure - Leshoure joins an up-and-coming Lions offense to compliment the speedy, but oft-injured Jahvid Best. He'll work in a timeshare with Best, but he'll likely see most of the goal line work and considering Best's injury-riddled past, he's a good bet to get the lion's share of the Lions' carries at some point. He's a great grab as a number three or four running back.
11. Jonathan Stewart - This recommendation does assume DeAngelo Williams is no longer in Carolina to share the load. If that is indeed the case, expect Stewart to thrive as the unquestioned lead back. He's fully healthy for the first time as a pro and his gaudy 5.2 yards per carry average when receiving 15+ carries in a game is proof he's ready for a full load. I see him as a potential top ten back available in the fourth round of many drafts.
Dilip Vishwanat/Getty Images
12. Austin Collie - This pick is for those who don't mind a substantial level of risk with a pick or two. Collie's numbers were all-pro level in the initial six weeks of 2010 as he caught 44 balls for 500+ yards and six scores. A thumb injury and concussion issues derailed him thereafter. I love him as a speculative pick around round eight or nine. If healthy, he could produce as a top-20 receiver.
13. Sam Bradford - Bradford finished third in pass attempts last year and the addition of Josh McDaniels running the offense means the number is likely to rise. Backed by a stable of steady, speedy receivers, Bradford is very capable of making a leap into the top 10-12 quarterback discussion this season. Savvy fantasy owners will grab him as a capable backup in or around the ninth round and use him as a spot starter or trade bait.
14. Tony Romo - 2010 was supposed to be the year of the Cowboys. However, it turned out to be disastrous for them and Romo. Tony's healthy again and has a full stable of offensive weapons at his disposal. He'll have Jason Garrett at the helm from the get-go and most importantly the Cowboys at least attempted to address their offensive line woes with a first-round tackle. Romo is definitely a quality fantasy starter, but I think he'll have a legit shot at the top-five and will come much cheaper than the big names ahead of him. 
15. Bernard Scott - The backup running back in Cincinnati has few things going for him. First, he's behind one of the weaker starting backs in the league in Cedric Benson. Benson, recently arrested again, will likely return to Cincy, but his game is diminishing along with his criminal record. Secondly, the Bengals new offensive attack is a West Coast style which means Scott's receiving skills and agility may be more valuable than Benson's plodding physical style. You can pick this guy up extremely late and if you are foolish enough to draft Benson you may want to snag Scott as insurance.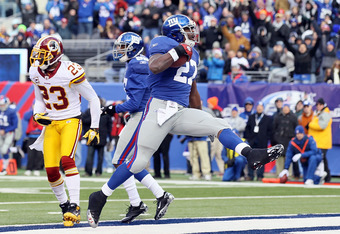 Jim McIsaac/Getty Images
16. Alex Henery - I aim to leave no stone unturned when digging for fantasy gold. Henery was drafted by the Eagles in the fourth round as the replacement for the aging David Akers. Henery, the most accurate kicker in NCAA history at 89.5 percent, joins the high-flying offense of the Eagles and should see many opportunities to score. He'll be on the board after the first 10 or 12 kickers go, so he's an ideal candidate for owners like me who wait until the last round to grab their kicker. 
17. Brandon Jacobs - Used more sparingly in 2010, Jacobs saw his yards per carry average swell to a robust 5.6 and he punched in nine TD's. He was clearly second fiddle to Ahmad Bradshaw, but Jacobs still saw nearly 150 carries and seemed to thrive in the second back role. Bradshaw's future with the team is unclear, but Jacobs offers value later in drafts as a number three or four running back capable of scoring multiple touchdowns any given week in a potent Giants offense.
18. Aaron Hernandez - All the rookie tight end love in New England is getting heaped on Rob Gronkowski, but Hernandez' rookie campaign wasn't shabby. He compiled 45 catches and six touchdowns despite dropping nine passes. Insanely young at 21 years old, he's got the talent and athleticism to be a big-play threat catching passes from Tom Brady. He'll be available very late in most drafts making him an ideal backup tight end with upside. 
19. Matt Forte - Forte is an ideal target in PPR leagues as he's averaged over 55 grabs a season in his first three years. Last year he managed a career-high 4.5 yards per carry and scored nine total touchdowns. The line improved greatly in the second half last year and he has no real threats for carries. He should safely approach 300 touches and is not a bad pickup for owners who want to gamble on a quarterback or wide receiver in the first round.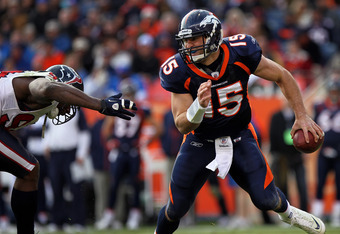 Doug Pensinger/Getty Images
20. Tim Tebow - You can count me as a believer. Any quarterback with the ability to run like he has should be considered in the fantasy realm. It's hard to imagine he won't be the starter and his red zone prowess will help cover for his occasional spotty passing performances. Again, he's well worth a draft pick as a second quarterback with great upside. 
There you have it. Go ahead and get some of these guys early and often and you should be well on your way to a successful fantasy campaign. For more advice and rankings check out my other 2011 articles: