NASCAR: NFL Receiver Golden Tate Says Drivers Aren't Athletes
July 15, 2011
Chris Graythen/Getty Images
Seattle Seahawks wide receiver Golden Tate recently took to his Twitter account and gave us his take on what makes an athlete.
"Jimmy johnson up for best athlete???? Um nooo .. Driving a car does not show athleticism"
He followed that comment with, "simple put air conditioning in it not my problem. Guarantee he couldn't in million year play any SPORT," and "I've driven a car on unknown roads at night at 90mph no big deal. No sign of athletism"
Granted it's his (poorly spelled) opinion, but it seems that he may be a bit off base with his comments.
While not a sport in the traditional sense, NASCAR and all forms of auto racing, take a fair amount of athletic skill. The ability to manage G-forces while maintaining control of a couple thousand pound car and traveling in excess of 100 miles per hour (usually much more) in what is essentially a moving traffic jam is a feat unto itself.
That's not to mention that the drivers also do this for around four hours.   
I know after I've driven for a time, my legs tend to feel like Jell-O, and that's without driving as fast as I possibly can. It's not like they're driving down a highway-like road listening to the Beatles and eating fast food out of a bag, they actually have to pay attention.
The athlete/not athlete argument happens all the time. Many other sports, especially golf and NASCAR, have been at the forefront of the disagreement.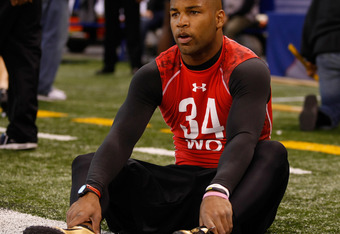 Scott Boehm/Getty Images
Now it can be said that any sport at some level isn't really athletic. The way I play golf, baseball and football wouldn't be mistaken for a physical endeavor, unless you count beer breaks and runs to the bathroom.
At the highest levels, however, all sports take on an athletic quality. We all know football, basketball, hockey and soccer require tremendous physical preparation and conditioning in order to compete in the top leagues.
Golfers prepare by hitting thousands of range balls and playing countless practice rounds before starting a weekend tournament. While it may take less overall physical skill, it is no less taxing on the player.
NASCAR is much the same way. Drivers spend days leading up to the race dialing in their equipment in practice. They often compete in more than one race during a weekend, including all the extra required driving those races entail.
Even though they are sitting down, they're still working.
So while many people may say that NASCAR takes no physical effort to perform, that really isn't the case. You can take any sport at certain levels and make the argument.
Different demands are made of the different athletes for their respective sport. While one set of physical gifts may be useful for one, it won't be for another. Just because you don't see someone exerting doesn't mean they aren't.
If sweating a lot and doing repetitive motions is what it takes to make a sport, then doing porn would make the cut. We don't consider Ron Jeremy an athlete, do we?