MLB Trade Speculation: All 30 Teams' Most Desperate Needs at the Deadline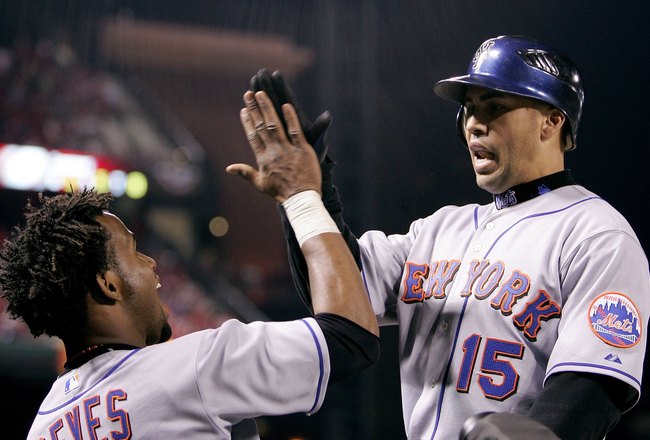 Elsa/Getty Images
The July 31 MLB trade deadline is rapidly approaching and that means every front office in baseball is frantically poring over scouting reports and financial data.
It doesn't matter if a club is deemed a "buyer" or a "seller" because every team in baseball has needs at the deadline, whether it's to dump salary or stockpile prospects.
Here's a team-by-team* look at what every front office in MLB will be trying to accomplish over the next two weeks.
* Teams are listed alphabetically, with the Arizona Diamondbacks first and the Washington Nationals last.
Dmitriy Ioselevich is a Featured Columnist for Bleacher Report. Follow him on Twitter for all your MLB news and updates.
Arizona Diamondbacks: Pitching, Pitching and More Pitching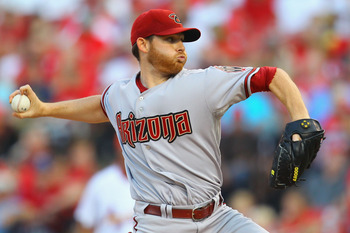 Dilip Vishwanat/Getty Images
The Diamondbacks are the surprise team of the season and are poised to make a run into the postseason, if only they had more pitching.
Ian Kennedy (3.44 ERA, 128.1 innings), Daniel Hudson (3.74 ERA, 125 innings) and Joe Saunders (3.86 ERA, 112 innings) have been solid at the top, but none of them would ever be misinterpreted as an ace.
If the Diamondbacks are serious about contending this season, and it looks like they are, then GM Kevin Towers needs to find an impact arm and kick Zach Duke (5.47 ERA, 51 innings) out of the rotation.
Atlanta Braves: Outfield Bat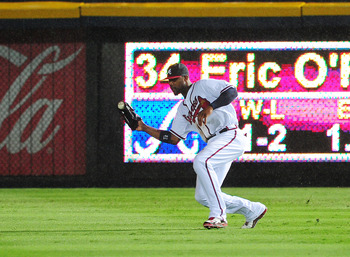 Scott Cunningham/Getty Images
The Braves have one of the least productive outfields in baseball. Jason Heyward (.720 OPS) has hit a wall in his sophomore season, while Nate McClouth (.675 OPS) and Martin Prado (.761 OPS) continue to struggle.
The Braves need someone with power (Atlanta's outfielders have a combined 22 home runs) to balance out the Brian McCann-led offense and a superb pitching staff, preferably someone who hits from the right side.
Baltimore Orioles: Prospects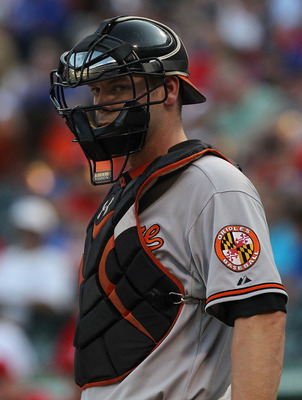 Ronald Martinez/Getty Images
The 36-52 Orioles are stuck in the AL East cellar with no way out, and lots of old, expensive players weighing them down. Vladimir Guerrero and Jeremy Guthrie need to go, and they may be joined at the exit by Derrek Lee, J.J. Hardy, Kevin Gregg and Koji Uehara.
The Orioles have some nice young pieces in Matt Weiters and Nick Markakis, with Manny Machado biding his time in the minors, but they need boatloads more if they ever want to go toe-to-toe with the juggernauts in Boston and New York.
Boston Red Sox: Medicine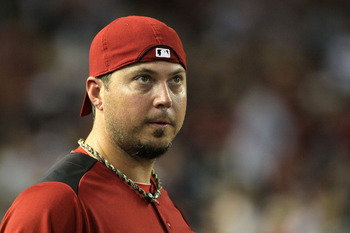 Jeff Gross/Getty Images
The Red Sox have about as complete a team as there in baseball, except for one little problem—all of their players keep getting hurt!
Nobody's really complaining about Daisuke Matsuzaka missing this season, but virtually ever member of Boston's rotation has spent time on the DL, including two guys who could easily win a Cy Young.
It's not quite a repeat of last year's collapse, but it's rapidly heading in that direction. If there's one thing the Red Sox need to do at the deadline, it's to order more medicine.
Chicago Cubs: Prospects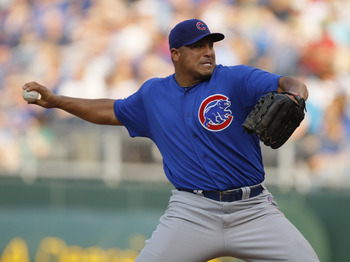 Ed Zurga/Getty Images
The Cubs have managed to go from bad to pitiful in just two short years and are now at a point where they have to make some major changes. There are holes up and down the roster and even Chicago's best young players (Geovany Soto, Starlin Castro) are struggling.
Anybody on the team (Carlos Zambrano, Aramis Ramirez, Kosuke Fukudome) is fair game and the Cubs will need multiple pieces in return.
Chicago White Sox: Adam Dunn Juice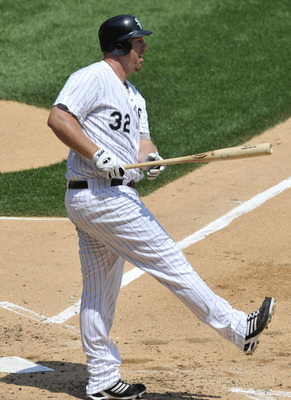 David Banks/Getty Images
Looking at the White Sox roster, it seems strange that they'd be third in the AL Central.
They have six good starters, a strong bullpen and a competent offense. But then you remember that their biggest free agent acquisition, Adam Dunn, couldn't hit the broad side of a barn and the picture becomes a bit clearer.
Whatever's wrong with Dunn (nine home runs, 117 strikeouts, .597 OPS) the White Sox need to figure it out now. Paul Konerko and Carlos Quentin can't carry that offense by themselves.
Cincinnati Reds: Starting Pitching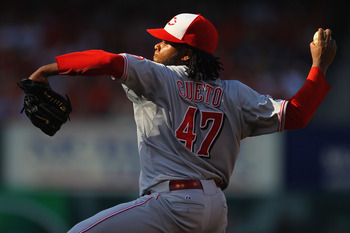 Dilip Vishwanat/Getty Images
So much for pitching depth. The Reds began the season with as many as six capable starters in their rotation, but aside from Johnny Cueto (1.96 ERA in 12 starts) all of them have struggled.
Cincinnati even resorted to giving Dontrelle Willis a spot-start earlier in the season, and he pitched well!
The Reds don't match up anymore to the rotations in either Milwaukee or St. Louis and they need to make a move to stay in the race.
Cleveland Indians: Veteran Starter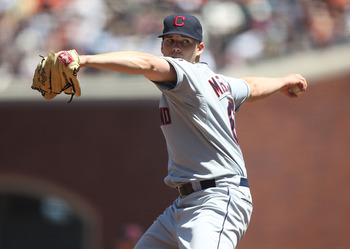 Jed Jacobsohn/Getty Images
Watching the Cleveland Indians was fun for a while, but reality has finally caught up with one of the youngest teams in baseball and they're struggling to hold onto second in the AL Central. But just because the playoffs are probably a pipe dream doesn't mean the Indians are just going to give up.
Cleveland could use a veteran starter to help mentor Josh Tomlin and Justin Masterson, although don't expect them to pay a high price to get one. The Indians have to think long-term here.
Colorado Rockies: Corner Infield Depth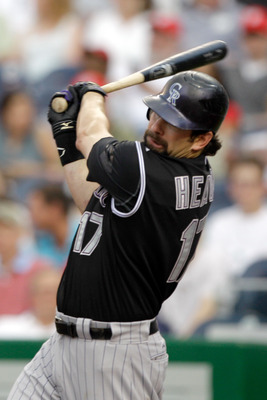 Rob Carr/Getty Images
The Rockies could conceivably get back in the NL West hunt, but they should probably be thinking about 2012 at this point.
Ty Wiggington, 33, has one year left on his contract and Todd Helton, 37, has two years left. Both hitters are declining offensively and the Rockies have no depth at either position, especially with Ian Stewart on the verge of ending his major league career at the ripe age of 26.
Adding a couple of prospects or major-league ready players at the corners would help Colorado in the long run.
Detroit Tigers: Anti-Aging Potion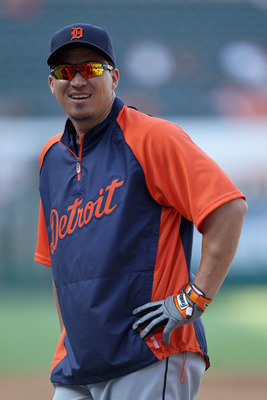 Jeff Gross/Getty Images
The Tigers have reclaimed first place in the AL Central and seem poised to take the division, but what will happen once they get to October?
Neither Brandon Inge (.501 OPS) nor Magglio Ordonez (.591 OPS) have contributed much of anything this season and have left the offense dependent on the likes of Ryan Raburn and Don Kelly.
Joaquin Benoit, meanwhile, has been roughed up out of the bullpen, forcing the Tigers to rely heavily on rookie Charlie Furbush.
Each of these veterans needs to stop showing their age if the Tigers are going to make any noise in October.
Florida Marlins: Veteran Pitching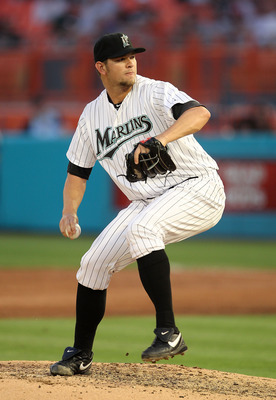 Mike Ehrmann/Getty Images
The Marlins season could not have gone much worse, losing their manager a third of the way through the season and enduring poor years from stars Hanley Ramirez and Josh Johnson.
The foundation is there to be competitive (hard to beat an outfield of Logan Morrison, Chris Coghlan and Mike Stanton), but the Marlins need some veteran help too, especially in the rotation.
Only one of the starters (Javier Vazquez) is over the age of 28, and he'll be out the door soon.
Houston Astros: Prospects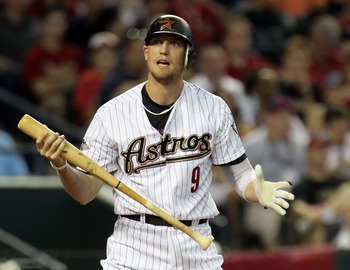 Jeff Gross/Getty Images
Drayton McClane finally pulled the plug on the Astros last season and the results have been, well, not good. The Astros have the worst record in baseball and are near the bottom of the league in nearly every statistical category.
They have some nice pieces (Hunter Pence, Michael Bourn, Wandy Rodriguez, Brettt Myers), but the only way those players will do Houston any good is if they're playing for another team.
The Astros need to start from scratch and stockpile young players.
Kansas City Royals: Veteran Bats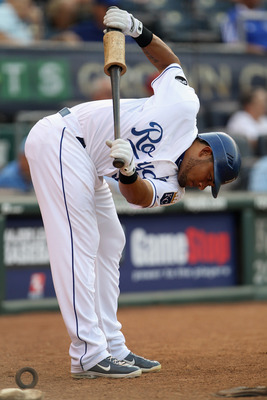 Jamie Squire/Getty Images
The Royals are going to be very dangerous very soon, but even if every five-star prospect reaches his potential there are still holes on this team. Specifically, there's no veteran leadership.
The Royals have just two players in their 30s (Matt Treanor, Mike Aviles) and neither of them figures into Kansas City's long-term plans.
Who's going to pick the Royals up when they go into a slump? Keeping one or more of Alex Gordon, Melky Cabrera or Jeff Francoeur may not be a bad idea, even though they're 27 or younger.
Los Angeles Angels of Anaheim: Corner Infielder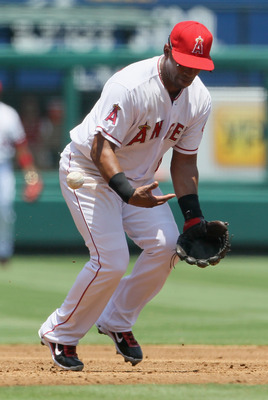 Jeff Gross/Getty Images
The Angels are very much in the AL West race, but they'll need a little help to get past the Texas Rangers.
The rotation might be the best in the AL and Jordan Walden has been impressive as the closer, but the offense is just woeful.
They can't do anything about Vernon Wells (.657 OPS) or Tori Hunter (.717 OPS), but how about third baseman Alberto Callaspo (.711 OPS)?
Aramis Ramirez could be a perfect addition for a team that missed out on Adrian Beltre in the offseason.
Los Angeles Dodgers: Money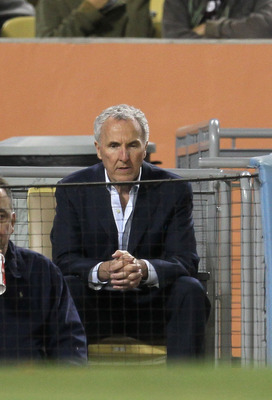 Stephen Dunn/Getty Images
Ned Colletti might have the easiest job of any GM in baseball because there'll be no second-guessing about what the Dodgers are doing at the deadline—selling.
Frank McCourt has run this franchise into the ground and now Colletti has to unload huge chunks of salary just to prevent an MLB takeover.
Rafael Furcal ($13 million) and Hiroki Kuroda ($12 million) are as good as gone, with Jonathan Broxton ($7 million) close behind them.
The real question is if Colletti will have to unload young stars Matt Kemp and Andre Ethier too, even though neither will be a free agent until 2013.
Milwaukee Brewers: Infield Help
Mark Hirsch/Getty Images
The Brewers already made their big deadline deal by grabbing Francisco Rodriguez to be their set-up man/closer/distraction. But that doesn't mean that they're done.
Doug Melvin would like to bolster the left side of the infield, as Yuniesky Betancourt (.598 OPS) and Casey McGehee (.594 OPS) simply aren't getting it done.
Could a reunion with former Brewer J.J. Hardy be in order?
Minnesota Twins: Michael Cuddyer Replacement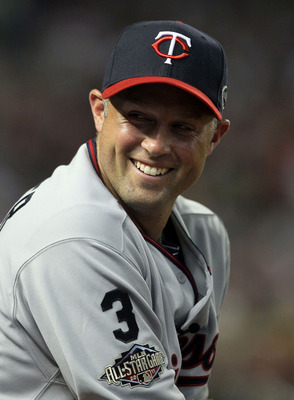 Jeff Gross/Getty Images
The Twins stumbled out of the gate and could never quite get going without Justin Morneau and Joe Mauer. This is still a good team that should be back in the race next season without too many changes, but they will have to find a way to replace their right fielder.
Michael Cuddyer, 32, is a lifelong Twin and has been Minnesota's best player all season, leading the club in nearly every offensive category. However, he'll be a free agent at the end of the season and it's doubtful that the Twins could sign him to a long-term contract.
Maybe in dealing Cuddyer, the Twins could find his future replacement.
New York Mets: Prospects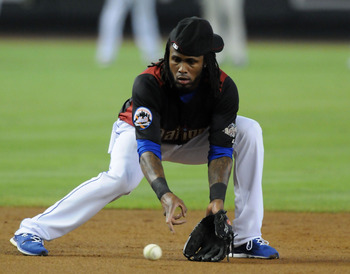 Norm Hall/Getty Images
Sandy Alderson may not want to give up on the Mets in 2012 just yet, but reality is bound to smack him in the face sooner or later.
The Mets are a mess right now and it's only going to get worse before it gets better as Carlos Beltran and maybe Jose Reyes change their addresses in the near future.
Alderson needs to hit the jackpot at the deadline or he may be out of a job.
New York Yankees: Starting Pitching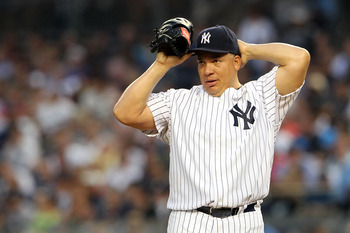 Michael Heiman/Getty Images
The Yankees have somehow made it through the first half of the season with the likes of Ivan Nova, Freddy Garcia and Bartolo Colon occupying three of the rotation spots.
Those three have pitched exceptionally well, but nobody in the Yankees clubhouse, Brian Cashman included, thinks it will continue.
The Yankees need another starter (Wandy Rodriguez, Francisco Liriano) who Joe Giardi can confidently throw in a postseason series, and someone who can also help the club long-term.
Oakland Athletics: Young Bat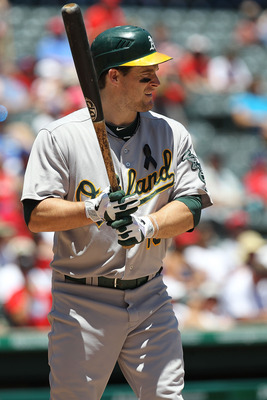 Ronald Martinez/Getty Images
Pitching has never been hard to come by in Oakland, but the same can't be said of competent hitters.
The A's once again have one of the worst offenses in baseball, anchored by the 32-year-old Josh Willingham and his team-high .736 OPS. Willingham likely won't be back next season and the A's need to find a long-term solution for the middle of their lineup.
GM Billy Beane might have to sacrifice one of his prized starters just to get something of value in return.
Philadelphia Phillies: Right-Handed Bat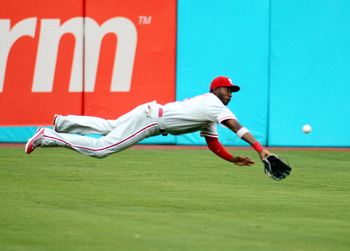 Marc Serota/Getty Images
The Phillies rotation lived up to its billing, but the same can't be said of the offense.
Chase Utley missed the first half of the season, Jimmy Rollins has lost a step or 10 and Raul Ibanez has been a complete disaster.
Domonic Brown, 23, isn't ready to shoulder the load just yet, so the Phillies will be looking for a right-handed bat to balance a lefty-heavy lineup.
Pittsburgh Pirates: Veteran Pitching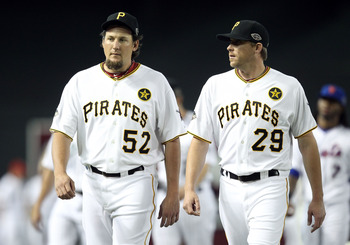 Christian Petersen/Getty Images
The Pirates are pretty happy with their roster as is, but it's not often that GM Neil Huntington has a chance to compete for a playoff spot. That means if the price is right he'll pull the trigger.
One potential area of need is starting pitching. The Pirates rotation has been terrific this year, but all five starters are 30 years old or younger and none have been battle-tested in a playoff race.
Adding a veteran starter could really boost team morale, even if the Pirates don't ultimately make it to the postseason.
San Diego Padres: Prospects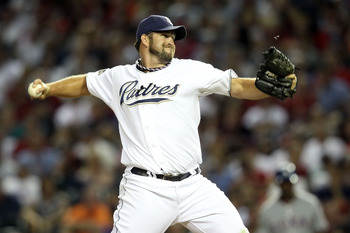 Christian Petersen/Getty Images
The Padres began their rebuilding effort during the offseason by dealing slugger Adrian Gonzalez, and so far, the returns are good.
They'll have to keep picking up value players in trades for Heath Bell, Chad Qualls and Ryan Ludwick.
It's tough for a small-market team like the Padres to compete, but GM Jed Hoyer knows the value of a strong farm system and he should several impact prospects at the deadline.
Seattle Mariners: Offense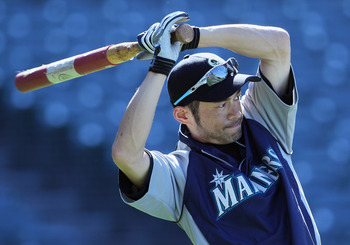 Jeff Gross/Getty Images
The 2010 Seattle Mariners featured one of the most anemic offenses in the history of the game. This season hasn't been much better, especially since Ichiro seems to have fallen off a cliff.
Justin Smoak (.744 OPS) is the real deal, but the rest of the team is well below the .700 mark with a .621 OPS.
The Mariners do have Erik Bedard and some quality relievers to dangle in a trade, as they could use an offensive upgrade at almost every position.
San Francisco Giants: Catcher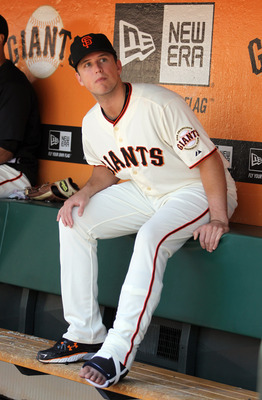 Ezra Shaw/Getty Images
The season-ending injury to Buster Posey crippled the Giants, who have since had to rely Eli Whiteside (.700 OPS) and Chris Stewart (.514 OPS) to handle the pitching staff.
Neither is anything more than a glorified back-up catcher, and GM Brian Sabean would love to add a veteran catcher who can handle full-time duties.
St. Louis Cardinals: Relief Pitching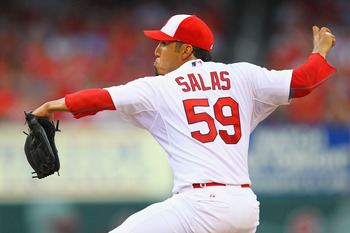 Dilip Vishwanat/Getty Images
The Cardinals lost would-be closer Ryan Franklin early in the season and have gotten by on the back of Fernando Salas, who has 16 saves and a 2.25 ERA in 38 games.
Jason Motte (2.55 ERA) and Mitchell Boggs (2.97 ERA) have also pitched well out of the bullpen, but they're overworked and inexperienced.
Adding another arm to the mix could preserve everybody for the playoffs.
Tampa Bay Rays: Power Bat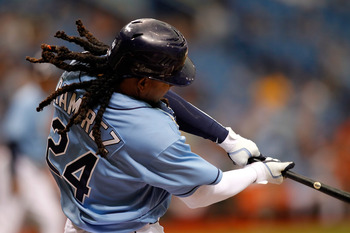 J. Meric/Getty Images
The Rays lost Carlos Pena and Carl Crawford to free agency and replaced those two players with Casey Kotchman and Sam Fuld. Suffice to say, it's a bit of a downgrade.
The Rays have a young, well-balanced team, yet if there's one weakness on the roster, it's the lack of power.
Evan Longoria is a stud and Ben Zobrist has good pop for an infielder, but there's not a single 30-home run hitter in the lineup.
Where's Manny Ramirez when you need him?
Texas Rangers: Relief Pitching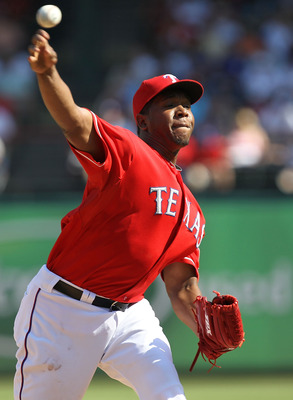 Ronald Martinez/Getty Images
Neftali Feliz (3.18 ERA, 18 saves) has been great once again as the Rangers closer, but he hasn't had much help.
Veterans Darren Oliver, 40, and Arthur Rhodes, 41, are trying to hold the fort down, but how much longer can they keep it up? Both are lefties and neither is considered as much of a strikeout pitcher, a necessity for an ideal set-up man.
There's nobody who wants this trade more than Feliz.
Toronto Blue Jays: Prospects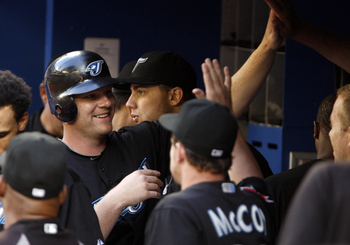 Abelimages/Getty Images
In any other division, the Blue Jays would be a playoff contender. In the AL East, however, they're fighting just to stay out of last place.
Toronto could use an upgrade at second base (Aaron Hill - .606 OPS), third base (Jayson Nix - .554 OPS), left field (Corey Patterson - .685 OPS) and center field (Rajai Davis - .621 OPS).
They'll take either prospects or major league-ready players who are cheap and under contract for at least a few years.
Washington Nationals: Center Fielder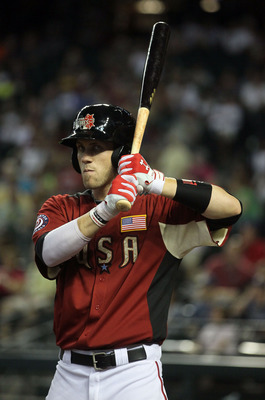 Jeff Gross/Getty Images
The Nationals are in a holding pattern until they get Stephen Strasburg back and can promote Bryce Harper and Anthony Rendon (assuming he signs).
GM Mike Rizzo has long had his eyes on Tampa Bay center fielder B.J. Upton and may pull the trigger on a deal this year, although utility man Roger Bernadina (.702 OPS) has played well in that role.
Upton's more of a wish than a need, so hard to see the Nationals making too many waves at the deadline.
Keep Reading