Arizona Cardinals' Depth Chart Starting to Take Shape
August 11, 2011
Christian Petersen/Getty Images
The Arizona Cardinals released their first depth chart a few days ago, and there aren't too many real surprises to speak of.
With so many new players who couldn't practice until August 4th, the Cardinals were extremely unfortunate because it gave them less time to see what they had.
After just over a week, there have been some good signs coming out of camp, but also some unfortunate setbacks.
Here's a look at what the depth looks like heading into the first preseason game against the Raiders tonight. 
Offense
The offense, will of course, be led by newcomer Kevin Kolb at quarterback. Reportedly, he's had his ups and downs in practice thus far, but that's to expected with such little time.
One of the big positives is he's showing quite a bit of confidence, which you have to like.
Beanie Wells is atop the running back spot, but rookie Ryan Williams has made quite the impression early on according to reports.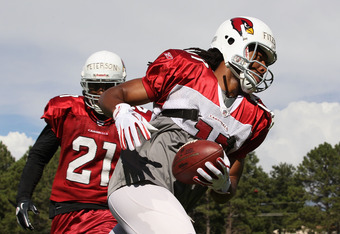 Christian Petersen/Getty Images
Expect Williams to take the carries Tim Hightower had last year, as he and Beanie will most likely split carries evenly.
Larry Fitzgerald heads the receivers, but the big question was who would be at the two spot behind him.
Andre Roberts has the spot now, and coaches feel very confident with him there alongside Early Doucet who opens at the three spot. Rookie DeMarco Sampson has made himself heard as well.
Tight end is definitely set with new men Todd Heap and Jeff King filling the top two spots.
The O-line is also coming together better than most planned. The signing of Daryn Colledge at guard and re-signings of guard Deuce Lutui (because he couldn't pass his physical with the Bengals) and center Lyle Sendlein help a bunch.
Sendlein is a good center who anchors the Cardinals line, while Lutui (when physically able) adds toughness up front. Colledge will step in at the other guard and help replace the retired Alan Faneca.
Sendlein, Colledge, and Rex Hadnot will start in the middle against Oakland (Lutui needs to get in shape before he plays in a game), while the tackle spots will be filled by returnees Levi Brown and Brandon Keith. 
Defense
The defensive side of the ball is where things are a little more interesting for the Cardinals. Not only due to personnel, but also due to a new scheme being implemented.
The D-line looks to be in good shape as both Darnell Dockett and Calais Campbell are back to start at their end spots. 
They'll be backed up by veterans Nick Eason (signed away from the Steelers) and Vonnie Holliday (the return in the Hightower deal with Washington).
Defensive tackle is a little more of a worry as depth is an issue. Starting second year man Dan Williams came into camp out of shape, and still has work to do to get back to the form he had late last season.
Williams will be backed up by rookie David Carter who has played well in camp.
Inside linebacker is looking good for the Cardinals going into the season. Daryl Washington will start at one spot alongside Paris Lenon.
However, it is expected that free agent signee Stewart Bradley will slide into Lenon's starting role later this preseason. Whoever of those two starts, the Cardinals will feel good having the other as a solid backup.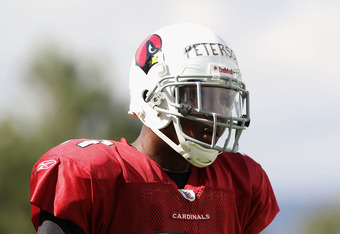 Christian Petersen/Getty Images
Outside linebacker is by far the biggest question mark on the defensive side.
Veterans Clark Hagans and Joey Porter will start again this year, but both are coming off down years and need to play much better to keep their starting roles.
They'll be backed up by second year man O'Brien Schofield and rookie Sam Acho, both filled with high expectations. Will Davis, who has seen his fair share of action the last two years, will also see playing time.
The secondary will see some changes as cornerback Dominique Rodgers-Cromartie was traded away to Philly for Kolb.
His spot will be filled, for the time being, by A.J. Jefferson, whose set start alongside last year's other starter Greg Toler.
However, it shouldn't be long before we see the fifth overall pick Patrick Peterson starting alongside Toler. Free agent signee Richard Marshall and returnee Michael Adams both provide good depth as well.
The free safety spot will be played by Kerry Rhodes again, and Rashad Johnson was supposed to be his backup.
However, starting Pro Bowl strong safety Adrian Wilson suffered a torn biceps tendon in camp and will be out for an indefinite period of time. The starting spot will now be Johnson's.  
The Cardinals made some great moves heading into the 2011 season, and it should be interesting to see how things play out in the desert this season.