Roger Clemens: Grow Up, Take Off Your Diapers and Tell the Truth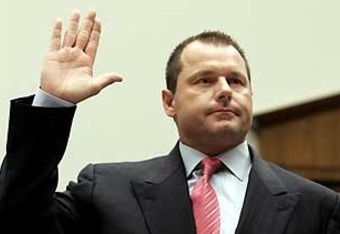 Roger Clemens swears to tell Congress nothing of consequence or truth.

There is just one logical, sensible and proper line of advice to give Roger Clemens, even now as his federal grand jury trial on perjury charges has been declared a mistrial.
Time to put on your big boy pants, Roger.
Go ahead. Get them out of storage. Look in your drawer and see if they're buried under your "The Dog Ate My Homework" T-shirt and the "Somebody Broke That Vase But Not Me" cap.
Don't worry about them still fitting. After all, like many of your high-dollar athletic peers, you are essentially a large child. One that has been pampered, glorified, deified, lauded and had his derrière kissed for the singular ability that makes mere mortals bow in worship at the sight of your jock strap.
You've been allowed to slide and hide for plenty of years. We've put up with your arrogance, ego, lack of humility, boorish behavior and petulance because of your entertainment value. Whether it was blowing smoke past befuddled batters or moving from team to team with retirement teases at so many corners, we as fans were happy to endure your many peccadilloes. For love of the game and points in our fantasy leagues, we're easy to satisfy.
Not this time.
Enough dodging, Roger. Come clean and stop this farce. Admit what everyone who has ever been exposed to the inner workings of a baseball clubhouse has known for years. Go with your massive ego in your hands and cut a deal. They won't be looking for a starting pitcher at Leavenworth. All they want is for you to swallow that gargantuan pride and admit you lied. You were using steroids, HGH, bat guano or whatever you want to call it.
"Let's see, do I still have Brian McNamee's phone number handy?"
You were no different than dozens, perhaps hundreds of other ballplayers looking for an edge at the plate, on the mound and at contract extension time. You were juicing, saucing, slopping, stacking, boling, freaking, blending, pyramiding, sending out for go-go juice or power balling.
Do the right thing. I'll even toss in the overused and silly, blowhard, macho phrase—"MAN UP." Either way it's the same outcome.
Grow up.
Everyone is faced in their lives with that seminal moment where they have to fess up and admit they were wrong. Everyone, of course, save for politicians, surgeons, overblown talking heads being nailed as dead wrong in their "expert" opinions, TV weather forecasters, Facebook customer service representatives (both of them), your Mom when it comes to warnings about what will happen if you don't stop listening to that "damned noise," Ozzie Guillen and that person on the other end of the phone who says with impeccable diction, "We will be doing everything we can to insure you receive direction to the proper department."
Besides, you owe us.
That's right. You owe us. You are in debt to us big time and need to pay it off in full, and even with interest, by strapping on those big boy pants and admitting more than a few things.
Government screws up royally in the Roger Clemens case.
You cheated. You lied. You lied again. We know it. So do you. And you got caught breaking the rules thanks in large part to those very lies. All leaving us to fully grasp what this adoration and loyalty meant to you then, and certainly now.
Nothing. Zero. Zip. Nada. Goose egg.
Look, we'll come clean here as fans. We never expected you to be the altar boy. We knew what we were buying along with those Red Sox/Blue Jays/Yankees/Astros/Yankees jerseys and paraphernalia. We're not that stupid, though it often seems that way when we ever so blindly devote ourselves to jocks who easily grind us into the turf with the heel of $1,000 shoes we helped them purchase.
We knew all along you were the Barbra of baseball. The Naomi of the knuckleball. The Paris of the pitch. The Madonna of the mound.
But you were our diva, so we gave you plenty of leeway.
When you were wearing pinstripes in the 2000 World Series, we knew all along you had every right to seek another beaning of Mike Piazza and then take it as a personal affront when pieces of his broken bat zeroed in on your noggin.
We were wholeheartedly in favor of giving you special dispensation in Houston to scorn being part of the team, make your own schedule, stay home and quaff a few brews instead of sitting in that dugout during meaningless road trips.
And when those nasty rumors emerged about your pre-game ritual of having your genitals massaged with something that appeared to be muscle liniment? We just noted it as a quirk of brilliance.
Granted, it was just a tad interesting to explain that to Little League pitchers caught ordering crates of "liniment" from various Internet stores. But hey, kids are always getting into mischief, right? What's not to like about wanting to be just like their hero, Roger Clemens?
We discover now the answer to that question.
Everything.
When we look back on your career, we will remember those things that made you a legend.
Winning over 350 games while recording more than 4,600 strikeouts.
A record-setting seven Cy Young Awards, signifying there was not a more dominating pitcher in each of those seasons.
The 82 times your name was mentioned in the Mitchell report on steroid and PED use in baseball.
The record-setting (for a legendary baseball player) six felony counts for perjury, false statements and obstruction of Congress.
The touching and tear-inducing interview on 60 Minutes where you "accidentally" gave interviewer Mike Wallace the middle finger of fortune.
For someone of your talent, fame is a relatively easy thing to obtain and often retain.
Infamy is much more difficult and, for someone of your talent, hopefully impossible to attain.
Unless, of course, you make a really concerted effort, as you have.
On second thought, don't worry about finding and putting on those big boy pants.
You obviously haven't grown into them yet. And likely never will.
This article is
What is the duplicate article?
Why is this article offensive?
Where is this article plagiarized from?
Why is this article poorly edited?

New York Yankees: Like this team?