Arsenal FC: Arsene Wenger Lost His Mind over Samir Nasri Contract Situation
July 14, 2011
Stanley Chou/Getty Images
Arsene Wenger is adamant to keep Samir Nasri, who has just one year left on his contract, at the club for at least another year.
Nasri hasn't yet signed a contract extension despite being offered a palatable deal as he remains uncertain over the club's ability to compete with the likes of Manchester United, Chelsea and Manchester City.
Arsenal's lack of ambition in this summer transfer window hasn't helped either.
It was reported back in June that Nasri demanded Wenger sign quality players to bolster the team in order to give themselves more chance of mounting a sustained title challenge.
Wenger so far has remained coy over his transfer dealings and has just added Gervinho to the squad.
It's quite baffling that Wenger hasn't signed defensive reinforcements yet to shore up a defence that has been appallingly wobbly in recent years.
Lack of additions might be the sticking point in the contract negotiations with Nasri although Wenger has claimed that the hitch is over money.

Though Manchester United were keen on taking Nasri to the Old Trafford, Sir Alex Ferguson said he has given up his pursuit of Nasri as the French midfielder is set to sign for another club.
What that means is Manchester City's audacious raid on Arsenal is set to reap them rich rewards once again. However, Wenger's latest remarks over the Nasri predicament have allayed the fears of Arsenal fans.
The manager said, "I'm willing to keep Samir for another year, even if I risk losing him for nothing when his deal expires next season."
Wenger obviously wants to keep hold of Nasri even if it results in the French midfielder leaving the club for nothing next summer.
Although Nasri is one of the more influential players in the current Arsenal lineup, is the decision to keep hold of Nasri even if he refuses to sign an extension worth the risk?
It has to be said that Arsenal can't afford to lose both Cesc Fabregas and Nasri in the same transfer window.
If that were to happen, it would send the wrong signal out to other clubs. It would paint Arsenal as an unambitious selling club.
So, keeping hold of at least one of them is very important.
With every passing day Fabregas looks to be inching closer to Barcelona. Pep Guardiola's desire to have the ex Barcelona youth product on board this summer may well see the Arsenal captain joining them for a fee well below Arsenal's valuation as the Arsenal Board seem to be disillusioned at the tediously protracted saga.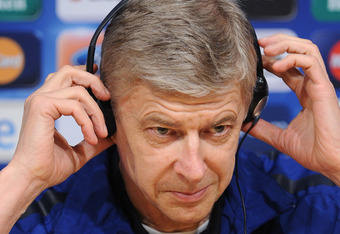 Jasper Juinen/Getty Images
In that case, it's imperative Arsenal keep Nasri to steady the ship.
While it's easier to replace Nasri than Fabregas, it's tougher to keep Fabregas for another season.
The matter will be settled if Nasri signs the extension. However, what if he doesn't?
Wenger can just hope that Arsenal end their barren spell next season which would convince Nasri that his future lies at the Emirates.
It's more of a hope than expectation as with Wenger's current transfer policy it doesn't look like Arsenal will win a trophy any time soon unless some of his youth academy prodigies suddenly step up and deliver from the word go.
Given the influx of players at Manchester United and Liverpool it must be said that Arsenal's top four status might come under threat without quality additions to match their rivals'.
With Manchester City and Chelsea expected to splash the cash in the coming weeks, Arsenal need to make a real statement of intent by signing established players for the new season which might convince the French Player of the Year to sign on.
If Nasri refuses to extend his contract then he has to be sold.
Nasri being a proven premiership player is worth £20-£25 million even in his final year of contract and Arsenal simply can't afford to lose out on that sort of money just by keeping a disgruntled player for one more season.
Not to mention Nasri's £3.1 million wage per season. So, it's massive loss for a club that in the past has haggled over as little as £1million over signings.
Definitely Nasri is not irreplaceable.
Also there is no guarantee that Arsenal will win a trophy by keeping Nasri for another year.
Arsenal could sign a quality replacement for Nasri with the fee generated from his sale even if it means selling him to direct rivals because if he stays on and refuses an extension then he's going to sign for them next summer anyway.
So, allowing him to run down his contract will only serve in delaying the inevitable. It's so much more beneficial to Arsenal to sell him now and invest the cash back in the squad. Whether Wenger would spend that cash is a different matter altogether.

Wenger can only hope that if Nasri stays on without signing an extension then winning trophies would persuade him into putting pen to paper at a later time but what's the guarantee that Arsenal will win a trophy next season, as this summer transfer window already looks like another of Wenger's masterpiece—promises, optimism and reassurances with no action.