The 50 Hottest Women Rocking Sexy Soccer Jerseys
Soccer is in the air. The Copa America tournament is in full swing, the Women's World Cup has been incredible this year (especially if you support the Americans), and the Premier League is having its offseason fun.
How do I know that last part? Well, because I recently decided I was going to become an Arsenal fan, that's how I know. That's right, I've officially been bitten by the soccer bug and I've sworn my allegiances to the Gunners.
Exciting stuff, right?
Anyway, it is in this celebration of soccer that I present to you The 50 Hottest Women Rocking Sexy Soccer Jerseys. If there's one thing I think we can all agree on, it's that a hot woman only gets hotter when she rocks a soccer jersey.
I'll "Ole, ole, ole, ole" to that sentiment any day.
Begin Slideshow

»
I'm not entirely sure what jersey this lovely lady is sporting, as I am still learning a whole lot about soccer.
But I do know she seems to be enjoying her camera time here.
When the playing conditions become too hot, playing in one's underwear and tying one's jersey into a knot may become necessary.
Do not attempt this if you are a male, please.
I've always enjoyed watching the Argentinians play their brand of soccer; having a rooting interest for them is the next best thing to watching Brazil without being totally cliche.
I feel the same way about their fans.
There are so many reasons soccer is becoming a love of mine.
Here are two of those reasons.
The only Serbian I was familiar until this point was Marko Jaric, the basketball-playing husband of supermodel Adriana Lima.
This lovely lady of the pitch is my favorite Serbian now, however.
Sorry, Marko.
Two for the price of one.
Because you can have your gyro and eat it too here at Bleacher Report.
You don't have to cry for me, but I am certainly crying in joy because of you, Argentina.
Yeah, an Evita reference—what of it?
Soccer jersey dresses—futbol's gift to men everywhere.
Other reasons I picked to support the Gunners other than this picture:
Their nickname, the Gunners.
The style of play encouraged by manager Arsene Wenger.
The fact that they are owned by public shareholders rather than one owner, akin to the Green Bay Packers.
They are based in London, meaning that if I ever go to a match, I can also vacation in London.
They are normally contenders without being the sort of ridiculous spenders that Manchester United or Chelsea are. Frankly, I could never support a team like the Yankees.
I even like their jerseys. No, I didn't pick them for that reason, but I'm glad they sport a classy uniform.
I'm not sure where the majority of her shirt went (or what sort of animal ate it off of her), but I'm glad she isn't afraid to support her team despite a few wardrobe malfunctions.
I love soccer.
Argentina is making a strong early showing, are they not?
How many Swedish hotties does it take to change a light bulb?
One.
They aren't stupid, after all.
That's a good joke, am I right?
Yes, it was imperative that the ball also hit the showers.
Sometimes, I think photography is just strange.
There are so many gaudy and amazing features to this picture, I'll just get out of the way and allow you to enjoy it.
Who could ever get a workout in with a beauty like this just lounging on the exercise equipment?
You know you are gorgeous when you can run during a game and still look this hot.
Well done, Anouk.
Also, has anyone else ever noticed that Dutch names sound like Jedi names?
Apparently, this lovely lady's name is Viktoria.
I've always found that replacing a 'c' with a 'k' is an instant sign of sophistication.
An army of English hotties has been assembled!
The world doesn't need another bloody war.
(I give myself points for the cultural double entendre I just pulled off.)
She may be beautiful, but she obviously has no idea how to play the goalie position.
I mean, look at that form... ridiculous.
Either she is stretching, or we have another case of a woman who simply doesn't know how to play goal.
They just don't teach the fundamentals like they used to.
For heaven's sake, this poor girl knows nothing about soccer—she's playing in front of tiny net.
I'll allow it.
I didn't know I loved Paraguay until recently, but my, oh my was it love at first sight.
I think this picture speaks for itself.
Apparently, this lovely model's name is Laura.
Nice to meet you, Laura.
(If you are reading this, thanks—I appreciate it. And you're in the minority, so good form. Hopefully, you are having a nice day. In my opinion, this is when the slideshow gets really good. The first half was rife with hot ladies, but this half blows off the hotness doors. Anyway, thanks for reading, and enjoy the rest of the show!)
Have I mentioned that I loved soccer yet?
The U.S. ladies are going to take home the World Cup on Sunday, I can feel it.
If you haven't been watching the Women's World Cup, you don't know what you've been missing—it has been a fantastic tournament.
This is so cute—she's trying to hear the ocean, like it's a seashell.
The only thing you might hear from a soccer ball is a poorly acted, dramatic scream. Sorry to disappoint you.
For whatever reason, this song popped into my head when I first saw this picture.
It's incredible write-ups like this slide that make me realize my true calling was indeed to become a writer.
I've used this reference before, and damnit, I'll use it again:
This is truly the beautiful game.
Or "Joga Bonito" if you'd prefer.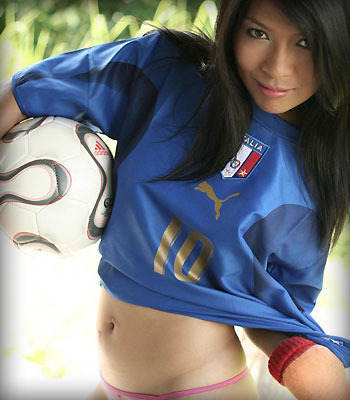 Yeah, that's her real name.
And yes, you can probably guess what her profession is.
I also find that inserting a 'j' for a 'g' is another classic sign of sophistication.
Yes, I could have found and isolated these photos.
But I chose to find you a whole bunch of photos and provide you with this scintillating video, because I care.
She is staring directly into my soul.
And you thought she was just a baseball fan.
I'm not sure if that is some sort of sexy symbiote crawling up her arms, or just tattoos.
You're right, probably a sexy symbiote.
Good call.
I call this picture "Motivation for the French Team to Score."
It's very artistic.
Because this photo exists.
Hooray for us.
Yes, I know you've probably seen this picture about a thousand times.
And yes, I know you're probably glad to be seeing it once more.
Soccer brings people together.
Thank God for that.
These are probably the most amazing pair of pants the world has ever seen.
It's like they were actually made directly on her skin. She can't even take them off; they have to be destroyed and remade directly on her skin the next time she wants to wear them.
You don't believe me? Trust me—we have the technology.
Erin Andrews rules America, at least in terms of sexy sportscasters.
Sara Carbonero rules Spain for the same reason.
(And Ines Sainz Mexico, in case you were wondering.)
But who rules the world?
For my money, I'll go with Carbonero.
So, Riquelme said that if Paraguay won the Copa America, she would strip down naked.
Which obviously made me a fan of Paraguay almost instantly.
But Paraguay faces a steep challenge in the quarterfinals, where they must defeat Brazil.
The entire world is counting on you, Paraguay—don't let us down.
Yes, that is a Germany jersey underneath.
If you ever wondered what people meant when they said someone was "classically beautiful," you now know.
Speaking of classic beauty, how gorgeous is this woman?
Even her name is hot. Go ahead, say it to yourself a couple of times—it's a sexy name, right?
Be sure to hit me up on Twitter (@TRappaRT) along with the entire B/R Swagger team (@BR_Swagger).