WVU Football: Dana Holgorsen Thrown into the Fire Early After Disastrous Week
July 14, 2011
It has been just over one month since Dana Holgorsen was named the head football coach at West Virginia University. His abrupt promotion from offensive coordinator to head coach has had Mountaineer nation buzzing with anticipation ever since.
To this point in his career, Holgorsen's duties have been limited to no more than making sure his offenses score points. He has certainly done a phenomenal job.
But it's how he handles times like this, the proverbial bleeding WVU has experienced this week, that will show whether or not Holgorsen has what it takes to manage an entire team.
In the past week, the Mountaineers have been on ESPN almost every day, but not in a positive light. On July 8, WVU came under fire from the NCAA because of failure to monitor the activities of their graduate assistants.
Although these violations occurred under former coaches Rich Rodriguez and Bill Stewart, the Mountaineers agreed to probationary terms that include: the loss of three scholarships over the next two seasons, a reduction in hours spent on football related activity by 23 percent and the elimination of two staff positions.
Four days later, redshirt sophomore linebacker Branko Busick was charged with armed robbery after he allegedly entered a Morgantown apartment complex, demanded money from the victim than struck him repeatedly with a pistol. Days later Busick, the son of former WWF wrestler "Big Bully" Busick, was linked to a previous, unrelated assault and robbery dating back to June.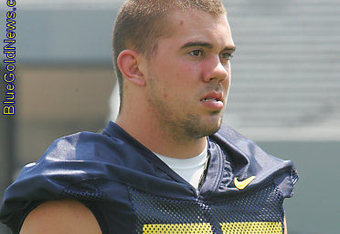 Rough start huh? It gets rougher.
The following day, WVU trainer Dave Kerns announced WVU starting guard Josh Jenkins will miss the 2011-12 season after an upcoming surgery to stabilize his left knee.
Highly recruited out of high school, Jenkins has started 24 games for West Virginia and was set to play a key role in protecting preseason All-Big East quarterback Geno Smith, who will be spending a lot of time in the pocket this season. Jenkins was first injured in the Mountaineers spring game on April 29.
Speaking of the Mountaineers spring game, the Dominion Post reported this week that WVU raked in a school best $100,881 from the April scrimmage, after seeing record attendance despite doubling ticket prices. In previous years, WVU has donated 100 percent of all proceeds from the game to the WVU Children's Hospital.
Despite record profit, this year marks the first time since 1984 the WVU athletic department did not donate all proceeds to the Children's Hospital. In fact, the $25,000 donation from this year is the lowest contribution since 2007.
The meager donation comes weeks after WVU announced it will paid Holgorsen $1.4 million this season, while also paying former head coach Bill Stewart a buyout settlement of $1.65 million.
At this point, Holgorsen has more to deal with than just route combinations and pass protection schemes.
These issues, and how they are dealt with, will determine if Holgorsen has what it takes to handle the multitude of duties D-I coaches deal with on a regular basis.