FC Barcelona Transfers Alias Breaking Dawn: The Cesc Fabregas Saga Part 1
July 14, 2011
Laurence Griffiths/Getty Images
First of all, yeah I've read Stephenie Meyer's "young adult" novel, whatever that is supposed to be. I wanted to know what all the fuss is about.
My first conclusion, Mrs. Meyer doesn't know how to write a decent book.
Her female protagonist Bella, if she is at all, is one confused teenager who can't make up her mind on whether she loves one or the other.
In approximately 80 percent of the series the reader is forced to endure Bella's obsession with Edward, Edward's obsession with her and Jacob's infatuation with both. In the end, Bella concludes she loves Jacob, but she wants to be with Edward. Sounds familiar?
Well, if we ignore the obvious difference in gender I'd say Cesc Fabregas' is Bella Swan from the Twilight franchise. According to Arsenal FC gaffer, Arsene Wenger, Cesc is torn apart in between his love for the Gunners and FC Barcelona.
Just like the female book heroine (!?) he wants to please all involved parties. Mr. Wenger's situation mirrors that of Bella's helpless and, at times, clueless father Charlie, who, in the end is resigned to lose his daughter to Edward and the Cullen clan.
In the context of my little exercise in Twilight/sportswriting, FC Barcelona would be the Cullen's/Vampires, Bella is so eager to join or rather become.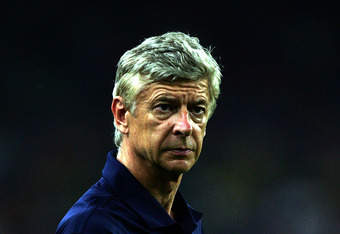 Stanley Chou/Getty Images
The more I realize how familiar I still am with the Twilight franchise, the more I become disgusted with myself. Nevertheless, let's progress in the story.
Jacob and his gang of werewolves (actually they're not, they're shape shifters) aka the real wolf pack (Hangover hooray!) would have to be the Twilight representatives Arsenal FC.
The wolf boys live in the confinements of their reservation (financial means) and offered Bella shelter and protection. In Cesc's case, Arsenal FC offered him first team football he desired which FC Barcelona aka the Cullen clan didn't. In the book Bella wanted to become a vampire.
It's easy to see why. While the wolves offer a harmonious and quiet little live the vampires are living THE LIFE. They are young, hip and loaded, in short, successful. A life young, energetic but ultimately broke Jacob and his tribe can't offer.
Is it just me or did Mrs. Meyer incorporated every cliché known to mankind in the conception of the Twilight series?
All non-Caucasian major protagonists in the book are broke whereas the all white ones are rich.
C'mon, Jacob can't afford himself a decent haircut but Edward and the Cullens drive around in the latest sports cars and stay forever young!?! Did they really have to be Native Indians? Why can't be the Indians be the rich ones and the Cullens a white trailer trash family?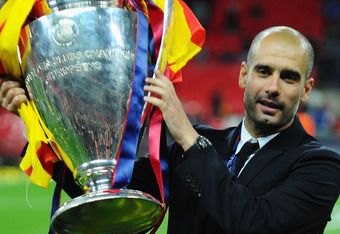 Clive Mason/Getty Images
And then there's the obligatory villain(s), the Volturi. I couldn't make up my mind who is more evil, Real Madrid or Manchester City, so I merged them in to one entity.
Similar to their tourist-eating, blood-consuming and sun-shunning book counterparts, both clubs have been known admires of Bella…sorry, I meant to write Cesc. To her…his credit, Cesc has (apparently) made up his mind to become a vampire (join FC Barcelona).
To Mrs. Meyer's credit, her book series and therefore the love triangle of Bella-Jacob-Edward culminated in the unholy union of Bella and Edward. And the quite graphic birth of Bella's child eventually. Something we are not even remotely close to in the real world.
What's even worse, Wolfman Jacop "imprints" on their offspring. However, that does sound inexplicably familiar. If "imprinting" means "poaching" than it makes all sense. Arsenal FC have been known to "imprint" on a FC Barcelona youngster or two, didn't they?
Until then I'm afraid, just like we are preparing ourselves to two more Twilight movies, the Cesc saga will carry on for quite some time.
For those who are interested, I really did write a book. If I find a publisher I'll let you know. Bits and parts of it are published on my blog.
I don't like to talk about myself in the third person so here you go. I'm the Editor in Chief for Barca Blaugranes, the fastest growing FC Barcelona community on the web. Join us and follow me on Twitter @JubeiKibagame, if I approve of you of course.