MLB Trade Rumors: San Francisco Giants Should Reconsider Carlos Beltran Pursuit
July 14, 2011
Christian Petersen/Getty Images
A year after winning the World Series, the San Francisco Giants sit atop the NL West at the All-Star break. The team continues to boggle the mind by winning with tremendous pitching, but little else.
Their position players hit as though wearing their mitts while gripping their bats, and many pursue batted balls as though dragging their bats on defense. In an effort to correct the team's imbalance, the Giants are reportedly looking hard at acquiring New York Mets outfielder Carlos Beltran. It makes sound sense, but it may not be a good idea.
Barry Bonds had a way of making San Franciscans forget things. When he won an MVP award during his 1993 homecoming season, he made them forget a 70-win 1992, followed by a bitter winter during which ownership tried to move the team to Florida.
When he attained 40 home runs and 40 stolen bases in a single season, he made them forget his father Bobby, in whose shadow he toiled for longer than he deserved. When he miraculously began launching homers at an unprecedented pace in his mid-30s and rewrote the record books, he made them forget their common sense and level judgment in favor of blind allegiance.
Several years into Bonds' tenure with the club, the Giants moved into a brand new ballpark by the Bay.
AT&T Park, as it has slowly come to be known, is beautiful and charming, but Bonds' artificial strength—indeed, the almost universal muscularity of players during the earliest part of this brave new century—helped disguise the park's most distinguishing feature: Right field there is a cavern, virtually inescapable for the non-elite slugger in the modern era.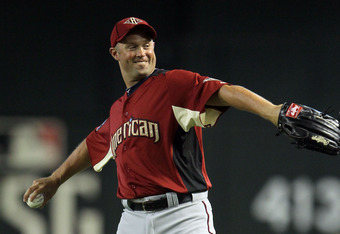 Jeff Gross/Getty Images
That matters for two reasons as the Giants consider adding Beltran:
1. Beltran, though surprisingly durable thus far this season, has a history of leg injuries and has lost a good deal of range in the outfield. He would likely hurt the team defensively in either center of right field, especially because the incumbents to those spots (Andres Torres, Cody Ross, Nate Schierholtz and Aaron Rowand) are some of the team's best fielders.
2. Beltran is a switch-hitter, but historically, a disproportionate share of his power has always been concentrated in right-center field.
Obviously, the Giants do not play all their games at home, and even in those home contests, there is a strong case to be made that Beltran would be the best outfielder on that team right now.
But with less expensive options like Michael Cuddyer, Marlon Byrd and Hunter Pence likely available, and considering that each of those three is at least Beltran's equal defensively while batting right-handed and using left field as their power alleys, the insistence that Beltran and the Giants are somehow destined for one another seems a bit overstated.