Boxing's Future with the Top 6 Fighters 25 and Under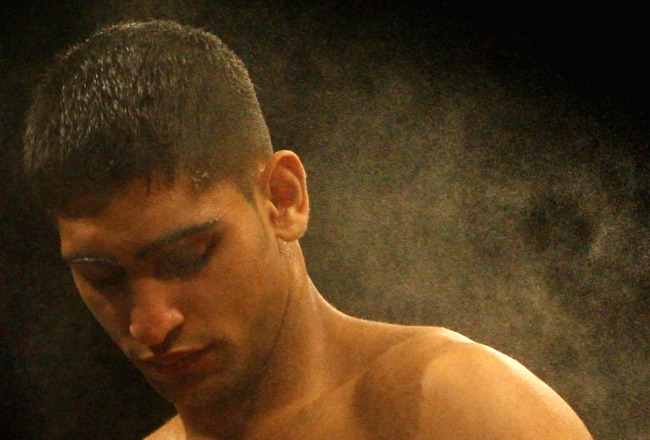 Ryan Pierse/Getty Images
Pacquiao is 32 years old, Mayweather is 34, and the Klitschko brothers and Sergio Martinez are all on the wrong side of 35. In the not too distant future, these great fighters will become memories in the ring. Their legacies will be debated as new fighters move into the spotlight.
Ten years from now, who will be on top of the boxing mountain? It's impossible to say, but the fighters on this list have a head start towards greatness. All aged 25 or less, they've already displayed skills that may turn them into future pound-for-pound contenders.
Some will rise to the top, some will drop off as they continue to campaign. Undoubtedly, some youngster not on this list will bloom later into a great champion.
Boxing is a generational sport. This new generation may be better than the last or they may not. In either case, the six men on this list have shown the sparks that define future champions.
6. Adrien Broner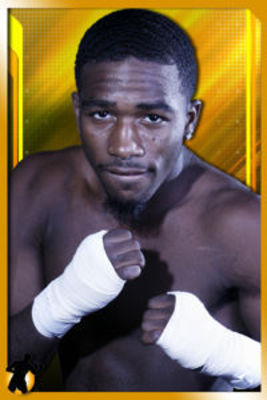 Seven months ago, Broner would not have made this list, but Devon's Alexander's poor showings against Tim Bradley and Lucas Matthysse opened the way for Broner.
Just 21 years old, Broner had over 300 amateur bouts before turning professional in 2008. He has a 21-0 record so far with 17 wins by knockout.
Broner's first major fight on a premium network occurred in March of this year on HBO against the veteran Daniel Ponce de Leon. While he won the fight, it wasn't the kind of performance that turns viewers into fans of a boxer. Frankly, it was a bad fight and Broner seemed passive at times. Nonetheless, he got the win against a man with over 40 professional fights, which is a significant milestone for a young fighter.
Broner came back with a first-round KO of Jason Litzau in June on the undercard of the Alvarez-Rhodes fight. Litzau had been on a small roll with wins over Rocky Juarez and Celestino Caballero and was expected to be a serious test for Broner.
Broner has all of the tools needed to be a star. His hand speed is top notch, he's an elusive defender and he certainly doesn't lack for confidence. He's probably a year or two away from challenging the top of the 130-pound division, but this kid has every chance of being a dominant force moving forward.
5. Miguel Vazquez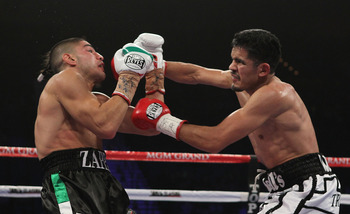 Al Bello/Getty Images
Twenty-four-year-old Miguel Vazquez may have three losses on his record, but you have to look at who beat him before judging him.
He lost his first fight as a pro—to Canelo Alvarez.
He lost a lopsided decision in 2007—to Tim Bradley.
He lost another fight at 148 pounds in 2008—again, to Canelo.
Since then, Vazquez has settled down to campaign at 135 and he's been climbing the division steadily. He handed Amir-Khan-Killer Bandeis Prescott his first loss. He wrecked Lenny Zappa's perfect record while retaining his lightweight belt won earlier from Ji Hoon Kim.
There are some interesting fights possible over the next couple of years in the lightweight division and Vazquez figures to be a key player in the mix.
He's got the mindset of the classic Mexican boxers and could very well be the next Marquez, Barrera or Morales. With his style, he'll lose some more fights before he is through, but his fights will always be entertaining.
4. Saul "Canelo" Alvarez
Harry How/Getty Images
The youngest fighter on the list, Canelo Alvarez picked up a share of the junior middleweight title at the age of 20.
Already a superstar in Mexico, Alvarez is anything but the classic Mexican fighter. His hand speed is sub-par as is his foot speed. You don't look at Alvarez and see Barrera or Morales as you do with Vazquez. If anything, you look at Canelo and you see Micky Ward and his punishing body blows.
He hasn't been in with a truly elite fighter yet and, at 20, that is for the best. Still, he's shown skill and intelligence in fights with Ryan Rhodes and Matthew Hatton and he showed raw power in a KO win over Carlos Baldomir. That was the first knockout of Baldomir in 16 years.
The kid is still shy of being able to get a drink legally in the U.S., and Golden Boy is being very careful with his matchups at this point. There is no point in killing the Golden Goose by rushing him in with fighters above his skill level right now.
You can expect to see Alvarez step up the level of competition over the next two years and then we will find out if the kid has the goods to make it to the very top of the sport—I wouldn't bet against him at this point.
He's fighting at 154 now, but you will see him move up as the years progress. With Sergio Martinez nearing the end of his productive career, Alvarez could very well step up and be a long-term champion of the middleweight division.
3. Brandon Rios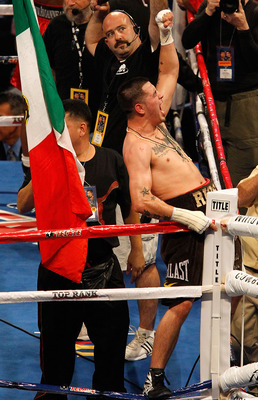 Tom Pennington/Getty Images
Brandon Rios took a lightweight title off of Miguel Acosta in February at the age of 24, celebrated his 25th birthday in April and successfully defended his title against Urbano Antillon with a spectacular third-round KO in July. He's going to be a force at 135 for a long time unless he chooses to move up to more lucrative fights at 140 and beyond.
Just a few years ago, this seemed like an improbable position for the Kansas native. The issue was never one of talent but one of maturity, or lack thereof. Frequent run-ins with the police, a lack of training dedication and a general lack of effort had Rios' career teetering on the edge.
His promoter, his manager and his trainer were all considering dropping Rios until he turned his life around with the help of the woman who is now his wife.
His victory last year over the 30-0 Anthony Peterson via disqualification for repeated low blows, served notice on the boxing community that the promise of Brandon's talent was beginning to be fully realized.
While he is a lightweight now, Rios is poised to have a dominant career up through the welterweight division. He has power, he has speed and he has heart. If he can keep his head together over time, he'll be a dangerous opponent for anyone who climbs into the ring with him.
2. Victor Ortiz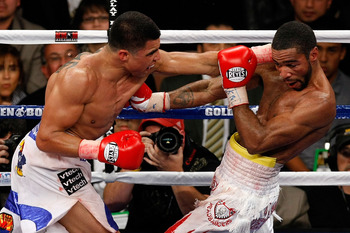 Ethan Miller/Getty Images
Despite being only 24 years old, Victor Ortiz has already been a part of two remarkable fights.
The first, in 2009, was Victor's loss in a battle with Marcos Maidana. Despite having Maidana on the canvas three times in the first two rounds, Ortiz was stopped in the sixth round by the slugging Argentinian. After the fight, many criticized Ortiz as a "quitter" and questioned whether he had the heart to be a great fighter.
Those questions were answered this February when Ortiz and Berto staged a 12-round war. Ortiz had to pick himself up off the canvas twice in this Fight of the Year candidate bout before winning a close decision over the previously undefeated Berto.
Ortiz is the first of the fighters on our list to earn a truly "mega-fight" with his September date with Floyd Mayweather. Earning the biggest payday of his career, Ortiz has a chance to vault himself into the upper echelons of the sport with this fight. Even if he loses, a strong showing against Mayweather could open even more opportunities for Ortiz.
1. Amir Khan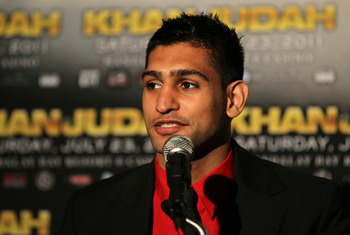 Stephen Dunn/Getty Images
When Amir Khan faces Zab Judah, it will be his fifth title defense of his piece of the 140-pound division. Only 24 years old, Khan had the belt at 22 with a win over legend Marco Antonio Barrera.
Despite a loss to Breidis Prescott in 2008, Khan has quickly risen to the upper levels of the sport. His hand speed is probably the best in the division and his fight management improves with every fight under the great Freddie Roach.
Last year, Khan answered the single biggest question that remained about him: Did he have the heart to survive a war in the ring? His December fight with Marcos Maidana emphatically answered that question. In a fight that many had as the Fight of the Year in 2010, Khan traded for 12 rounds before winning a narrow decision.
Khan has all the tools to eventually climb to the top of the P4P lists and will have plenty of quality opponents to choose from in his campaign for supremacy. Future fights with Rios and Ortiz would be intriguing matchups and it is likely that many of the fighters on this list will eventually face each other.
Keep Reading