MLB Trades: Francisco Rodriguez Traded to Milwaukee Brewers, Big Risk for Crew
July 13, 2011
Stephen Dunn/Getty Images
The New York Mets and Milwaukee Brewers have made the first big-name trade of baseball's annual swapping season. Francisco Rodriguez, the Mets' embattled closer, will join the back end of the Brewers bullpen after being dealt for two players to be named later. Cash-strapped New York eluded Rodriguez's $3.5 million buyout for 2012, but sent enough cash to the Brewers to all but cover Rodriguez's remaining 2011 salary.
The acquisition of Rodriguez helps fill one of the Brewers' most pressing needs. Although Milwaukee currently sits tied with St. Louis atop the NL Central, they needed this move to beef up a bullpen that (beyond closer John Axford) may be their greatest vulnerability.
If Rodriguez pitches to his potential (and his 46:16 strikeout-to-walk ratio this season suggests the tank is not empty), Marco Estrada regains some versatility, and the Brewers have a bit of insurance in case of an injury among their starting hurlers.
Risk abounds here, however. The obvious danger is that Rodriguez gets hurt or underperforms, and the Brewers are left in the same position from which they began with less time to shore up their deficiency. Another possibility would be that Rodriguez's addition simply strains the Brewers' liquidity of minor league assets to its breaking point, leaving them unable to deal for an improvement at a more important and equally unstable spot, such as shortstop, and that the team misses the playoffs despite Rodriguez's presence.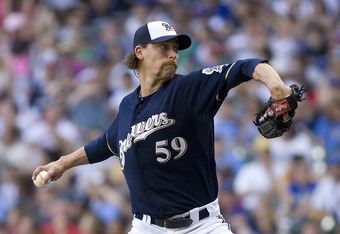 Mark Hirsch/Getty Images
Neither of those scenarios is the worst-possible case, though. Another lurking risk could do much more damage to a franchise walking a very tricky tightrope. Rodriguez may actually be needed as a closer.
The deal amounts to a $17 million bet on the health and effectiveness of incumbent closer Axford. That is the value of K-Rod's vesting 2012 option, which becomes guaranteed if Rodriguez finishes 21 more games this year.
What if, tomorrow, Axford shredded his labrum? What if he struggled badly out of the All-Star break, and the team needed to make a change in the closer's role around mid-August? Rodriguez would be the only acceptable option. He would be the team's only hope to remain in contention and give themselves a chance at what looks as possible as ever at this moment: the team's first trip to the World Series since 1982.
As this deal suggests, Milwaukee has shoved its chips to the center of a high-stakes poker table. They know Prince Fielder will not likely return beyond this season, and they long ago mortgaged their farm system to make a one-year run at the big prize. There is no turning back.
The Brewers will lose more games than they win in 2013, 2014 and 2015, almost without regard to what happens in 2011. Their top two prospects are by far and away the two pitchers they just drafted in June, and neither is a top-of-the-rotation guy within the next four years.
Therefore, should Rodriguez prove a better closing option than Axford for the remainder of this season, Brewers manager Ron Roenicke would have no choice but to promote him. Forget retaining Fielder; such a situation would likely force the team to trade arbitration-eligible Shaun Marcum before next April.
If they fall short in October of this year—or even before then—but are forced to keep Rodriguez, they will lose what slim hope they have of competing in 2012, too. Like Chicago White Sox owner Jerry Reinsdorf, Brewers owner Mark Attanasio approved budget overruns for this season in the hope of making back his losses in attendance gains and postseason revenues.
That sort of high-wire act is familiar, but it rarely works, and in the cases of both Chicago and Milwaukee, the problem is compounded by the consensus opinion that theirs are two of the worst farm systems in baseball.
Attanasio and his staff have put the Brewers all in for a stretch run, and it should be fun to watch. If the baseball gods call their bluff, however (and a bluff it is, since this team is yet weak at shortstop, only intermittently pitches well and features precisely one above-average defensive regular), the next half-decade may be an ugly affair for the Brewers and their fans.