College Basketball: Top Player in the ACC at Each Position Next Season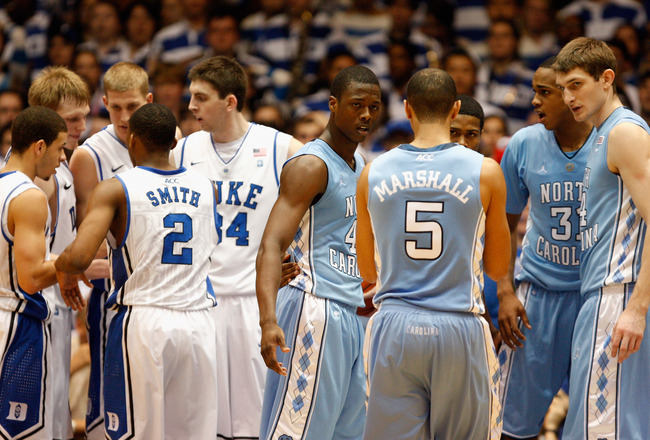 Streeter Lecka/Getty Images
This list of top players is based on their production last year. There are no projects on this list.
With the graduation of senior players and the early departure of Reggie Jackson from Boston College and Iman Shumpert from Wake forest, that leaves us with several players from North Carolina!
Last year Harrison Barnes was voted unto the preseason All-America team, as a freshman. It was widely thought to be very presumptuous, and this was justified when the forward struggled at the start of the season.
However he came into his own during the season and helped his team to the Elite Eight where they lost to Kentucky by two points.
The lesson here is don't count your chickens before they are hatched, as the proverbial saying goes, hence no freshman has been included in this list.
As Mike Krzyzewski recently said, college basketball has bigger, older and stronger players. It is an adjustment for freshmen.
Tyler Zeller: North Carolina, 15.7 Points, 7.2 Rebounds, 1.2 Blocks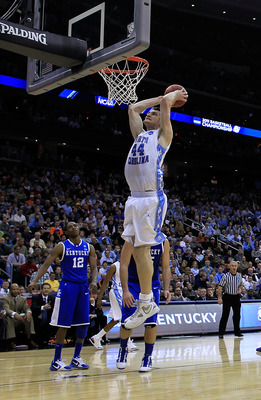 Chris Trotman/Getty Images
The only challenge for Zeller at center is Reggie Johnson. The 6'10" Miami Hurricane averaged 12 points, 9.6 rebounds and 1.3 blocks a game.
However Zeller led the ACC in field-goal percentage (54.7 percent), scored more points and with frontcourt partner John Henson around he did not need to rebound at a higher rate. There are only so many missed shots in a game.
Johnson recently suffered an injury in a pick up game and will be out for the next five to six months. No doubt he will be rusty but is expected to be back for ACC play.
Seven-footer, Zeller, did all this damage in less than 28.1 minutes per game.
If Maryland's Jordan Williams had not left early for the NBA this would have been his spot. He led the ACC in rebounding and was a high scorer.
John Henson: North Carolina Tar Heels, 11.7 Points, 10.1 Rebounds, 3.2 Blocks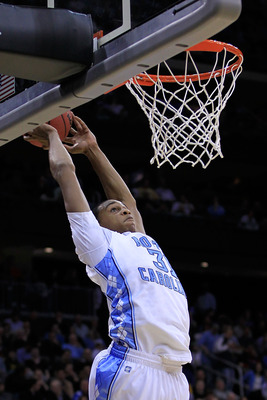 Chris Trotman/Getty Images
As a sophomore, Henson averaged a double-double, led the ACC in blocks per game (seventh in the NCAA) and was second in rebounding.
He is the best power forward in the conference.
The only knock on Henson is he can be a little overzealous at times with the shot blocking. When North Carolina played Washington Huskies in the third-round matchup of the NCAA tournament, he made a huge error.
Washington, who allegedly had a pimp on their roster at the time, last-second three-point shot was grabbed by Henson, and many (Washington fans) thought that could have been a goaltending call.
But this is extreme nitpicking. If the goaltending had been called by the refs, the shooter Isaiah Thomas had a foot on the line anyway.
What Henson has to be careful of is foul trouble. Instead of Justin Knox, a solid backup in his lone year at UNC, 5-star recruit, James McAdoo, will be spelling Henson next season.
Guess he can go for blocks more aggressively and not worry about foul trouble.
Harrison Barnes: North Carolina Tar Heels, 15.7 Points, 1.4 Assists, 5.8 Rebound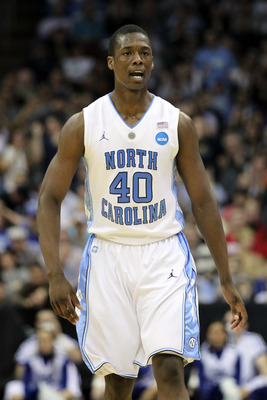 Nick Laham/Getty Images
Little known fact, Harrison Barnes is well known for having a bad start to his college career, but there was another freshman small forward who had a great start in the ACC.
Trouble is Travis McKie plays for Wake Forest and stumbled at the finish line. This sells the point that it is better to have a bad start in college basketball, then finish strong rather than the other way around.
Just ask UCF Knights with Marcus Jordan. They had a great start as a team and was ranked as high as 18 in the top 25, only to lose eight straight games and not even make the NCAA tournament.
Mckie finished with 13 points and 7.7 rebounds, but Wake only won a game in the ACC.
Hence without Duke's graduated senior, Kyle Singler, Barnes is the undisputed preseason All-ACC small forward.
He is working hard at the Chris Paul camp. He wants to be confident enough to beat his man off the dribble.
It is thought that if he can add this aspect to his game, it will bring him closer to the No. 1 pick in the 2012 draft.
Durand Scott: Miami (FL) Hurricanes, 13.6 Points, 3.3 Assists, 1.3 Rebounds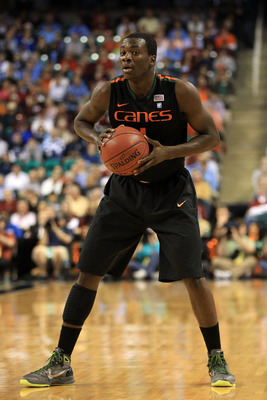 Streeter Lecka/Getty Images
Durand Scott is the first non North Carolina player to crack this list. Along with backcourt partner Malcolm Grant, Durant led Miami to an NIT berth last season.
They got blown out in the quarterfinals by Alabama, but expect this guy to replicate his sophomore year next season.
He will have strong competition at the off guard during the season by a couple of freshmen in the ACC. North Carolina's P J Hairston and Austin Rivers of Duke.
Malcolm Grant: Miami (FL) Hurricanes, 14.8 Points, 3.2 Assists, 1.8 Rebounds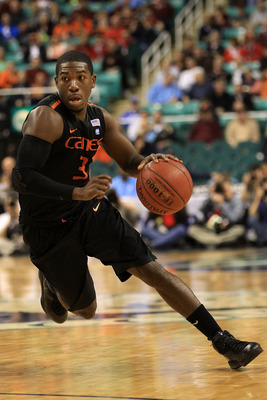 Streeter Lecka/Getty Images
Kendall Marshall will more than likely be voted preseason All-American. If he isn't, it would be highway robbery.
Going on last season's stats Grant only handed out 3.1 assists to Marshall's ACC leading 6.2 but The Hurricane required Grant to score more. Grant also hit 42 percent of his three-point attempts compare d to marshall's respectable 37 percent.
Marshall had some great games and is arguably the best assist man in all of the NCAA, but to be consistent and judging by stats last season, Grant has the edge here.
Some readers will no doubt point out that the freshman only moved into the starting lineup in January which is a fair and valid point.
Miami has a new coach, Jim Larranaga, and this should give them some fresh injection, hopefully Grant can improve in his last year of eligibility.
Keep Reading

UNC Basketball: Like this team?