Jay Lethal and 7 ROH/TNA Wrestlers the WWE Would Be Smart to Sign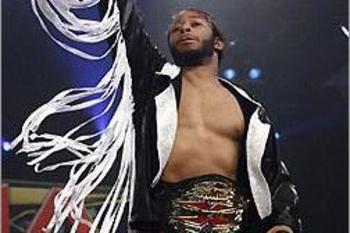 Jay Lethal, The Whole Package
Hello, and yes to the chagrin of much of you, I am writing a second article. But fear not, this time I hope to write a more well thought out and reasonable article, that will hopefully not piss you off.
I wont be taking shots at legends, nor will I (I'll try not to anyway) be vague with my reasoning. So here we go, six guys I believe could contribute something worthwhile to WWE programming.
With iMPACT Wrestlings recent campaign to show that "Wrestling Matters," it seems as if the WWE has taken notice, putting on better, albeit only a few better than good matches, matches on Raw and Smackdown.
(However, it seems as if the only time they decide to cut to a commercial, is when there is a good match going down, so there's something they could improve on right there) If the WWE is truly inspired to show that "wrestling matters" to them, they will sign and push these wrestlers to better the overall quality for their product and also make me happier to spend my time watching Raw/Smackdown and not being letdown with what I'm seeing. (And let's face it, whats more important than MY Happiness? ;) I kid, I kid.)
Now, on with the list.
D'Angelo Dinero/Elijah Burke
Sure he used to wrestle for WWE, So? He had a stupid gimmick, and was basically a glorified jobber. The guy has talent and is great in the ring and is fun to listen to on the Mic.
He was not given a chance to shine in WWE but has definitely sparkled since signing with TNA/iMPACT. He's a high flyer with good technical abilities who can play heel or face well, and can also entertain with his charismatic promos.
Samoa Joe

Samoa Joe

Samoa Joe gets pushed only to be a repeated victim of Vince Russo. Why? His wrestling is great, they don't call him the Samoan Submission Machine for nothing.
He once told Ric Flair he was going to stomp the Nature out of his ass. He puts on great matches and makes everyone he fights look good.
He deserves better and could come into WWE as a monster heel with actual wrestling and mic abilities. (Unlike Henry, Khali, Ryan, Sheffield, etc.)
Suicide

Suicide is one of the most exciting X Division Wrestlers

HHH seems to be on a Luchador signing Kick with the recent acquisitions of Sin Cara and Averno so why not continue by signing someone who looks like a Luchador, sorta, and is already acclimated to American wrestling, while also possessing the ability to speak English.
Suicide is a great talent. He lays his body on the line and is terribly exciting to watch, leaving us on the edge of our seats, giving us many WTF moments. He could immediately come in and feud with Rey or Cara, or even start out in a tag-team with Evan Bourne (my favorite scenario).
Kids would learn to love him, and adults would definitely respect his tenacity and guts.
Christopher Daniels "The Fallen Angel"

Top Moves of The Fallen Angel

Christopher Daniels has to be one of the most underrated talents in the world. He should be getting more recognition than he is, plain and simple.
He is also the talent known as Suicide and Curry Man (yes I realize that Suicide is already on here, I really like both characters so much, I wanted to showcase them both). Whichever character Vince would decide to have him use, he'd be getting an entertaining, technically sound, spot hitting machine.
Yes he may be 40, but I can see him wrestling for another three to five years, and in the WWE, they would be amazingly entertaining.
Motor City Machine Guns/Beer Money/Generation Me

Any 3 of the 4 teams here would make a Great Acquisition for WWE

I would be ecstatic if any of these teams were signed by WWE, and it has to be the team or nothing. The Tag Team Division is in shambles. Santino and Kozlov, The Uso's, Slater and Gabriel, Kane and Show... four Teams? (If there's anymore, I cannot think of one... save for Zach and Kurt...) Unexciting.
Same squash match after same squash match. Boring.. The tag team division is where future stars are born. Where would Edge be without the amazing matches he had against The Hardyz and Dudleyz? If there was no push for the Tag Teams, we'd have no E&C, Dudleyz, Hardyz, JoMo and Miz, etc.
I understand this has been stated 1000 times before, but until a wrong has been righted, you can't stop trying. The most likely acquisition for the WWE would be Generation Me, as they were recently granted their release from iMPACT Wrestling.. My personal favorite would have to be MCMG though.
Colt Cabana

"FLYING ASSHOLE!"-Colt Cabana

Yes, this is the easiest one to guess, save for Jay Lethal, who would show up on my list because, CM Punk wants him, and the WWE needs him.
Colt Cabana has charisma. He is a great wrestler. People should know who he is. He should not have a terrible gimmick, nor should he ever be only a jobber. He will most likely be showing up very soon on WWE programming considering he has started to turn down appearances for other shows, including ROH.
Shame for ROH considering they just got their own TV deal, but great for Colt and great for WWE/Punk.
Jay "Black Machismo" Lethal

Jay Lethal. The Total Package.

As any TNA fan knows, Jay Lethal is amazingly well rounded. He can wrestle. He can talk. He's the whole shebang. He could come in and immediately make an impact (pun intended) on the WWE.
He's fun to watch. Fun to hear. There's no if's, and's or but's about it. It's a shame that TNA had nothing for him after his amazing feud with Flair. Their Loss, WWEs gain (plus, He's only 26. He could be a staple for 10-plus years!).
Thanks for Reading

Jay Lethal... Wrestling God

Thank you for reading, Obviously if Vince signed some of these men, it would require him to reinstate the cruiserweight division, which I think most if not all of us would love to see.
Agree? Disagree? Who should I have instead? Who is an insanely stupid choice? Why Is Hornswoggle still a part of the WWE roster? Answer those questions in the comments.
Keep Reading