British Open 2011: Rory McIlroy, Luke Donald or Lee Westwood: Who's Favorite?
July 13, 2011
Stuart Franklin/Getty Images
This year's Open could very well be another shoot out between Luke Donald and Lee Westwood like the one that took place on Wentworth earlier this season. The big joker in the British three leaf clover is, however, Ireland's own Rory McIlroy. All three of them could take this title, but who's closer to the Claret Jug than the others?
Luke Donald
Luke Donald, currently ranked No. 1 in the Official World Golf Ranking, will be making his 11th career British Open appearance. As a winner of last week's Barclay's Scottish Open, Donald is hoping to become the first such player to win the Open Championship the following week.
After missing the cut in his first five starts (1999, 2000, 2002, 2003 and 2004), he has since reeled off five straight made cuts, with his best finishes coming the last two seasons (T5-2009, T11-2010). At the 2003 British Open at Royal St. George's, Donald missed the cut with rounds of 76-79. No doubt Donald has the poorest Open stat of these three players, but he's No. 1 for a reason.
In 2008 and some of 2009 Donald spend a lot of time trying to become a longer hitter, because he was told by everybody that you can't win tournaments if you can't hit it far. Donald got wiser, and went back to hitting it shorter but straight. He even got himself an even better caddie by the name of John McLaren and started putting like a demon. That cocktail lifted him up as number one in the world.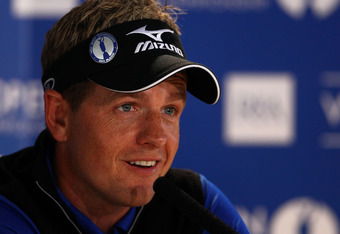 Richard Heathcote/Getty Images
Recent Donald Quote: "The preparation I did before the Scottish Open ... We had good weather too, so I haven't really done a lot in this kind of a wind. You can't really control that and I still think going and playing last week was good preparation for me. It obviously wasn't exactly like it is this week, but there are certain similarities, even dependent on the weather conditions and the course, that always stay the same in links golf."
Why he could win: Donald is simply the best putter in the world right now. His driving and short game is also close to being flawless. And don't forget that the last round of golf Donald played was at the Castle Stuart Golf Links and the score was a 63—the best round he has ever shot on the European Tour.
This could be in his way: Two words. Lee Westwood.
Lee Westwood

World No. 2 Lee Westwood is still in search of his first Major Championship and just as Donald, he has tried to top the world rankings without being able to grab one of the Big Four. But no one can blame Westwood for not trying. He had two runner-up finishes in three Major Championship starts in 2010 and has since added a T11 at the 2011 Masters and a T13 at the 2011 U.S. Open. Westwood enters 2011 British Open with six top-3s in his last 12 Major Championship starts.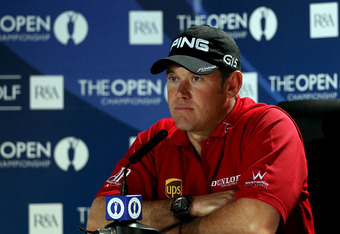 Andrew Redington/Getty Images
Westwood missed the cut at Royal St. George's in 2003 with rounds of 76-75, but last year he came in second. Only Phil Mickelson has been as close to major victories, before the American took his first Masters title. 
Recent Westwood Quote: "Hopefully it's a mathematical progression—third, second, obviously I'm hoping for a first. I think more than anywhere on The Open Championship rota there are a couple of fairways out there which you can get bad breaks. I suppose you can get good breaks as well, but I think at some point during the week you're going to need patience. But I've got plenty of that."
Why he could win: Westwood know more than anyone that he can put himself in a position to win a major again this week. He can almost sneak his way into contention in his sleep. Not only in the majors, but every week. He's also a very patient player, with a strong mental approach.
This could be in his way: Luke Donald, seems to be one thing. The short game seems to be another. Westwood is not a bad wedge player anymore, but margins play a role, and Lee need to bring his best wedges to Sandwich. It's either that or hit most greens in regulation. In his last duel with Donald—at Wentworth—one unlucky shot made the difference. Could be close again this week.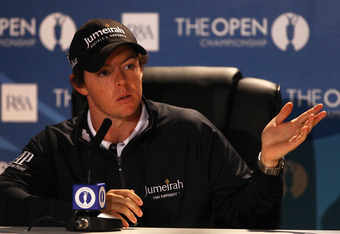 Richard Heathcote/Getty Images
Rory McIlroy

This kid is a riddle wrapped in an enigma.
The 2011 U.S. Open champion Rory McIlroy opened the 2010 British Open with a record-tying 63 en route to a T3 finish. Shooting low is one of Rory's strengths, and it seems to have become some sort of trademark for him. In this year's Masters and the US Open he set off on Thursday in 65 shots.
He's the only of these three players who has won a major, and the last time he touched his clubs was at the Congressional in Maryland, three weeks ago. Not since Tom Watson in 1982 and Tiger Woods in 2000 has a player won the US Open and the British Open back to back. It takes a special player to do stuff like that.
Recent McIlroy Quote: "I've already sort of noticed over the past three weeks it has been a bit of a life-changing experience and it's just something I'm going to have to deal with. But this is what I've always wanted to do—I've always wanted to be a successful golfer and be one of the best players in the world and to win Major Championships."
Why he could win: When this kid rains birdies, he pours them. He seems to be able to go out and compete and enjoy himself in tense situations at the same time. That makes his swing free and relaxed.
This could be in his way: McIlroy was never under pressure in the US Open and he didn't budge an inch on his way in. Under pressure on the last nine holes in this year's Masters, he folded with an 80 shot round. Another thing that could putt the Irish off, is the media attention during and after the four rounds at Royal St. George's.
Espen Uldal is a Contributor for Bleacher Report, golf TV commentator and journalist. All quotes were obtained via e-mailed transcripts from ASAP Sports.