Adrian Gonzalez: The Epitome of Consistency
July 13, 2011
e·pit·o·me/iˈpitəmē/Noun
1. A person or thing that is a perfect example of a particular quality or type:
Outside of talent, something I've always believed in what makes a professional ballplayer is consistency.  It's the name of the game.    For one of the longest season in sports, talent needs to be followed with a long season of day in and day out performance. 
If you ask around, most athletes would tell you the hardest thing to do in sports would be to hit a round ball with a round bat, all the while having only a moment quicker than an eye blink to figure out what kind of pitch, how fast or how slow, and where.  Now remember, in order to be successful in this game, and I'm about to quote one of my most favorite from any athlete on this planet, would be that:
"Baseball is the only field of endeavor where a man can succeed three times out of ten and be considered a good performer." - Ted Williams
It's just that simple.  To think in any other profession, those numbers would be a failure.   
In basketball, shoot 3-10 from the floor and you can find yourself playing for bench time.  Complete 3-10 passes in a football game and you can find yourself attached to the coaches hip with a clipboard and a headset.  Save 3-10 shots on goal and you can find yourself noticing that all that padding is more of an annoyance while the bench that actual safety equipment.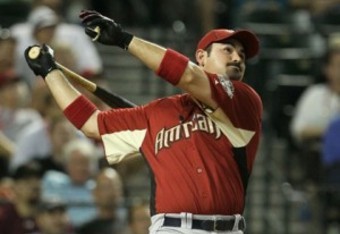 I think you get my point here.  Hitting a baseball is very hard to do, and Adrian Gonzalez makes it look easy. 
There wasn't much hype for Gonzo while in the NL playing for the San Diego Padres.  Not your average big market team, and on a west coast time slot, there wasn't too much media coverage.  Hell, the only reason I had any clue about Gonzo is that I had him on my fantasy team a few years back, and the guy produced!
Let's take a look at Gonzalez' current numbers in his first year playing for the Red Sox.
Batting averages:
.354 current
.383 at Fenway (we saw this coming)
.324 away
.314 in April, .341 in May, .404 in June, .371 in July
.303 vs lefties
.379 vs righties
.375 with runners in scoring position
.333 with bases loaded
Those numbers should speak for themselves.  And I should also note that not one stat no matter how small or trivial, was under .300.  Impressive stuff if you ask me.  
At 29 years old, Gonzalez is in the prime of his career.  After the Red Sox locked him up for seven years, don't be surprised if these numbers don't dip when he's on the wrong side of 30.  The guy is too pure of a hitter to decline and fall that hard.  
I could go out on a limb here and say that with Gonzo's current pace, he might rank up with some of the all-time Sox greats.  But like I've said earlier, it's all about consistency, and Adrian has enough to pass around.