Baseballs Most Mediocre Players 2011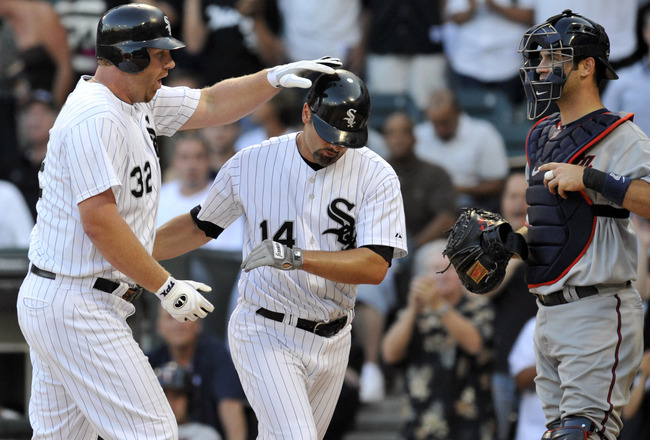 David Banks/Getty Images
Through the 2011 season we have seen many surprises through the first half.
There are players that have reached peaks that no one though would be possible as they are helping lead their teams into the post season.
With the good also comes the bad. There are so many guys underachieving and hindering their teams chances of making it into the post season.
Here is a list of 25 players that are underachieving and what these players can do to help their teams have better success in the second half.
25. Carl Crawford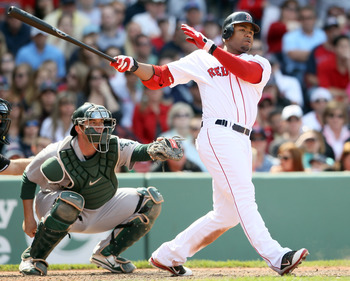 Elsa/Getty Images
When the Red Sox signed him to a massive seven-year contract worth $142 million, the Sox thought they were getting the Carl Crawford of last year.
Unfortunately for them, he did not show up as advertised. Through 67 games Crawford has only recorded six home runs, eight stolen bases and has a batting average of .243.
After the All-Star break Crawford will be returning to a Sox team that is leading the division. He has a great supporting cast to help him have a great second half of the season, so all he has to do is just hit the ball. He is playing well enough on defense, but Crawford's offensive production should increase as the second half of the season starts.
24. Delmon Young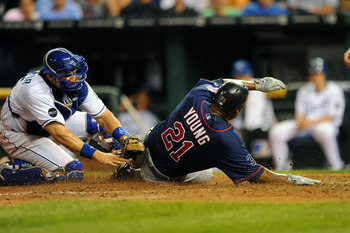 G. Newman Lowrance/Getty Images
For a guy who brought in more than 110 runs, Delmon Young has surely struggled to show anything close to his power numbers from last year. The former first overall pick looked like he was starting to show why he was the No. 1 player taken in the 2003 MLB Draft, but he has been terrible offensively and an aberration on defense with four errors through 49 games.
I expect Young to have a productive second half of the season. His power numbers should definitely be up similar to last year. This guy has a lot of potential and should definitely be a major contributor for the Twins as they climb back into the AL Central race.
23. Ryan Raburn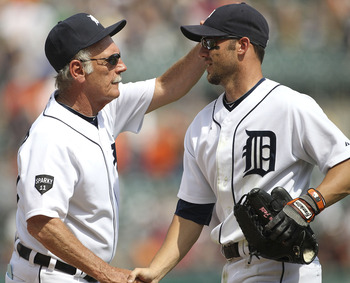 Leon Halip/Getty Images
Ryan Raburn, one of Jim Leyland's favorite players, sure has not been the best of the Tigers throughout the season.
For a guy who has had the power numbers this year, his batting average (.213 through the first half) has been terrible. Even though he already has eight home runs, Raburn has not been very good in any other category.
He has also been terrible on defense, committing nine errors through his first 76 games on the year.
Raburn has an opportunity to really come around during the second half of the season. His career average is .260, and I expect his OPS, batting average and slugging percentage to go up, even though he has struck out 86 times in 76 games. He should definitely improve on offense and defense, and look for him to have a 20-home run season.
22. Alex Rios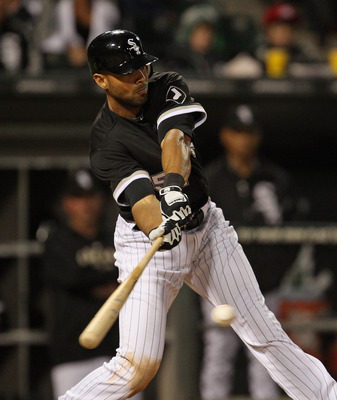 Jonathan Daniel/Getty Images
Alex Rios is one of the biggest disappointments for a White Sox team that has had many disappointments the first half of this season. He has a very low batting average of .213, and he is not really showing signs that he will come out of his funk, with only six home runs and six stolen bases through the first 87 games of the season.
With the second half of the season getting underway, the Sox are hoping Rios and Dunn can come out of their funks so they can really compete. With the division still up for grabs, they could definitely have a chance to win it if these guys show up.
21. Javier Vazquez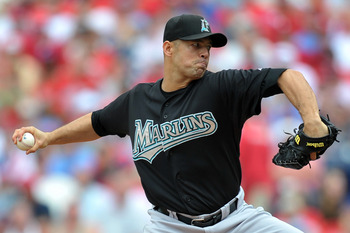 Drew Hallowell/Getty Images
Javier Vazquez is coming off a terrible first half of the season. In fact, these two back-to-back years have been two of his worst years in his MLB career.
The Marlins expected Vazquez to return to his old self. In his 2009 season with Atlanta, he blew batters away, pitching at a Cy Young level. He finished the season with a 2.87 ERA and 238 strikeouts.
The second half of the season should definitely get him more results as Vazquez will try to correct his pitching issues. If he does not fix those issues, he will see his home run count of 14 go up and could possibly have a season like last year, where he gave up 32 home runs.
Vazquez needs to establish some sort of consistency.
20. Jason Heyward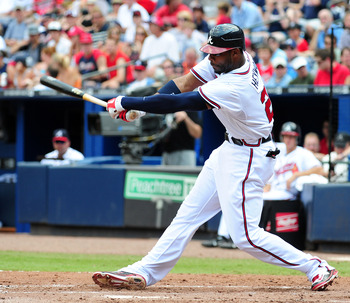 Scott Cunningham/Getty Images
After such a promising rookie campaign with the Atlanta Braves, Jason Heyward has hit a wall.
His production compared to last year has drastically dipped. His power numbers are there, but everything else is missing. He is having a rough time just getting on base with his low batting average of .226.
On the defensive side, Heyward has already committed four errors this year; he had six for the entire year in 2010. If he wants to help the Braves get deep into the playoffs, he really needs to have a better second half of the season.
Heyward definitely has the tools to be an All-Star-caliber outfielder; he just has to get his head into the game.
19. Ryan Dempster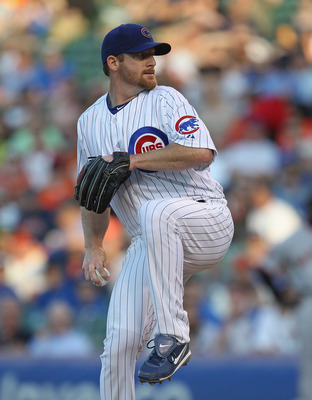 Jonathan Daniel/Getty Images
For a guy who is not pitching terribly, Ryan Dempster sure has given up a lot of home runs throughout the first half of the season. He has been the unluckiest pitcher in all of the majors, giving up 14 home runs in only 19 starts and increasing his ERA by a considerable margin.
The only thing I can think of to help him out of this funk is a little bit of good luck. If not for the excessive home runs, Dempster could have been a player headed to the All-Star game. He has had good stuff, but like I said, he is incredibly unlucky. Dempster has been disappointing due to his ERA and 1.44 WHIP, but his 102 strikeouts is impressive.
18. Jason Bay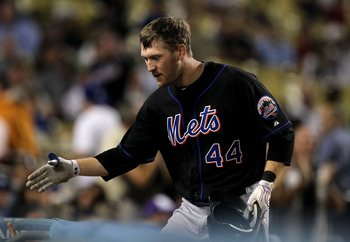 Stephen Dunn/Getty Images
Jason Bay is still struggling trying to make the transition to the Mets two years later.
The Mets had huge expectations for the right-handed outfielder. He was coming off a huge season with the Red Sox, where he recorded 36 home runs, 13 stolen bases, 119 RBI and 103 runs.
Bay's tenure with the Mets has been filled with disappointment.
He will most likely be traded from New York due to his large contract and the fact that the team is trying to shed payroll. He has a four-year, $66 million contract with a full no-trade clause, so it may be hard to move him or get him to sign off on a deal. The Mets do have a buyout option coming up for $3 million, so maybe they will try to buy him out.
17. Brett Myers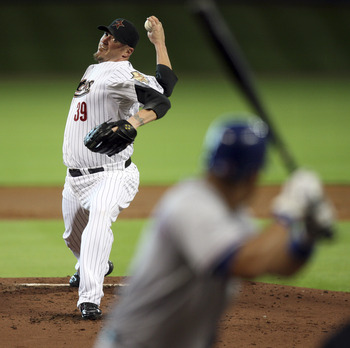 Bob Levey/Getty Images
Having a 3-9 record through the first of the season definitely has Brett Myers of the Houston Astros on the list.
Myers was coming off a 2010 season that was one of the best in the majors. He had a low ERA of 3.14 and only gave up 20 home runs for the entire season. His Whip was also at 1.24, which was not all too bad either.
This season, Myers has been rather unspectacular throughout the first half with his ERA hovering at 4.82 and his team well out of the playoff hunt. He has given up an astounding 23 home runs through 19 starts this year, and as of now, he is on pace to give up nearly 42 home runs by the end of the season.
Most guys don't give up 42 home runs in two or sometimes three seasons.
16. Jayson Werth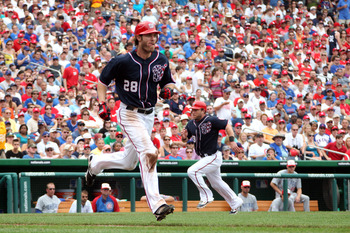 Ned Dishman/Getty Images
Jayson Werth has really failed to live up to his seven-year, $126 million deal.
He has been downright terrible throughout the first half of the season with a batting average well below his career mark, and there is certainly a mystery as to why he is batting .215. And with an OPS of .681, no wonder he is sinking down the lineup as the days go by.
Werth has gone hitless over 30 games, and I do not see signs of him getting any better as the season progresses. He has to get better over the second half offensively and defensively, as he has committed six errors already.
The only bright sides to his horrific season—other than his team not being completely eliminated from the playoff picture—are his 10 home runs and 10 stolen bases.
15. Brandon Inge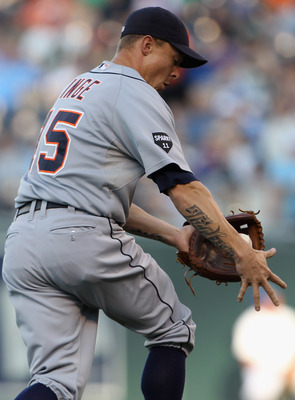 Jamie Squire/Getty Images
The worst statistical Tiger for the entire season has been Brandon Inge.
This guy is having such a bad season that the Tigers are planning on the future without him, just after he signed a two-year extension for $11.5 million. Detroit got him for defense, but Inge has eight errors through his first 67 games of the season.
Inge has never really been the player the Tigers thought he would be. They had given him money knowing he was not the answer offensively, so they can't be mad at a player whom threw money to, can they?
14. Ryan Zimmerman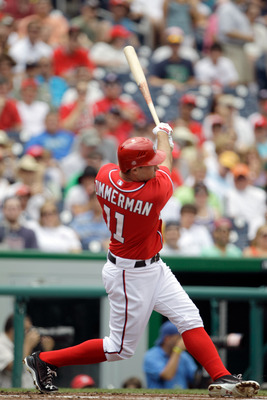 Rob Carr/Getty Images
He has not been terrible, but Ryan Zimmerman has not been the Ryan Zimmerman the Nationals expected they would see coming into the 2011 season.
Coming off of his past two seasons with great numbers, the Nats thought they struck gold by adding Jayson Werth to the mix. Unfortunately for them, the only players playing well are their younger players.
Since returning from the DL, Zimmerman is batting .214. He seems like he could have a solid second half of the season though.
Davey Johnson needs to find a way to get Zimmerman and Werth to start producing, while guys like Danny Espinosa, Michael Morse, Laynce Nix, Wilson Ramos and Roger Bernadina are all playing pretty well. The Nats need these guys if they want to win a Wild Card spot, because the NL East is almost definitely going to be won by the Phillies.
13. Kyle Drabek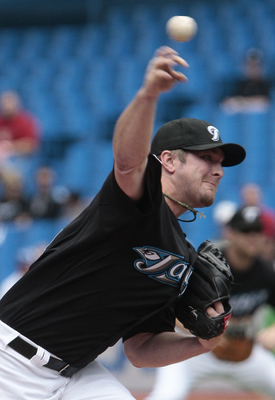 Abelimages/Getty Images
Kyle Drabek entered the season as one of the key pitchers to help the Blue Jays win the division.
Two months into the youngster's MLB season, he has been demoted due to his awful pitching. Through 14 starts this year, he has a WHIP of 1.79—not a pretty sight for a top-of-the-rotation talent.
Drabek has issued more walks than strikeouts, something that is rare for such a talented player. He was demoted to the Triple-A and has had a rocky start down there as well, allowing 12 hits, nine runs and 10 walks over his first four and 2/3 innings.
Drabek needs to turn things around if he plans on making it back up to the majors this year.
12. Joe Nathan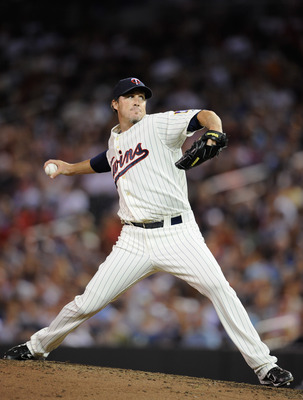 Hannah Foslien/Getty Images
Joe Nathan has been one of the worst pitchers in baseball this year.
He has been demoted, promoted and demoted so many times I have lost count. Through 24 games this year, Nathan has posted an ERA over 5.8 and has blown three saves in six opportunities.
It seems like every time he takes the mound he blows a save, but he has six strikeouts and has not issued a walk since his return to the majors.
Nathan has to be the answer for the Twins to win the division because Matt Capps is not going to be the closer much longer. The team may look for Glenn Perkins to take over the reins though, as he is having a spectacular season.
11. Fausto Carmona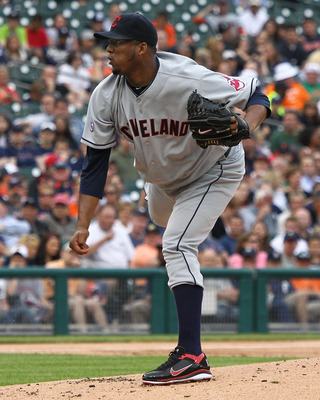 Dave Reginek/Getty Images
Fausto Carmona has been absolutely terrible for the Indians. He has a terrible record of 4-10 and has my vote for arguably the worst ace in Indians history.
This guy is just not getting it done. He was statistically the worst player in the Indians' rotation before his injury, and going 1-7 in his last nine starts is not a stat Indians fans are looking forward to. Carmona has given up a lot of hits through the course of the MLB season, and giving up 15 home runs in 18 games is especially alarming.
But there is no way Carmona's 5.78 ERA carries over to the second half of the season though. He has too much talent as a pitcher to be this bad.
10. Dan Uggla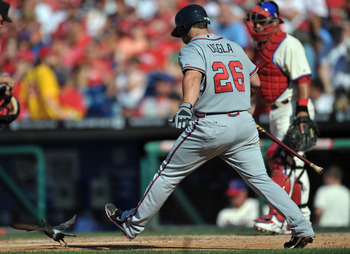 Drew Hallowell/Getty Images
Five years and $62 million is a lot of money to pay a guy who is batting .185 through his first 92 games of the season.
Dan Uggla could have around 25 or more home runs if he had his batting average around .240, and that is not even the average for second basemen in the National League. His .621 OPS has to go up, because it is definitely a career low for him.
Uggla can definitely help this team win the NL East, but he has to play much better during the second half of the season. This guy has too much talent to be below .200 for the season. Going hitless in more than 40 games does not help the old batting average either.
9. Edinson Volquez
Rob Carr/Getty Images
Edinson Volquez is having a very poor season.
Whenever a guy is near the top of your rotation and gets demoted, then you know he has been having a very disappointing season.
Volquez has been having a lot of command issues, which is not something he usually struggles with. He is a player who can definitely make an impact for a Cincinnati Reds team that is clearly a pitcher short from being a dominant team for the second half of the season.
Bronson Arroyo has not been good enough to be the ace of the rotation, and Cueto cannot carry the team. If Volquez rebounds, the Reds will win the NL Central.
8. Joe Mauer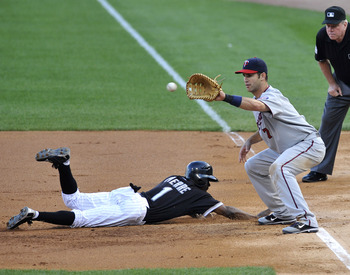 David Banks/Getty Images
For a guy who just signed an eight-year, $184 million deal last year, Joe Mauer has struggled to even live up close to that contract.
Mauer has been injured through the first half of the season, and that is most of the reason why the Twins are out of their division right now. Through 31 games he has nine RBI's, no home runs, a batting average of .243 and has struck out 20 times.
I like the move to first base. The move should definitely allow Mauer to last longer throughout the season. I do not care how great he is as a defensive catcher, you do not pay a catcher $184 million.
If the Twins want to get all they can get out of Mauer, they will keep him at first base and find another catcher. With his batting average well below his career mark of .324, I am looking for Mauer to have a solid second half of the season alternating between first base and catcher until he becomes the full-time first baseman.
7. John Lackey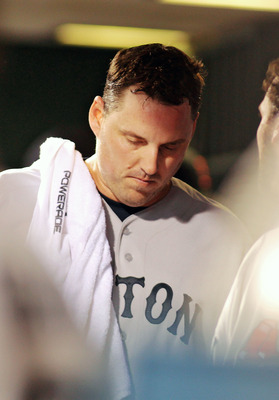 Len Redkoles/Getty Images
This has to be by far John Lackey's worst season in MLB. He cannot seem to get the right results, as he is struggling mightily.
Lackey has allowed more than seven runs four times through the first half of the season. He just could not seem to find ways to get players out. It seems like he has given up a home run every start, and an ERA of 6.84 is not going to be good enough for the Red Sox.
Hopefully his last start is a sign he will have his ERA in check. Lackey pitched 6.2 successful innings, recording seven strikeouts and one walk. He only allowed three hits and did not give up a run.
Red Sox fans are hoping he can provide them with quality pitching the rest of the way with the Yankees hot on their trail.
6. Phil Hughes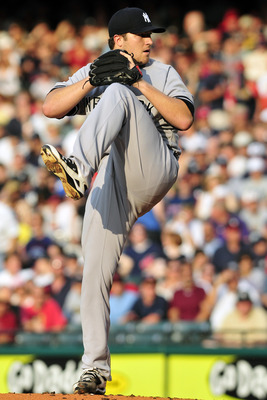 Jason Miller/Getty Images
Anytime a pitcher has more walks and gives up more runs than strikeouts, it is a problem.
Even though Phil Hughes has not played many games this season, he has still been a huge disappointment for the Yankees. Through his four starts for New York, he has had an ERA over 10.00 and has yet to pitch more than five innings in any start.
Through his rehab assignments and first game back, Hughes has shown he could return to his old self toward the end of the season. He is starting to get his command and velocity back, so he could definitely be a player to watch the second half of the season.
5. Chone Figgins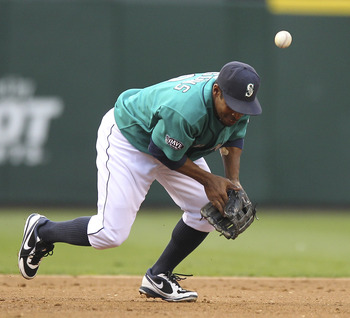 Otto Greule Jr/Getty Images
Chone Figgins has fallen out of favor rather quickly with the Seattle Mariners over the first half of the season.
Posting a pedestrian .183 batting average was the main reason why he has lost time as the third baseman for the club, and his extremely low OPS of .475 definitely does not help him get any sort of playing time either.
Figgins went from a guy who was stealing bases left and right for the Mariners to sitting in the dugout. He could be a player who has seen the last of his playing days in a Mariners uniform, and his four-year, $36 million contact he signed in 2009 will not even matter since he has been so ineffective.
The Mariners will look to either trade him or just outright get rid of him. Figgins' 10 errors definitely won't help him play there anytime soon anyway.
4. Pedro Alvarez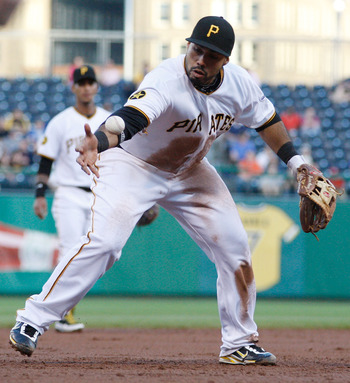 Jared Wickerham/Getty Images
For a guy who was projected to have a monster season, Pedro Alvarez has sure failed to live up to his lofty expectations.
Now the third baseman finds himself stuck in the minor leagues waiting on an opportunity to hit the field after being sidelined by a hamstring injury.
He certainly has more talent than his .208 batting average suggests, but he will not have many chances to go back to the majors this season since the Pirates are in the thick of the pennant race. Unless he can fix his hitting troubles in the minors Alvarez may be stuck there for the rest of the season or possibly traded.
The Pirates do have other needs and, well, they are playing much better without him.
3. Brian Matusz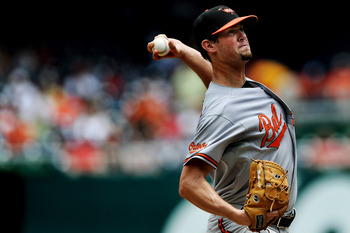 Patrick Smith/Getty Images
Such a young promising prospect with so much potential, Brian Matusz had high expectations heading into the 2011 season, but his velocity on his fastball dropped to 86 mph, and he was struggling to make it through innings. With an ERA at 8.77 through six games, the former fourth overall pick has a lot to work do to become the player many thought he would be.
After facing an injury early into the season and a tough demotion, Matusz sure has a long way to go until he gets back to 100 percent. He will surely miss the rest of the season, as his velocity has been falling rapidly. Let's all hope he is not another former first-round pitcher who never lives up to his potential.
2. Ryan Franklin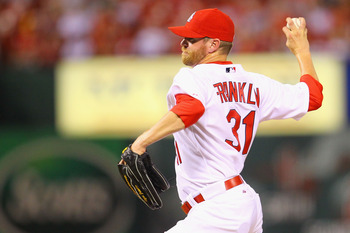 Dilip Vishwanat/Getty Images
Ryan Franklin has been the worst closer in MLB this season.
Franklin has been so bad he was released by the Cardinals due to his poor pitching (21 games, and his ERA was almost 8.5 as a reliever).
To make matters worse, he blew four save opportunities early in the season.
Hopefully this guy can find a spot on a roster somewhere. When your team gives up on you and the market is small, it makes it hard for a guy like Franklin to rebound during the second half of the season. He has not pitched since June 28, and I can see a scenario where Franklin may not pitch again.
1. Adam Dunn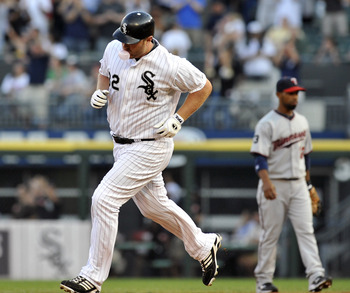 David Banks/Getty Images
The Chicago White Sox' DH, Adam Dunn, has been one of the biggest (if not the biggest) disappointment through the first half of the season.
Dunn's batting average is an unimpressive .160, and he is second in the majors in strikeouts. His OPS is an abysmal .597, and he has gone hit less in nearly 50 games.
I would've never guessed this guy could be hitting so poorly.
Getting booed in your home stadium must not help your confidence either, especially when Dunn is the major reason why the Southsiders are struggling.
This team is trying to get into the AL Central race. If Dunn can even get his batting average up to at least .220, the White Sox would at least stand a chance to win the division; they are only five games out of first place.
Plus, Dunn needs to earn his four-year, $56 million contract.
Keep Reading

Detroit Tigers: Like this team?