MLB All-Star Game 2011: 5 Bold Predictions for This Year's Midsummer Classic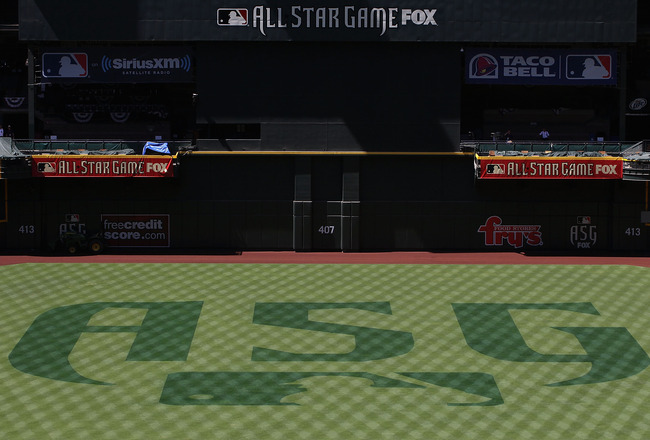 Christian Petersen/Getty Images
We are getting so close to tonight's Major League Baseball All-Star Game that we're almost out of time to make predictions!
But we certainly need more!
Quick!
Get ready!
Are you ready?
Good!
Let's go!
Let's go...BOLDly, where no predictions have ever gone before!
(OK, maybe some have. But everyone loves hyperbole! Didn't you just love that last sentence?)
1. The National League Pitching Will Be Dominant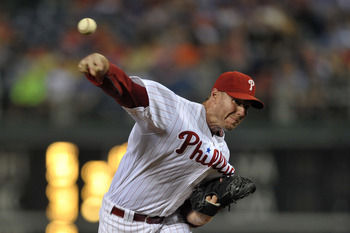 Drew Hallowell/Getty Images
Not bold enough, you say? Well, don't fret, there's more.
The National League arms will hold the American League hitters to no more than zero hits through the first seven innings of play.
Better? I thought so.
Roy Halladay, Jair Jurrjens and Clayton Kershaw will strike out eight batters in the game's first five innings, followed by an overly excited Tyler Clippard, who is happy just to see his former Yankees teammates after being stranded in Washington, D.C. for the past three-and-a-half seasons.
He will resist the urge to walk into the opposing dugout.
The seventh inning will be pitched by an equally charged Heath Bell who, in his ambition to audition for contending American League clubs, will strike out the side.
He will follow this performance with a creepy wink directed towards AL manager Ron Washington.
2. The Home-Town Hero Will Strike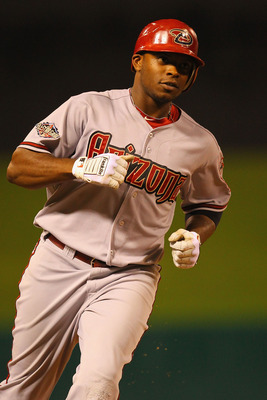 Dilip Vishwanat/Getty Images
Arizona Diamondbacks outfielder Justin Upton, who was allegedly snubbed out of last night's Home Run Derby, will pinch-hit for Derby flame-out Matt Kemp in the fifth inning.
Upton will demonstrate his worthy credentials by hitting an opposite-field solo home run into the pool sitting behind the right-centerfield fence.
The fifth-inning blast will ignite the crowd, which before this was most excited when Luis Gonzalez emerged from the dugout to throw out the first pitch and attempt to brainwash everyone into believing the years 2002-2010 never happened.
However, the cheers will quickly transform into boos, as cleanup hitter Prince Fielder—the National League captain who failed to select Upton for the Derby—walks up the plate. He will hit a towering moonshot that flies out of Chase Field.
The fans will respond with mild applause.
3. The Most-Often Heard Question in the Ballpark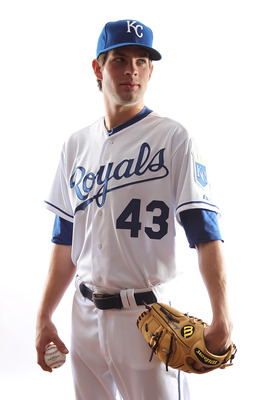 Jonathan Ferrey/Getty Images
"Who the #@!% are Kevin Correia and Aaron Crow?"
4. Sweet, Sweet Revenge
Al Bello/Getty Images
With one out in the top of the eighth, Josh Hamilton and Adrian Beltre—still in the game because all but one AL reserve claimed to have suffered an injury while sitting on the bench—will face the National League's new pitcher, Cliff Lee.
Hamilton will mutter a few choice words for his former teammate, while Lee will counter with a blank, emotionless stare. Hamilton will have forgotten that that's simply how Lee always looks.
Hamilton and Beltre will reach base with back-to-back singles. Coming up to pinch-hit for DH David Ortiz will be none other than Michael Young.
Young will steady his grip on his bat and yell something about being "a dedicated teammate." Lee will respond with a yawn.
Young will blast a three-run home run into the pool, and out of nowhere Chris Berman's excited squeals will fill the ballpark. The three Rangers cross home plate and give the AL a 3-2 lead.
5. Enter...Mr. High Socks?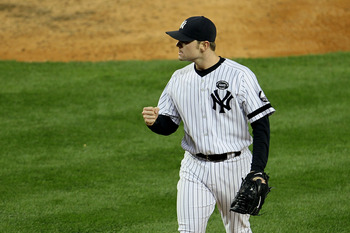 Chris McGrath/Getty Images
In the bottom of the ninth, the National League, down by one, will load the bases with no one out against Tigers closer Jose Valverde. The Arizona fans, sensing they've seen something like this before, will get giddy and start chanting, "We want Mo! We want Mo!"
Of course, they know Mariano Rivera won't really be coming in to pitch, since he is out with a sore triceps. No harm, no foul.
Ron Washington, seeing that Valverde has nothing, will take him out and replace him with David Robertson, the Yankees' reliever dubbed "Houdini" for his ability to pitch out of tough jams.
Robertson will give a little tug on his socks and calmly strike out the side. The American League will hold on for the 3-2 victory, and I will delude myself into thinking this makes up for the only baseball game that ever made me cry and pledge my hatred toward anything and anyone associated with the state of Arizona.
Keep Reading