Manchester United: Fergie's Final Fling with World Domination
July 12, 2011
Alan Crowhurst/Getty Images
It is something many Manchester United fans have not wanted to accept, and that is the fact that Father Time is closing in on manager Alex Ferguson's glittering and successful career. Ferguson will be 70 by the end of next season and has said many times before that he wants to have a few years to himself where he can relax and enjoy retired life.
With that in mind, one would think that he is building one final great United team that can not only bring him at least one more Champions League triumph but will also be able to compete with and topple Barcelona.
In the last Champions League final I don't think many people saw this, but Fergie had already conceded that his best performance in terms of tactics and team selection may not have been enough to beat Barcelona with the resources he had available to him. Throughout the whole build-up of the match he kept saying things like, "We're going to play the United way," or "We didn't do ourselves justice the last time we played."
Whatthis meant was he knew that no matter what he did, his team would always come out second-best to this Barcelona team. Therefore, if he was going to go out, he was going to go out fighting, and fair dues United put up a better fight than last time by not only threatening Barca early on but they even got a goal against Barca that was of the highest quality.
However, that final is now old news as far as Fergie is concerned and he is already building his next/last Manchester United. His team has evolved over the years from a swashbuckling, take-on-all-comers team to now what can be seen as a more efficient unit with a "never-say-die" attitude. This was proven over the course of last season with United coming back from two goals down to either win or draw on three separate occasions—and let's not forget to mention the Manchester United trademark of scoring late goals to either win a game or earn a draw.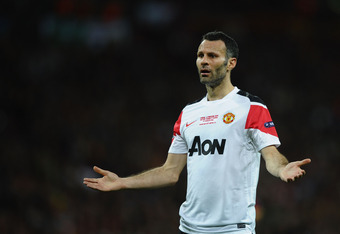 Laurence Griffiths/Getty Images
The building of Fergie's team has begun with the signings of David De Gea, Ashley Young and Phil Jones. De Gea will hopefully be the No. 1 for many years to come with him being in his early 20s. Manchester United fans should not expect instant results with De Gea, however, as he is not confident with the English language and that will be a problem to begin with if he cannot communicate with his defenders in front of him. But this should only be a problem for the first few months of his career.
Young has been signed to give United that little bit extra going forward either coming off the bench or from the start. Many United fans see Young as the English version of Nani, and most of them do not see the logic of this transfer. However, I see differently. If United need a goal and are chasing a game, then it helps them to have Nani and Young on either wing terrorising full-backs. He will prove to be a good signing.
Jones has been touted as "one for the future." I, on the other hand, see Jones' time as now. He will feature prominently in United's season in all competitions. In the Carling Cup and FA Cup I expect to see him deployed in central defence, and in the league and Champions league he will be played in that position if there are any injuries. He will also play big important matches in a defensive midfield role.
Manchester United have not been able to play somebody like this for quite a while now since injury-plagued Owen Hargreaves' Manchester United career. Jones will need to learn some discipline before he can master this role as a defensive midfielder because he is the type of player confident in his own ability to move out of a defensive role and carry the ball with him. However, by doing this he is running the risk of losing the ball and being caught out of position. Despite this, he is still a fantastic prospect and will prove to be one of Fergie's best signings.
Another position Manchester United need to invest in is a creative midfield player to help create chances for the likes of Wayne Rooney and Javier Hernandez. Now SAF would have loved for Michael Carrick to step to the fore and become United's attacking threat from the middle of the park. However, his inability to do this has led Fergie to heavily rely on Ryan Giggs in the middle of the park to be his creative genius there.
With this probably being Giggs' final season before he calls it quits, Fergusson will be in the market for another central midfielder, and he has his eye on Wesley Sneijder and Samir Nasri. Earlier reports suggested it was Luka Modric whom he saw as their heir apparent to Paul Scholes but with five years remaining on his contract and Tottenham unwilling to sell, he has decided to look elsewhere to more viable options.
Manchester United find themselves in a unique and unwanted position. On one side, they have Sneijder who would be happy to join United but his wages at the moment are preventing a deal from happening, and that seems to be the major stumbling block. However, United can have their man this season, which is important.
On the other side there is Nasri, who is fed up with life at the Emirates and is ready to force a move to Manchester United. However, Arsene Wenger has publicly stated that he will not sell Nasri to United and he has every right to have this stance. Unfortunately for Arsenal, Nasri only has one year left on his contract and should he let it run down and leave for Old Trafford for free then Wenger will end up with egg on his face as he would have lost out on at least £20 million.
I do believe that Fergie will get one of these two players—perhaps even both should things go his way. No matter which one of these players he gets, they will be the heartbeat of the new Manchester United team.
With the retirements of Edwin van der Sar, Paul Scholes and Gary Neville, and Ryan Giggs' career in his final year apparently, Manchester United will need to find new leaders to help control and lead the dressing room. Club captain Nemanja Vidic is an obvious choice for one of these roles, along with his central defensive partner Rio Ferdinand. Patrice Evra is another individual who has been very vocal in the media about United, and he is a player with a big personality to be an influence to the players at United.
Moving through to midfield, Darren Fletcher stands out as another leader of United. He used to be booed and ridiculed by his own fans as not being good enough for the team. He was even berated by former captain Roy Keane for not being good enough. He has taken all of that on the chin and has become one of the most reliant and consistent central midfielders in the premiership to prove all his doubters wrong and make believers out of fans.
And last—but by all means not least—is Wayne Rooney. The man who seemingly turned his back on Old Trafford for riches as well as glory before his head was turned once more to stay at Old Trafford. He is a man who leads by example, and from the tender age of 18 he has had the weight of expectation from not only the biggest club in the world but from the most demanding nation in the world, England, to deliver glory on the international stage. If anyone can handle the pressure of leading Manchester United it is this man and this fact was made clear when he signed his new contract back in October.
These players will all have to come to the fore once Giggs, departs but I believe that they are all more than capable of doing what is required of them.
In addition to adding new players, Fergie has also been busy in releasing some of his loyal servants who he believes may not be up for the challenge of dethroning Barcelona as the kings of European football. He has already released fan favourites such as John O'Shea and Wes Brown with Darron Gibson and his rocket of a right foot due to depart soon as well.
Other players that probably should leave are Park Ji-Sung, Michael Carrick, Michael Owen and Dimitar Berbatov. All of these players will have a case as to why they are fan favourites and should not leave.
Ji-Sung's all-action style of play has warmed the hearts of many fans at Old Trafford who has been likened to the Duracell bunny. However, like a Duracell battery—although he does last longer than others—eventually he does run out of energy, and with him being on the wrong side of 30 that time is coming sooner rather than later. Manchester United have gotten the best out of Park and it is time he should move on and allow other players such as Tom Cleverley to come in and do the job that Park once occupied.
Carrick really came into his own last season playing in front of the evergreen Giggs. However, this came about due to Darren Fletcher being out of action with a mystery virus for so long which allowed Carrick an extended stay in the first team. But with the arrival of Sneijder or Nasri and the re-emergence of Fletcher—not to mention Anderson and Jones also competing for a starting spot in the centre of midfield—means Carrick could find himself on the bench for long periods of the season.
Owen is the person with the least to boast about on this list, though he has scored two important goals for United. One of them was an equaliser against Bolton in a game where United were not at their best. With his first touch of the ball he scored a looping header to make it 2-2.
And I'm sure that nobody will forget his second important goal. With United leading 3-2 going into injury time, a lapse of concentration from Rio Ferdinand allowed Craig Bellamy to nick the ball off him and to race ahead to Ben Foster's goal to make it 3-3 with six minutes added time. After the six minutes had elapsed Giggs slipped Owen through a weary City defence to score a goal that will be remembered for years to come.
Then there's Dimitar Berbatov, who underperformed in his first two seasons in the eyes of many United fans where in 85 appearances he only managed to score 26 goals. With the Old Trafford faithful calling for his head, Berbatov was a man on a mission to win over the Old Trafford residents and he did so with 21 goals in 42 appearances. That included a match-winning performance against the old enemy, Liverpool, with a hat-trick in a 3-2 victory, which had that overhead kick—not to be mistaken with that bicycle kick scored by Rooney.
These players will have to leave to allow the new breed of Manchester United stalwarts to make their mark—players such asCleverley, Danny Welbeck, Kiko Macheda and the hugely promising Ravel Morrison, who many people behind the scenes at Old Trafford have big hopes for.
The final part of this rebuilding job is to pick a successor who will be able to carry on the good work Ferguson has already done. In the past Fergie has stated he wants to be involved with the selection process. Many Manchester United fans would like to see Jose Mourinho at the helm and this would be a good choice in manager for a short term option.
Although Mourinho is probably the best manager around today and he is a manager who has had a long and heated rivalry with the Catalan club, he tends not to stay in a job for very long, and the next person to take the reins at Old Trafford will need to have longevity to stay in the job for years to come.
With that in mind, Everton manager David Moyes is an ideal option. He is Scottish, just like Fergie, and he has been at Everton for a long time and has made them a formidable side for all teams in the Premiership and on a very low budget as well. The only problem may be his relationship with Wayne Rooney. Although Moyes has said Rooney called him personally to apologise over the incident with his autobiography, you can't help but wonder if Moyes can still work with somebody who has made allegations like that about him.
Another manager who could come in and manage United for a long time would be former Celtic and Aston Villa manager Martin O'Neil. O'Neil has ties to Scotland obviously, with his time at Celtic where he won numerous trophies for them as well as leading them to a UEFA Cup final back in 2003 where on their way they beat an impressive Celta Vigo side as well as Liverpool. They eventually lost to Porto 3-2 on the silver goal rule, but they put up an amazing fight and their route to the final made many believe they would win that final. Only one man thought otherwise and that was the Porto manager, who at the time was none other than Jose Mourinho, already writing his history.
No matter what happens in the near future, Manchester United and Alex Ferguson are on a mission to become the No. 1 club in the world once again and the building blocks for this process are already in place. The only question is that while Manchester United will probably rule supreme over English football for the near future, do they have what it takes to conquer Europe while Barcelona and even Real Madrid stand in their way?