Carlos Beltran, We Hardly Knew Ye: Looking Back at 7 Turbulent Years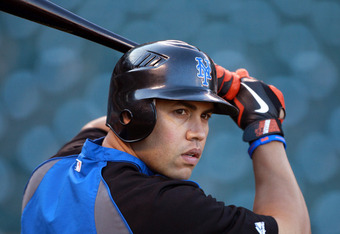 Get used to seeing Carlos Beltran in another uniform.

When he arrived on the scene in January 2005, Carlos Beltran was supposed to be the anchor for the next generation of great players and lead the New York Mets back to the postseason.
During that offseason, then general manager Omar Minaya made a pact with Fred Wilpon and the fans that he would not settle for less in free agency, and would try to make the Mets a competitive franchise once again by bringing some of baseball's best players onto the squad.
Minaya was successful in nabbing two of the biggest stars during the 2004 postseason in Pedro Martinez (Boston Red Sox) and Beltran (Houston Astros). Both players brought instant credibility to the franchise, and it appeared that brighter days lay ahead.
While Martinez became something of a folk hero in Queens, as fans wore Pedro afro wigs and chanted "Pedro, Pedro, Pedro," Beltran drew the ire of Mets fans almost immediately.
Beltran was supposed to be the heir apparent to Mike Piazza as the Mets' main power and RBI source in the middle of the lineup. It never really turned out that way.
Beltran struggled through his first year as a Met, belting only 16 homers and 78 RBI. He was booed unforgivably by Mets fans, who saw Beltran as a stiff.
Where will Carlos Beltran play after July 31?
Even though Beltran had big years in 2006 and 2007, including a 41-home run campaign in 2006, he never developed the kind of appreciation that a superstar center fielder would garner elsewhere. People quickly forget that Beltran had a number of big time moments those two years, including a game-winning blast against the
Phillies
in an epic 16-inning affair.
Instead, people best remember Beltran's 2006 season for his looking strikeout against Adam Wainwright and the Cardinals to end Game 7 of the NLCS.
So has been Beltran's relationship with the Mets and their fans. While David Wright and Jose Reyes earned the majority of the fans' appreciation, Beltran could run up the hill in Houston, making spectacular catches to save game, belt homers, drive people in, and still Met fans would hate him.
Then came the injuries in 2009. Beltran who was on pace to have a big season in '09 with 10 homers and 48 RBI through 81 games before he suffered a knee injury. There were even reports and rumors that Beltran felt the Mets' front office and medical staff dropped the ball when it came to supporting him and getting him the proper treatment as quickly as they could.
As a result, Beltran didn't play much at all in 2010.
Earlier this year, Beltran found out via
The New Yorker
that Fred Wilpon felt like a "schmuck" for signing him seven years ago, because he never got a return on his investment.
These are just a few of examples, which don't even include the fact that for seven years the Mets have tried to sell Beltran as a cleanup hitter, when he was at his best batting No. 2 in the order for both Kansas City and Houston, and the fact that the Mets didn't even consider moving him back to center field when Angel Pagan went down with an injury earlier this year.
In the final year of his contract, Beltran has had a good year with 13 homers, 58 RBI, and a .285 batting average. And he is ready to finally, mercifully get the hell out of town.
He won't go down as a complete bust, a la Carlos Baerga and Mo Vaughn to name a few, but he will be remembered as the most under-appreciated player to wear a Mets uniform.
Mets fans will be reminded about how special Beltran is when he plays for another team for the stretch run.
So where will the Mets send Beltran? Here are five possible landing spots.
San Francisco Giants: This has become the most talked-about location for Beltran. Earlier this year, people were talking about the possibility of Jose Reyes going to the Giants, but with his current hamstring injury, Beltran is now the jewel of the G-Men's eye.
Beltran would be a interesting fit in the offensively-challenged Giants. The team has many veteran players way past their prime, and adding Beltran will only help them. The only problem for Beltran is that he might have to be "the guy" if he heads west. The Mets would love to get their hands on Madison Bumgarner, but since Beltran is a free agent after the 2011 season, that would be a tough deal for Brian Sabean to make.
New York Yankees: Why not move across town? Remember, Beltran went back to the Yankees to get a final offer from them before signing with the Mets in 2005. Considering that they have a lot of power in their lineup with Robinson Cano, Alex Rodriguez and Mark Teixeira, the addition of Beltran would only contribute to this power surge for the Bombers.
Furthermore, the Yankees have issues in the outfield. Nick Swisher is inconsistent, and Brett Gardner, as good a slap hitter as he is, is not a Gold Glove-caliber outfielder. Beltran could play both center and right field, as well as DH for the Yankees.
Boston Red Sox: What's good for the goose is good for the gander. The Red Sox, like the Yankees, have a surplus in power hitters, and Beltran would just be another addition. The Red Sox have more to offer to the Mets in prospects, as well as in major league talent like Jed Lowrie and Jacoby Ellsbury.
Beltran would only help the league's No. 1-ranked offense. Plus, Beltran is 10 million times better than J.D. Drew, who also has a big contract.
Detroit Tigers: The Tigers could use some help. They need another starting pitcher as well as another bat. Beltran would help them in the offensive part of this equation.
Austin Jackson has been horrible, and Maggilo Ordonez has nothing left. Victor Martinez, who has been playing mostly at DH, has underwhelmed with six homers and 50 RBI. Plus, it's hard to imagine Johnny Peralta continuing his surprising and spectacular power surge.
Beltran would definitely be a good fit for the Tigers in right or center field, and would take a lot of pressure off Miguel Cabrera in the lineup.
Atlanta Braves: It's hard to believe that the Mets would trade Beltran within the division, but the Braves need offense. They have one of baseball's worst statistical offenses in the game today, and yet they are the Wild Card leader.
Nate McLouth is putrid, Jason Heyward has had a down year with nine homers and 22 RBI, Eric Hinske is an bench player, and Chipper Jones is injured and probably finished.
Adding Beltran would be a boon to the Braves, who could use his consistency, power and speed in their lineup. He would take a lot of pressure off Brian McCann, Dan Uggla and Freddie Freeman as well.
Dark Horse: Texas Rangers: There is a new rumor that the Rangers would consider adding Beltran as a DH and reserve outfielder. I find this really hard to believe. The Rangers are stacked at about every position, with Nelson Cruz and Josh Hamilton manning the corner outfield positions. The Rangers could be thinking about getting former Met Endy Chavez out of the lineup, but they could use his speed at the top of the order. It's just a rumor, and one that really doesn't make much sense for either team, and especially for Texas, who needs pitching.
This article is
What is the duplicate article?
Why is this article offensive?
Where is this article plagiarized from?
Why is this article poorly edited?

New York Mets: Like this team?