Jacksonville Jaguars Ticket Sales Update from My Team Teal Captain's Meeting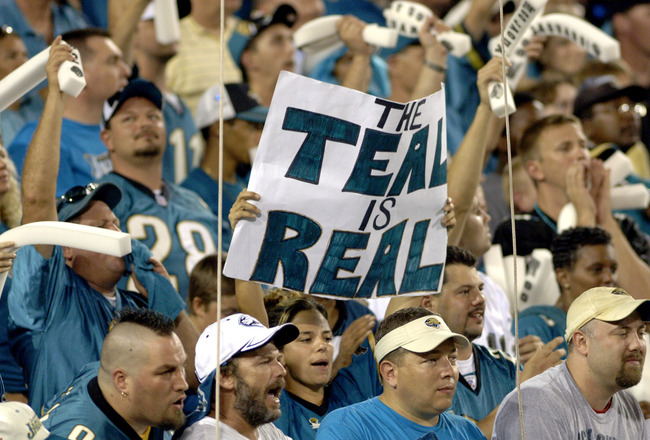 A. Messerschmidt/Getty Images
The Jacksonville Jaguars are pulling out all the stops to sell season tickets to Everbank Field. In 2009, the Jaguars only sold out one home game, which happened to be the final home game of the season. It was a Thursday Night prime time game against the Indianapolis Colts and also the game in which the Jaguars began their "Revive the Pride" campaign.
In 2010, Touchdown Jacksonville! continued the campaign in accordance with My Team Teal, an initiative spearheaded by Tony Boselli who was the first ever draft pick of the Jaguars and sole member of the Pride of the Jaguars.
The efforts of My Team Teal and Touchdown Jacksonville! sent a positive message that the city of Jacksonville is a viable market place for an NFL franchise. Tony Boselli knows that last year is the past and the team must improve even more moving forward.
I went to a My Team Teal Captain's meeting this evening. Also in attendance were Tony Boselli, Mackey Weaver, VP of Sales and Marketing, Bill Prescott, VP of Stadium Operations/CFO and scores of Team Teal Captains. It was an open forum for ideas, an update on current and prospective sales as well as insight to future events.
Last season, the Jaguars sold 37,000 season tickets and managed to avoid blacking out any games at a time when much of the league was struggling. Right now, the Jaguars have sold about 33,000 season tickets according to Mackey Weaver and are in "the middle of the pack compared to the rest of the league."
That is less than last year's sales total, and Tony Boselli understands that rumors of relocation will grow if the team's ticket efforts go backwards. "No one's gonna feel sorry for us," said Boselli to the crowd.
He did say that they "may not sell out every game, but will make sure there are no blackouts."
Macky Weaver and Tony Boselli do expect an explosion of sales after the new Collective Bargaining Agreement is reached. Macky Weaver expects to have about 8,000-9,000 group sales per game, level with last season and for 3,500-4,500 more season ticket renewals. Many, many ticket holders from last year have told Jaguars ticketing agents they will renew just as soon as the lockout ends. On that front Boselli said, "We need you now more than ever."
The addition of season ticket renewals and expected group sales will bring the general bowl ticket total to about 44,500-46,500 non-premium tickets sold per game which is in fact better than last year's total.
It takes nearly 51,000 non-premium seats sold to lift a blackout for one Jaguars game. In addition to the group sales and renewals the Team Teal Commissioner would like to see 5,000 new season tickets sold. He is not really sure if that will happen, but said the group will do what it has to do in order to put blackouts even further behind the city of Jacksonville. The final tickets will be sold on a single game basis.
Macky Weaver also expects the East Club section to be visibly more full than last season. At times, TV cameras fixated on this part of the stadium in 2010, giving the appearance of a stadium that was more empty than it actually was.
Members of Jaguars brass have also recently met with Alvin Brown, the new mayor of Jacksonville. Brown is very much behind the Jaguars and may be willing to commit to the team even more than John Peyton did, which is saying a lot because the Peyton family are great supporters of the franchise.
Bill Prescott and Macky Weaver both stated that July 21-22 are the dates in which the lockout is expected to end. That will give the team one week to prepare for training camp. Make no mistake, it will be a very important week for the franchise. They will have to sell a lot of tickets, sign a couple key free agents and work on getting rookie draft picks and the rest of the team up to speed.
"None of us want to go backwards," Boselli said. Thankfully, this Jaguar is deeply committed.
This article is
What is the duplicate article?
Why is this article offensive?
Where is this article plagiarized from?
Why is this article poorly edited?

Jacksonville Jaguars: Like this team?