Peyton Manning Syndrome: A Disease Worse Than Homerism
July 12, 2011
Andy Lyons/Getty Images
Homerism.
Any sports fan has heard this term before. It is used when a writer displays an unreasonable amount of bias in favor of his or her favorite team in an article, comment or debate.
To some extent, all of us are guilty of homerism. We have all tried to make our favorite team or the players on that team just a little bit better than they deserve to be, even though some writers get carried away with it.
While homerism is an annoyance, it is a relatively harmless phenomenon. The people with whom you are debating know who your favorite team is and can decipher the difference between a legitimate argument and a fallacious, "homerist" one.
Consequently, the legacies of NFL players typically are not altered by homerism.
However, with one NFL team and, more specifically, one player, there is an absolute obsession that goes far beyond typical writer homerism.
Enter Peyton Manning.
For those of you who have been living under a rock for the past 15 years, Peyton Manning has been the quarterback of the Indianapolis Colts since 1998.
In his 13-year tenure, Manning has put together an impressive resume that makes him a lock for the Pro Football Hall of Fame five years from the day he retires.
This article is not meant to compare Manning with a certain other quarterback from this generation, nor is it meant to analyze Manning's chances to become the greatest quarterback to ever play the game.
The purpose of this article is to discuss the obsession that some of Peyton Manning's fans have of removing every fault from Manning.
In the mentality of these fans, Manning is a deity, and everything that appears to be a mistake by Manning is in reality one of the mere mortals on the Colts roster dragging Manning to their level.
If you have ever been involved in any Manning debates, you have likely heard that he has never had a running game, that the Colts' defense is atrocious and that Marvin Harrison and Reggie Wayne were only great receivers because they were fortunate enough to play with Peyton Manning.
The first claim has been true recently but not for Manning's career as a whole (does anybody remember who Edgerrin James is?). The second claim is a gross exaggeration (did you know that the Colts have had a top-10 scoring defense in four of the past six years?), and the third claim is patently absurd.
However, Colts fans are still willing to make these arguments because they make Peyton Manning look superhuman, thereby allowing them to falsely accredit the Colts' success to Manning.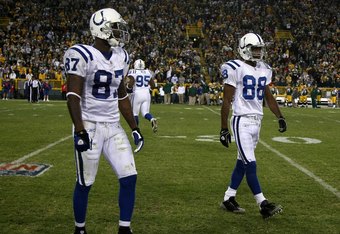 Stephen Dunn/Getty Images
Then, the now traditional first-round playoff collapse happens every year, and the fans criticize the atrocious defense, the receivers, the offensive line, the idiot kicker, the coach, Bill Polian, Jim Irsay, the ball boy, the guy in the third row of Lucas Oil Stadium that spilled his coffee on the person sitting next to him, or anybody else that they can blame to keep Peyton's image picture perfect.
This willingness to throw anybody and everybody under the bus to protect Manning's name is absolutely disgusting.
I am an Eagles' fan, and Michael Vick is one of my favorite quarterbacks. However, I would never insult LeSean McCoy, DeSean Jackson, Jeremy Maclin or Brent Celek just to make Vick look better.
Instead, I would take serious offense to anybody insulting these players just to praise Vick since all of them were key pieces in the Eagles winning the division and having the second ranked offense in the NFL last year.
This point brings me to Marvin Harrison. Yes, the same Marvin Harrison that made eight consecutive Pro Bowls. Yes, the same Marvin Harrison that had six first-team All-Pro selections and two second-team All-Pro selections in an eight year span.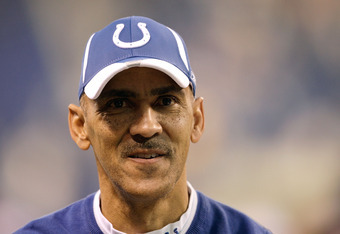 Andy Lyons/Getty Images
Yes, the same Marvin Harrison that is ranked second in NFL history in receptions, sixth in NFL history in receiving yards and fifth in NFL history in receiving touchdowns. Yes, the same Marvin Harrison that is on the NFL 2000's All-Decade Team.
One would think that a player with that kind of resume would easily be considered one of the best receivers to ever play the game. One would also think that a player with that kind of resume would easily be one of the most appreciated athletes in the city of Indianapolis.
Yet, somehow, Colts fans will actually argue that one of the best receivers of the decade and in the history of their franchise was just a product of great quarterback play.
The fact that this opinion is even seriously considered is an insult to one of the all-time great receivers. Even worse, this opinion has become commonly accepted, which is nothing short of a tragedy.
To justify this absurd position, Colts fans will point to Harrison's "low" numbers early in his career. However, Harrison was on an atrocious team with a below average quarterback, and it was also his first two years in the league, well before the prime of his career.
To show how important these details are, let's compare Harrison's statistics in his first two seasons to another great receiver who suffered on a terrible team: Randy Moss.
Like Harrison, Randy Moss is ranked in the top 10 in NFL history in receptions, receiving yards and receiving touchdowns. In addition, Moss is also on the NFL 2000's All-Decade Team.
However, Moss also had the misfortune of playing for the Raiders for the 2005 and 2006 seasons when he was still in the prime of his career.
The Raiders have had a revolving door at quarterback ever since Rich Gannon retired after the 2004 season, and the organization has failed to post a winning season ever since.  
So, let's see how Harrison in his first two NFL seasons stacks up to Moss on the Oakland Raiders:
Marvin Harrison (1996-1997): 30 starts, 4.6 receptions per game, 56.7 receiving yards per game, 0.47 touchdowns per game
Randy Moss (2005-2006): 28 starts, 3.6 receptions per game, 55.6 receiving yards per game, 0.39 touchdowns per game
Keep in mind that Harrison's numbers were posted in his first two years in the league well before he hit his prime, whereas Moss' numbers were posted in his eighth and ninth seasons in the prime of his career.
Even with that being the case, Harrison still performed better than Moss when the two receivers were placed under similar circumstances.
There is a difference between needing a decent team and adequate quarterback play to produce at an elite level and being a product of your quarterback.
The former is true for any receiver, as evidenced by Harrison's first two years in the league and Moss' drop off while he was with the Raiders.
However, assuming that Marvin Harrison simply could not have produced at a Hall of Fame level with a quarterback like Donovan McNabb, Drew Bledsoe, Kurt Warner or Ben Roethlisberger is ridiculous considering what Harrison did when he had Jim Harbaugh and Paul Justin throwing passes his way.
Despite what actual facts combined with common sense may tell us, Colts fans will just assume that Harrison's incredible run from 1999 through 2006 in which he averaged 103 receptions, 1,402 receiving yards and 12 touchdowns per season was really just a result of great quarterback play.
Go back and give me a list of receivers that have matched those statistical totals for eight or more seasons and then tell me that Harrison is not an incredible receiver. 
To give you an idea of how impressive those averages are, let's look at how often some of the NFL's receivers have reached those totals in a single season.
Reggie Wayne (10 seasons)
Receptions: twice
Receiving yards: once
Receiving touchdowns: once
Andre Johnson (eight seasons)
Receptions: twice
Receiving yards: twice
Receiving touchdowns: never
Larry Fitzgerald (seven seasons)
Receptions: once
Receiving yards: three times
Receiving touchdowns: twice
These are not middle of the road receivers. These are some of the most prolific receivers in the NFL, yet they have barely touched the statistical totals that Harrison averaged for a great portion of his career.
Also keep in mind that Reggie Wayne, like Harrison, had the benefit of playing with Peyton Manning, and he still has not matched the same level of greatness that Harrison achieved.
However, instead of actually doing the analysis of Harrison's career, those suffering from Peyton Manning syndrome will just say that Harrison was a product of Manning's greatness because it just sounds right and because it makes Manning look that much greater if he just manufactured a receiver that produced at a Jerry Rice level for eight years.
This statement should be just a dose of common sense, but it warrants saying anyway. No receiver has had that great of a run just because of the person throwing them the ball. Marvin Harrison is no exception.  
More recently, people have been talking about how Manning has made stars out of no-name players like Austin Collie, Pierre Garcon and Jacob Tamme.
However, these same people forget about receivers like Jerome Pathon, Torrance Small and Ken Dilger who played with other quarterbacks and had success either at or very close to their success with Manning as their quarterback.
They also forget about receivers like Aaron Moorehead, Bryan Fletcher or Ben Utecht who never had any significant success despite playing multiple years with Manning.
A more important oversight by the same fans that defend this viewpoint is that it is not at all uncommon for low draft picks and undrafted players to be successful in the NFL.
This list includes Wes Welker, Antonio Gates, Brandon Marshall, Marques Colston, Miles Austin, Lance Moore and many others. All of these players were either undrafted or were drafted in the fourth round or later, and all have gone on to have successful careers with their respective teams.
It is also not uncommon for one team to consistently find good players at a certain position.
For evidence of this, look at all of the great linebackers that the Steelers and Ravens have had over the past decade or so, the quality receivers that the Packers and Saints have had for the past three years, the Eagles' secondary during the Jim Johnson era or the Broncos running backs during the Mike Shanahan era.
We can attribute this phenomenon to the abilities of both the ability of management to find the players and the coaching staff to develop the players.
This is where the role of Tom Moore is completely overlooked.  Moore, who worked as the Colts' offensive coordinator for the vast majority of Manning's career, has an impressive history with wide receivers.
His resume includes being the coach for Hall of Famers Lynn Swann and John Stallworth with the 1970s Steelers' dynasty as well as the Hall of Fame snub Cris Carter in the early '90s.
Then, Moore coached for the Lions where he had two receivers, Herman Moore and Brett Perriman, that had over 100 catches, 1,400 receiving yards, and nine touchdown receptions each in the 1995 season.
Of course, his most recent success has been with Marvin Harrison, Reggie Wayne and Dallas Clark on the Indianapolis Colts this decade.
Moore's extensive experience with receivers combined with not only the abilities and work ethic of the receivers themselves, but also great quarterback play allowed these receivers to reach their potential.
I'm not arguing that having a great quarterback has no impact on a given receiver's statistics. However, this impact is grossly exaggerated with Peyton Manning.
Instead of actually going through the work of analyzing the circumstances surrounding the Colts receivers and late round draft picks in general, Colts fans go with the easy way out, and the easy explanation is just to say that Peyton Manning single-handedly made incapable players into solid contributors.
This inaccurate analysis is even more dangerous than homerism since it has permanently damaged the reputation of young, talented receivers as well as the reputation of one of the great offensive minds in NFL history.
Speaking of coaches, there is another great exaggeration about Peyton Manning: that he really is the coach of the Indianapolis Colts and that Tony Dungy was more of a figurehead than an actual coach.
Of course, Peyton Manning had a record as a starting quarterback of 32-34 and zero playoff wins before Tony Dungy arrived, and Dungy had a 54-42 record and two playoff wins before he had Peyton Manning.
Peyton Manning was probably the single biggest contributor to the Colts' success, but to say that he turned the franchise around by himself is absurd.
From 1999 through 2004, the Colts acquired players like Edgerrin James, Reggie Wayne, Dwight Freeney, Robert Mathis, Dallas Clark and Gary Brackett among others. They also hired the aforementioned Dungy in 2002.
Just the players and coaches listed here account for 19 Pro Bowl selections, 12 All-Pro selections and three spots on the NFL 2000's All-Decade Team.
Now, if the Colts' rosters were very similar between the pre-Manning era and 2002 when the Colts started their incredible run, then it would be fair to say that Peyton Manning did it all by himself.
However, saying that he did so with all of the other players and coaches that contributed so much to their team is not just fallacious, it is a slap in the face to every single one of those players, and it is a slap in the face to the history of the Indianapolis Colts.
That, ultimately, is what "Peyton Manning Syndrome" is all about.
In the fans' effort to argue that Manning is the best quarterback out there, they will willingly insult every other player and coach that helped turned the Colts into one of the best teams of the decade.
Whether that player is a solid role player or a future Hall of Famer, nobody is immune to being thrown under the bus, and this has tarnished the legacies of many current and former Colts because they were "fortunate" enough to play with Peyton Manning and could not have possibly had any abilities of their own.
So, this is my message to any Colts fans that might be reading this article.
If you are a true fan of the Indianapolis Colts football team, appreciate everything and everybody that helped make your team great.
If you are a true fan of the Indianapolis Colts football team, recognize that you have not only had one of the greatest quarterbacks in NFL history but many other great players and great coaches that deserve your praise.
If you are a true fan of the Indianapolis Colts football team, do not let the legacies of the great players that have worn a Colts uniform this decade be diminished just so that you can sing the praises of one quarterback.
If you are a true fan of the Indianapolis Colts football team, appreciate the Indianapolis Colts.