USC Football 2012 Recruiting: Best-Case Scenario for the Trojans Offensive Line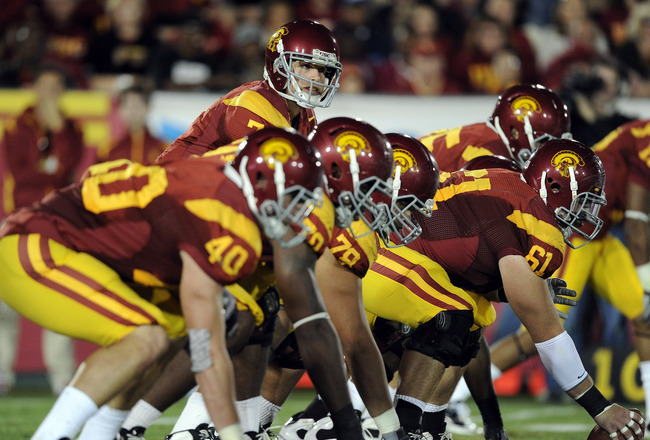 Harry How/Getty Images
The USC Trojans have offered 14 offensive linemen in their 2012 recruiting class.
However, with sanctions limiting USC to only 15 scholarship players per year and already nine players committed, the Trojans will only be able to add a few more linemen.
USC is likely to start four upperclassmen on the offensive line in 2011, with at least two players potentially leaving after the season.
Lane Kiffin has shored up the future of the interior line with the 2011 recruiting class by taking four offensive guards, but will need to secure the outside of the line in 2012.
Players like Arik Armstead and Max Tuerk have already verbally committed to the Trojans, but with the offensive line being such an area of need and with depth issues inevitable for the coming seasons, finding durable, versatile offensive tackles will be crucial.
With that being said, here are five offensive linemen the Trojans would love to get in their 2012 recruiting class.
Offensive Tackle: Andrus Peat
Andrus Peat is a 5-star prospect according to Rivals.com and the third-ranked offensive tackle.
The Arizona native has been offered by nearly every big-time program in the country, including offers from all of the Pac-12 schools.
Every school wants this kid, but as of now USC has as good a chance as any. The Trojans' games against Arizona State, Notre Dame, Stanford and Oregon will likely be important in swaying Peat's decision.
There are two reasons that Peat would be such a valuable asset to the Trojans. One, he's one of the best prospects in the country, and two, he can play defensive end as well.
Like I mentioned in the introduction slide, the ability for USC to be flexible with its roster will be very important, so having a player like Peat, who can be moved to several different positions, would be huge.
Offensive Tackle: Kyle Murphy
Kyle Murphy, the star offensive tackle from San Clemente, CA, is one of the most impressive offensive line prospects in the country.
His short list includes Oregon, Stanford and USC. However, Oregon's trouble with the NCAA and the likelihood of some type of penalty coming to the Ducks may cause Murphy to lean towards his other two favorites.
Choosing USC would give Murphy a great opportunity to play early in his collegiate career, which may be enticing enough for the 4-star prospect to commit to the Trojans.
With the limited number of scholarships the Trojans have, finding players who will stay out of trouble, do well in the classroom and remain with the team will be necessary.
Murphy, who has almost a 4.0 high school GPA, has proved himself to be a good student, which is a huge plus for USC.
Offensive Guard: Jordan Simmons
One of the most versatile linemen in the 2012 recruiting class is Jordan Simmons.
Simmons, who is being recruited as an offensive guard, is the No. 1-ranked player in the nation in his position, but he's also one of the best tackles and defensive linemen in the country.
A player like Simmons would benefit the Trojans incredibly during a time when Kiffin will be juggling a team with only 75 scholarship players.
As Simmons is from the L.A. area, the Trojans will have home-field advantage in the recruiting race, and recruiting masters Ed Orgeron and James Cregg will hope to bring the 6'5", 335-pounder to the University of Southern California.
Offensive Tackle: Joshua Garnett
Another player whose college choice may hinge on the result of a USC game is Josh Garnett.
On November 12th the USC Trojans play host to Garnett's hometown Washington Huskies in a game that could significantly improve USC's odds at landing the 4-star recruit—should they win.
If that's the case, the Trojans should hope that they do come out on top in that Week 10 matchup because Garnett is the real deal.
Like many of these other prospects, Garnett can play on both sides of the ball. However, unlike the other prospects, he has shown the ability to play both defensive tackle and defensive end, in addition to his recruited position at offensive tackle.
With a good head on his shoulders—carrying a 3.87 GPA into his senior year at Puyallup High School—Garnett will likely be looking for a school with good academics, which is good news for USC, which is rated the third-best school in the Pac-12 according to U.S. News and World Report.
Offensive Line: Freddie Tagaloa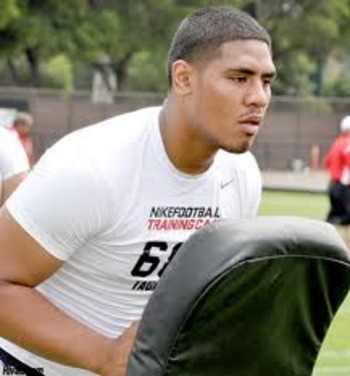 Freddie Tagaloa, a 6'8", 300-pound offensive tackle from Richmond, California, has as much potential as any of his peers in the 2012 recruiting class.
While Tagaloa isn't as highly touted as some of the other prospects mentioned on this list, he may be one of the prospects most likely to pick USC when signing day comes around.
The 4-star standout has listed USC, Stanford, Oregon and hometown Cal-Berkeley as his top choices, which means that the Trojans matchups against all these schools may have even more impact than the "W" or "L" that will show up on the schedule.
Although raw, Tagaloa has loads of talent and athleticism, which should bode well for USC in the lineup shuffles that are bound to happen for the next couple years.
Keep Reading

USC Football: Like this team?