Arsenal FC: Wenger Should Adopt Dortmund's Tactics to Play Effective 4-2-3-1
July 11, 2011
Borussia Dortmund were the runaway champions of the Bundesliga 2010-11 season and with an average age just over 23, became the youngest ever team to win in the history of Bundesliga.
The playing formation deployed by Jurgen Klopp was an effective 4-2-3-1.
Many teams played that formation in Europe last season, but very few played as exquisite football as Dortmund dished out week in week out en route to their league glory.
Arsenal were amongst the teams that played a 4-2-3-1 formation last season but looked disoriented and predictable most of the times and ended the campaign in shambles.
Arsenal pride themselves on playing fluid attacking football, but in all honesty, they were nowhere near Dortmund's scintillating, free-flowing football in 2010-11.
So what made Dortmund's football such a treat to watch while not compromising on silverware?
First off, Dortmund had three extraordinary players who were a regular fixture this last season namely Mats Hummels, Nuri Sahin and Mario Goetze.
On the other hand, no player at Arsenal consistently contributed to the team's cause, be it Cesc Fabregas who was dogged by injuries or Robin van Persie who missed one half of the season due to injury or Samir Nasri who was off colour in the second half.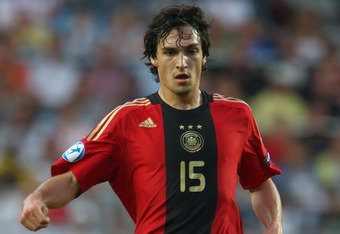 Phil Cole/Getty Images
Jack Wilshere was the steadying presence but didn't contribute to the team as much as the aforementioned trio did to Dortmund.  
Dortmund's rock-solid defence

While all the attention was grabbed by Klopp's attacking football, the solid defence shouldn't be overlooked.
Dortmund had a the best defence in the Bundesliga marshalled by Bundesliga's best centre back Hummels.
While Lukasz Piszczek provides the attacking verve at right back with good crosses and surging runs, left-back Marcel Schmelzer is one of the league's best defensive wing-backs.
So there's the right balance on the flanks.
Hummels was partnered by another top-class defender Neven Subotic which made the defence extremely formidable.
I am not going to compare Dortmund's defence with Arsenal's, and I am sure everybody knows why!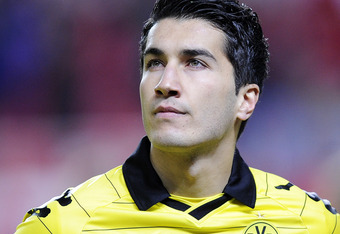 David Ramos/Getty Images
Midfield battle
Midfield is the key area of the game.
Dortmund's heart and soul was their deep lying playmaker Nuri Sahin—an unbelievable player who was at his best during 2010-11 and was seemingly impossible to dispossess with the ball literally sticking to his left foot.
He was probably Europe's best all-around midfielder for 2010-11 season with 3.5 key passes per game which is incredible passing rate because not even the outstanding Xavi Hernandez can match that figure.
Arsenal had Wilshere playing the Sahin role, but it was his breakthrough season, and although he surpassed all the expectations, Wilshere can't be comapared to Sahin.
Coming to the defensive midfield, Sven Bender shielded Dortmund's back four and allowed the likes of Sahin to dictate play.
Bender is not a household name, but he's an excellent prospect and from the look of things he has a bright future.
Arsenal have Alex Song in a similar role, but Bender is a better holding player than Song, not least because he does his dirty job well rather than strolling forward needlessly.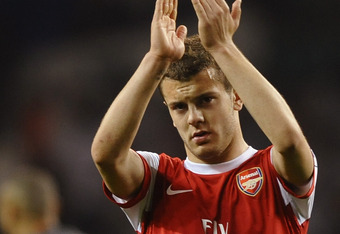 Laurence Griffiths/Getty Images
The Cameroonian may be more popular but, on the basis of 2010-11 season alone, Bender edges past Song.
The attacking midfield slot for Dortmund was occupied by the agile Shingi Kagawa, the bargain buy of the season.
Though the likes of Sahin overshadowed him, Kagawa's absence was evident when he missed out three months of the season and in his absence Dortmund's scoring rate diminished considerably.
Arsenal have the world-class midfielder, Cesc Fabregas, as the attacking midfielder. However, he was not at his best due to the persistent injury woes.  
Attack

Dortmund had an exceptional quality on their flank, namely Goetze.
Goetze's performances belied his age and played with the maturity of an experienced international.
The 19-year-old operated as a wide playmaker and destroyed most teams with his incredible ability to link midfield with attack.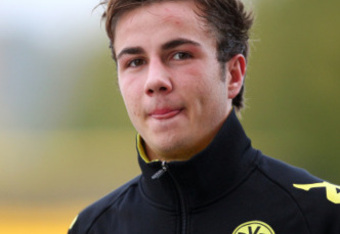 Arsenal have Nasri in this role and he played extremely well for one half while he faded away at the business end of the season.
Kevin Groskreutz operated on the other flank for Dortmund, and he's one of the most hard-working players you will ever find.
He's good pace and contributes both offensively and defensively.
Theo Walcott is the one at Arsenal playing this role but he doesn't have the worth ethic of Groskreutz nor is he as consistent with the final deliveries as his Dortmund counter part.
When fit, van Persie is one of the best, but fitness and the Dutchman never go hand in hand.
Lucas Barrios was the chief focal point for Dortmund's attack and he scored 16 league goals to help Dortmund to the title.
Although there's a huge gulf of class between van Persie and Barrios, it must be said the Paraguayan did his job well and more importantly played throughout the season unlike van Persie. 
Playing style
Dortmund relied on quick offensive style.
They attacked opponents like a swarm of bees and defended as a unit when they lost possession. It wasn't patient football based on possession.
Dortmund sprayed the balls quickly to the forwards and wide players and never gave opponents a chance to regroup to thwart the Bundesliga champion's attacking moves.
Hummels and Sahin played long balls down the flanks and up field to the forwards and this quick distribution gave no time for opponents to organise their defence when they lost possession.
This tactic was very effective, but at the same time the downside is there's higher chance of losing possession.
Despite the risk involved, this quick distribution creates more clear-cut scoring opportunities which is what it matters in the end.
Kagawa's role shouldn't be forgotten here amid Sahin's individual brilliance and diverse passing range.
Kagawa moves all over the pace and is extremely swift. He creates space and makes decoy runs and speeds up the attack.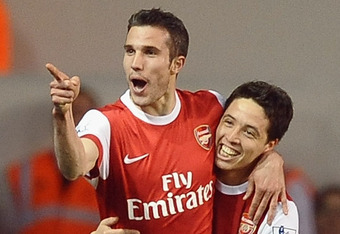 Laurence Griffiths/Getty Images
Arsenal, on the other side, play a possession-based football with the emphasis on keeping possession rather than directly attacking opposite teams.
Arsenal play short passes and keep possession but struggle to break down stubborn defences because of the slow build up.
The opponents form two banks of four to thwart Arsenal's attack deep in their own half and this is one tactic that has been very effective against Arsenal in recent years.
Wenger hasn't brought in any tactical innovation to sort this out and, as a result, Arsenal struggling to penetrate defences is a frequent issue. 
Conclusion
Arsenal must adopt Dortmund's direct approach to yield better results—in other words, to translate possession into more clear-cut goal scoring chances which leads to more goals.
Both Arsenal and Dortmund play beautiful football in the 4-2-3-1 framework, but Klopp has instilled a more direct approach to playing beautiful football which is not entirely based on keeping possession of the ball.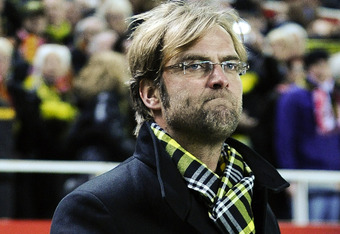 David Ramos/Getty Images
The approach is simple: win the possession, pass the ball to Sahin, he would find the long-range passes and trigger a quick counterattacking move, and then the entire Dortmund team attacks like a pack of wolves.
This approach creates more goal-scoring opportunities and would address the difficulties encountered by Arsenal against stubborn defences.
Instead of biding the time right in front of opponents' penalty box with short passes, Arsenal should attack the box quickly when they win possession.

Before that, Wenger must bolster the defence with real quality. Like they say, defence wins championships.

On a final note, a deep lying playmaker is very crucial to the success of 4-2-3-1.
And as much as I believe Wilshere can do an excellent job, he still has a long way to go before reaching Sahin's level, who can do virtually anything with his left foot be it scoring long-range goals or curling free-kicks into the top corner or finding the cross field long-range passes with impeccable accuracy.
It remains to be seen how Dortmund play in the absence of Sahin, who was stolen by Real Madrid for a derisory amount. It also remains to be seen how Arsenal line up in the upcoming season.