Derek Jeter: Where Would Baseball Be Today Without Him?
July 11, 2011
Michael Heiman/Getty Images
Derek Jeter. Most sports fans might know him by the nickname of "Mr. October," due to his consistent clutch performances when it matters the most—the postseason. But now fans might refer to Jeter by a different nickname.
Mr. 3,000.
Jeter, the all-time leader in postseason hits, added another impressive accomplishment to his resume on Saturday, July 9, when The Captain himself amassed the impressive feat of collecting 3,000 hits in his professional baseball career. Jeter became just the 28th player in Major League Baseball history to accomplish the feat, putting him in the conversation for one of the greatest Yankees in the history of the franchise.
Being one for the dramatics, Jeter didn't simply dribble a ground ball down the third base line for hit No. 3,000. Instead, he took a 3-2 curveball from Rays ace David Price and drove it into the left field stands at Yankee Stadium, giving not only the Yankees the 2-1 lead in the ballgame, but Jeter his third home run of the season—his first since May 8.
Jeter also drove in the winning run in the bottom of the 8th inning later that game, his fifth hit of the day.
"Just one of those special days," Jeter said after the game to reporters.
To say that Saturday was special would be an understatement. Jeter became the first player in the history of the New York Yankees to tally 3,000 hits in his career, all in pinstripes.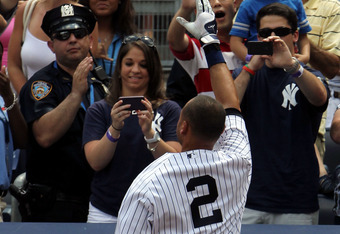 Michael Heiman/Getty Images
When Jeter launched hit No. 3,000 into the bleachers in left field, he didn't take his time to do a special home run dance or trot around the bases to garner attention. Instead, Jeter sprinted out of the batter's box immediately after his bat made contact with the pitch, heading toward first base at full speed.

After watching the ball land in the bleachers for a home run, Jeter didn't take his time going around the bases either. He hustled to home plate, just as he always has, only to be greeted first by longtime teammate Jorge Posada and the rest of his Yankee teammates.
That right there is Jeter in a nutshell. He hustled to first base, proving that he isn't some Big Apple prima donna who needs attention. Instead, Jeter was just living in the moment—professionally, of course.
Saturday was full of irony, though. For starters, Jeter, who has worn the No. 2 on the back of his Yankees jersey for his entire career, cracked hit number 3,000 at exactly 2:00 Eastern on July 9. Also, Jeter hit the home run off of David Price. Price, a former Rays first-round selection, gave up his first career hit to Derek Jeter—a home run to right field.
But Saturday was more than a "special" day for just Derek Jeter and Yankees fans everywhere. It was a special day for the game of baseball—a game that was first played in the year of 1846, a game that had endured the "Steroid Era" in the MLB, and it's quite possible that without Derek Jeter, the game of baseball would not be where it is today.
Without Derek Jeter, who's to say that the MLB would have made it through the steroid era? Jeter, who has been the face of the sports of baseball for years now, is one of the few MLB stars who played during the steroid era that we can comfortably say didn't use steroids like many of his fellow colleagues.
And who would have thought that 19 years ago, at the age of 18 as a rookie in the Gulf Coast League in Florida, Derek Jeter almost quit on the game of baseball. Almost.
"The nightmare started the next day, July 2, when I went 0-for-7 and struck out five times in a doubleheader. I also made a throwing error on a grounder up the middle that caused us to lose one game, an error that Ricky Ledee still chides me about," Jeter wrote in his autobiography The Life You Imagine, describing his first day on the job of being a professional ball player.

"I had struck out just once in my 59 at-bats during my senior year of high school, so you can imagine how I felt after that hardly auspicious debut in the pros. I felt like going home that very first day. Could someone erase this day from my life and let me start over?"
Had Jeter gone with his impulse and gone home after his ugly debut, where would the game of baseball be today? It's a matter of opinion, but my common sense tells me that the game of baseball, the Yankees franchise, and millions of sports fans lives would be much, much different today.
Luckily, Jeter stuck with baseball and 19 years later, here I am. Writing this column. All because of The Captain, Derek Jeter.