NFL Predictions: 18 Players Likely to Retire During, After 2011 Season
Mark Brunell (above) has got nothing left to give. Sure, he might be cash-starved, but NFL teams aren't for him -- or a hadnful of vets on this list.
A. Messerschmidt/Getty Images
Pretty American, looking toward the end of something (NFL careers) before it (NFL season) starts.
But what else are we to do in this lull of sport-less-ness?
That's why I'm throwing in a wrinkle into this forecast of 18 NFL players whose trading cards won't have a 2012 line. We're going to hit all the gimmes, battered and stale vets who can't give the game anymore.
But we'll throw in some we think should walk away, for varying reasons.
To give an idea, many of you would've slotted Brett Favre had this list ran last year. (No, I wouldn't have.) Could be from a glaring health concern. Could be the cause of one headache too many.
And we'll tack on a few with disproportionate risks for career-threatening injuries. (I know, I know. The unwritten contract players concede. We're talking seriously extenuating cases here.)
And away we go...
Criteria: Picking Our Prognostications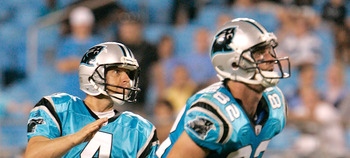 John Kasay (No. 4) and other kickers and punters play until there are microscopic ecosystems living on their talent. Makes forecasting their retirement a little tougher.
Mary Ann Chastain/Getty Images
Yes, we started with thumbing through NFL rosters and listing player ages in descending order. But that doesn't tell you everything, not with specialists like Matt Turk (43), John Kasay (41), and Adam Vinatieri and Joe Nedney (38), kicker and punters likely to outlive social security (their eligibility and the program itself).
Players figure other variables into the decision, so we've got to.
Contract: You could be crustier than a moldy draft cliché, but if you can see (green) light shining, you'll stick it out a few more years. At the same time, if you've got an office pool for a guy's teary-eyed postseason press conference already, finding an expiring contract makes him a lock for the list.
Injuries/Position: Seems pretty common sense, but people often overlook how players age: in hits, more than years. Players at positions (running back, fullback, offensive/defensive line, linebacker) weather more than others because of workload, or pounding, or the ramifications of their body size.
In other words, Sam Adams, 38, and his knees deserve separate Rotoworld.com player pages.
We're also mindful of the NFL's increasing concussion consciousness, and we'll double-dip many of the same guys on Deadspin.com's brain cell kill count.
Accomplishment: OK, so maybe Jerome Bettis' incentive-stuffed deal to keep him a Steeler in 2004 expired after he won the Super Bowl, making his decision easier.
But if a player has years on his deal and wear on his tread, and rings on his finger, the latter takes precedence over the first two.
In the same token, if we're mulling the longevity of one of our red-flagged players on a Super Bowl-bound team, he might skate his way onto our list. Conversely, if someone's delusional enough to imagine a championship in his clutches, we'll stash him for some not-too-distant future list.
Star Power: You might hate the theatrics and Dancing with the Stars appearances, but that, well-spokenness and charisma offer options after football. They also expedite a player's foot out the door. Why rattle your brains around like a toddler on a fault line if you don't have to?
Relevance: I really waffled over throwing in a long snapper slide—it's like being named Rose; feels like long snappers' careers start at, like, 34-years-old, they're so ancient—but I can't. You don't have the attention span, and my brain would look like Ozzy Osbourne's oatmeal after compiling a long-winded, 574-page slideshow.
Alas, I can't give the good fans of Jacksonville a Todd Bouman slide. (Though you'll warm to one more-than-honorable mention.) Breaks my heart...
Annoying Factor: Self-explanatory, and for our lighthearted wrinkle...
Chad Pennington: Luck as Weak as His Arm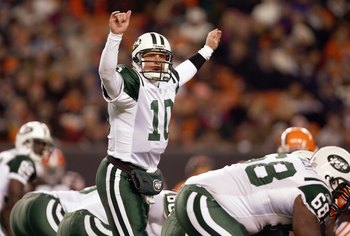 You can't imagine Chad Pennington (No. 10) is checking to a deep ball, but he's among the league's class acts, and its all-time completion percentage leader.
Harry How/Getty Images
As he approached 3,000 hits, everyone gushed over Derek Jeter's class, gamesmanship and knack for being unproblematic, given the pervasiveness of social media and inflation of athlete salaries (and, consequently, egos). Jeter's overstated place in history as a creaky defensive shortstop and only a consistent-through-October hitter (NOT the textbook definition of clutch) is a different conversation for another slideshow.
Strip away the exclusive fraternity of accomplishment, you've got Chad Pennington, whom you doubt will come back from the one-year hiatus he's taking to regain his health and work for FOX Sports.
Kind of sad...
This is the guy who carried a so-so Jets team to the 2006 AFC Wild Card and slugged through two overtime playoff finishes in 2004, though he was bounced in the second.
He's also the only player to win Comeback Player of the Year honors twice (one), constructing one of NFL history's greatest single season turnarounds with the 2008 Dolphins—they flip-flopped 5-11 with Pennington under center—and its best career completion percentage to his name (three), adapting to an arm weaker than Betty White in space.
At least he's got something superficial to hang his hat on after a decade of selflessness.
That's including, but not limited to, deferring to the organization's wishes to bring in Brett Favre and agreeing to take what was left of his arm to Miami. (Ironic how he left his rotator cuff in New York—kind of how LeBron forgot his hairline in Cleveland during transactions.)
No question, that felled Pennington more than any other factor. After falling in New York's lap in 2000 at No. 18 overall, Pennington's throwing shoulder exploded in 2003 and 2005, the latter of which he actually finished out a losing effort against Jacksonville.
For the record, dude went 9-of-19 for 79 yards without anything holding his shoulder in place.
That's tough. Like country boy, Ronnie Lott "cut my finger off" gritty.
But Pennington proved mortal, tearing his ACL in a game of pickup basketball this offseason.
Some players don't come back from that at all. Few do at 34 years old (35, if you figure in this off 2011 year). Fewer still just a prosthetic limb shy of being declared biologically inorganic.
I don't want to see him go, but he has to. And if he doesn't, he should.
Lorenzo Neal and Tony Richardson: Paving and Pulverizing the Way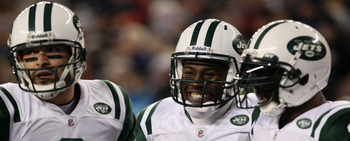 Tony Richardson (No. 49) and Lorenzo Neal are two bruisers who need to cut their physical losses of playing NFL fullback for 17 yeras apiece. Seriously guys; please retire.
Elsa/Getty Images
Believe me when I say these are two different players. I recognize that Lorenzo Neal wasn't half as valuable to the passing game as Tony Richardson, who was surprisingly serviceable in the flat for Kansas City, Minnesota and the Jets over his career.
But their situations are comparable.
They're both testing tepid and unresponsive free agent waters before filing retirement papers.
They're both fullbacks, a dying breed of screw-loosened crazies, self-perpetuating because A.) you have to be completely nuts to play that position at this level, and B.) it's not doing your cognition any favors for playing for 17 years, the tenure both hope to extend.
Please, PLEASE: Call it quits.
I didn't love watching them play nearly as much as they enjoyed it only because that was the passion with which these guys muscled through every snap. You're never 100 percent as a football player, let alone designated lead blocker and head-against-linebacker crasher, let alone someone doing it for the better half of two steroid-surged decades.
Yet you can apply whatever military cliche—good trooper, soldier, someone who battles, blah, blah, blah—you want to both. I'll distinctly remember Neal's head bobbing violently as he tried to motor his stocky 5'11", 255-pound frame into the alley to lead block on a stretch for the (deep breath...) Saints, Jets, Bucs, Titans, Bengals, Chargers and Ravens. Just like I'll never forget Richardson.
You wonder how their shoulder pads tied, they had so much heart.
But they've also got post-playing lives to look forward to (hopefully...). Save for Super Bowl wins, they earn mention for all the criteria on this list—namely my sincerest wishes that they salvage whatever tenuous health they've got left and retire.
Seriously. If I earned more than $10 an hour for part-time work, I'd start a fund to bribe these guys into the sunset.
Barring a promotion, I'll settle for a prayer group.
Matt Hasselbeck: No Reason to Stay, No Body to Play with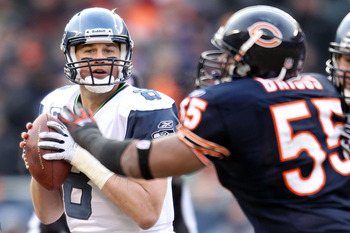 Matt Hasselbeck (No. 8) has a curious situation, given Kerry Collins' abrupt retirement. But you have to wonder how long a lifelong starter would warm to backup duty.
Andy Lyons/Getty Images
Kerry Collins' retirement drastically changes Hasselbeck's outlook.
Before, you figured the free agent quarterback would take a compensatory one-year deal from the Seahawks to keep the seat warm for either Charlie Whitehurst or hopeful acquisition Kevin Kolb. Logic would tell you, then, that he'd realize backup quarterbacking is only awesome when when your lower back and the open market aren't telling you you're through, and trade the headset for an earpiece somewhere in Bristol, Conn.
There wasn't much of anywhere for him to go. Whether you agree or not, all the teams with glaring quarterback voids either addressed them in the draft—that includes the 49ers (Colin Kaepernick), Panthers (Cam Newton), Vikings (Christian Ponder), Bengals (Andy Dalton) and even the Patriots (Ryan Mallett) spent a third-rounder on an insurance policy—are eyeing Kolb, or are selling us that Ryan Fitzpatrick is serviceable because admitting the truth, that the franchise is doomed by way of voodoo, hurts more.
Truthfully, I'd retire over playing in Buffalo. Not sure that Hasselbeck, a dedicated and above-average starting quarterback for the better half of a somewhat-memorable decade, would.
But the Titans' vacancy augments that scenario. Reports have the team seriously considering thrusting rookie Jake Locker into a starting role, but that doesn't preclude it to reaching out to a savvy vet like Hasselbeck to show Locker the ropes.
Still, I don't see that deal lasting more than a year. And honing on the contract neglects the possibility that his back, knee, hip and fingers—what cost him 27 games since 2001—go, or that endless weeks of golf are more appealing than playing for a Tennessee franchise that's conceded a dreaded "R" word transition.
It happens, but you can't rule out the chance that a lifelong starter refuses to submit to a backup role. (Maybe more than any other reason, because the last time Hasselbeck was No. 2, it was for Brett Favre.)
Austin Collie and Hunter Hillenmeyer: A Hit Away from Tragedy
I try to keep the tone light in my writing—joke here, Jon Stewartonian social commentary there. But I go for laughs first, foremost and last.
Not here.
I'm 100 percent serious when I express genuine concern for the health of Austin Collie, concussed twice in two gruesomely frightening hits in 2010, and Hunter Hillenmeyer, victimized by both minor collisions accrued over time and major ones, like the blow that ended his season early in Chicago's exhibition calendar.
Hillenmeyer's here more for the likelihood he retires than a plea that he does, given how he's already advertised that he's considering it, and he's been an advocate in the league's efforts to better understand chronic traumatic encephalopathy (CTE) and other long-term detriments of NFL football. (Hillenmeyer has donated his brain for research, the only means of detecting buildup of certain proteins that contribute to premature cognitive decline.)
I'm begging Collie to hang 'em up.
Look: He's a phenomenal player. For a fill-in playing for the most distributive quarterback in the game to average 50-plus yards a game and seven touchdowns a season is commendable, at worst. Don't care if Brandon Stokley and Anthony Gonzalez did it first—though I'd argue Collie runs crisper routes and is as capable as either, if not more.
I could selfishly root that he hangs around a little longer to prove my point, solely for the entertainment value in so doing.
I'm not. Not even close.
You have to be unsettled during every snap of Colts football in 2011. Truthfully, I'm not sure which scares me more:
The two concussion-inducing hits that froze Collie's limbs like he was reaching for a hug. That they were seven weeks apart, against Philadelphia (Nov. 7) and Jacksonville (Dec. 19).
Or comments like this...
"I think I have kind of put that behind me. I don't like to dwell on it too much just because it can affect your play going across the middle and catching another ball," Collie told KHTK in Sacramento a few days ago.
We want you to dwell on that. We want you heady of the consequences you'll face when you're gumming soup in a nursing home somewhere in your likely rusted "golden years."
Yes, retiring now would set an example that would trickle down to lower levels, helping change the culture of head trauma in high school and college to something less barbaric and foolhardy and stupid.
But I'm haggling that twenty-something Collie invest in seventy-something Collie.
The risk, the likelihood that a slot receiver takes a monstrous hit over the middle in the same system that's disastrously run him between the hashes and second and third levels twice (1) takes another jostling, isn't worth it.
(1) Just a disclaimer: I in NO WAY blame Manning, coaches, Eagle Nick Coleman, Jaguar Darryl Smith or anyone for Collie's concussions.
Brett Favre: Yes, I Have a Sense of Humor (Do You?)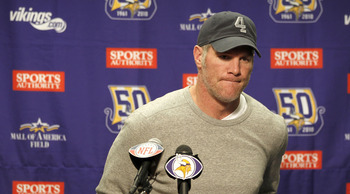 Gregory Shamus/Getty Images
I'm totally kidding. Comic relief...
Mark Brunell: The First Jaguar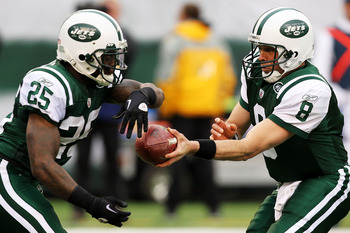 It's a shame that financial struggles relegated Mark Brunell (right) to an unceremonies twilight to one of NFL history's prouder careers.
Michael Heiman/Getty Images
That Mark Brunell is still in the league captures the essence of bittersweet.
Yes, I and every other fan of the game's history are happy he hung around to get a ring with New Orleans in 2009, and that as the holder of Garrett Hartley's NFC Championship-winning boot he's left his stamp on an iconic (and socially profound) run.
But he's still here for the same reason Tiki Barber came back: cash- (not football-) starvation. Word of Brunell defaulting on a slew of unpaid bank loans (if he's going for the "one of the guys" distinction, this helps) answered a lot of questions about 2010 bankruptcy, and why he's still on the Jets' payroll for $1.25 million to coddle Mark Sanchez into stardom. (Ironic, given that he backed up another up everyone's favorite—Favre—in 1994.)
He's a free agent in 2012, and I can't imagine he finds work.
We're not going to remember Brunell for that (so long as I've got a say, and a platform...), as much as christening the Jacksonville Jaguars debut season, albeit with a 4-12. The next three years, though, he ran the AFC Central (crazy, right?) title, culminated with an AFC-best 14-2 regular season mark.
Remember: This guy predated the franchise's all-time leading rusher, Fred Taylor, by three years. He vaulted Jimmy Smith to all-time great status (look at the numbers). He nurtured the 1995 No. 2 overall pick to enshrinement. (That was Tony Boselli.)
And he's the city's all-time leading passer. (And probably will be, once Jacksonville falls under the franchise relocation guillotine.)
This guy's got historical context:
Not only does he rank among the league's best lefties (one) and the second-best white boy running QB, only to young (two), but he's only 299 yards away from leapfrogging Kurt Warner (sure-thing HOFer) as No. 28 all-time, and three touchdowns shy of Sammy Baugh's (already Canton-ized) 187, the 40th most ever.
All that from the old guy clowned on throughout the 2010 season of Hard Knocks.
Boss.
Ricky Williams: For (No) Love (Lost) of (Leaving) the Game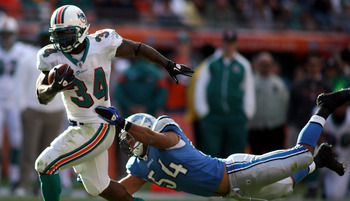 Ricky Williams (No. 34) doesn't need the game. Unfortunately, few teams need him.
Marc Serota/Getty Images
Some people will bang on Ricky Williams post-retirement, with an expected ETA of January 2011, for always slotting football pretty far down on his priorities. They'll say he threw away otherworldly talent solely to smoke weed, that he was was a strange, introverted individual with some undiagnosed behavioral disorder, and that he was a horrendous teammate and company man (and, according to portions of Run Ricky, Run, a pretty frustrating lover).
I acknowledge most of that. But I praise him for it.
For one, Williams has always been the intersection of Herculean genetics and Bo Jacksonian talent, and that he maintained that as long as he did, with as few incidents as he did, given the mountainous odds stacked against him given his life choices, I'd say that's pretty commendable. No doubt he owed it to the Dolphins to tip them before his last-minute 2004 retirement, so they could have addressed the position in the draft (and give them an excuse to not trade up with Minnesota to draft Vernon Carey at No. 19; yikes...).
But I've always admired how real he is. You love him. Hate him. Struggle to choose. But however you feel, you're making judgements based on a tangible, quantifiable face value. You can't say that about a lot of people, let alone athletes, let alone athletes of Williams' caliber.
Dan Le Batard put it pretty well in Run Ricky, Run: "Ninety-five percent of what he says is the most illuminating thing you have ever heard. The other five percent makes you think he wears a tin foil hat because it helps keep the aliens away."
That tension between genius and insanity defines most brilliant men. That gives Williams—more-than-gifted enough to have been the greatest back of our time, if not ever (if his head was screwed on right)—depth.
I dig that.
Between his copious number of carries (2,323 over 10 years, only three of which he wasn't hurt or expatriating from Canada, two of which were an unprecedented workload) and unreliability, I don't see many suitors for Ricky in 2011.
And I'm not too sure that Williams, a free agent, needs the money or is tripped up in the romantics of the game to waste away on some bottom-feeder's bench.
At best, I'm giving him a one-year deal for a veteran's minimum.
At worst, we've regretfully seen the last of Ricky Williams.
Flozell Adams and Pat Williams: Baby, (Knees Won't) Go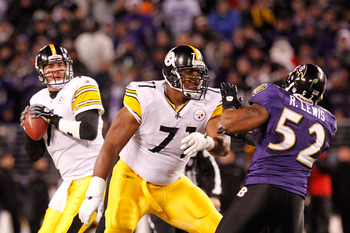 Flozell Adams (No. 71) has incentive as Pittsburgh's starting left tackle and a $5 million 2011 contractual binidng. But you wonder how, at 36, he's still trucking.
Geoff Burke/Getty Images
This one is pretty simple.
Two guys, a collective 32 years of trench duty, and only one contractually binding term in 2011.
The stars have aligned the twilight of Flozell Adams' (36) and Pat Williams' (38) careers.
That Flozell is still playing is baffling more because of his penalty propensity than age. A lot of tackles, like Walter Jones (retired at 35), Jonathan Ogden (then 34) and Orlando Pace (then 33), played into their late -thirties, so even though Adams will have outlasted them at least by two years, it's not unheard of.
And if it were only about talent, Adams, among the better-handed and sure-footed tackles of the last decade, would have a few slivers of NFL left.
But it's not.
Being a left tackle is almost as much about what you don't do—commit senseless penalties—than sticking with lightning quick defensive ends. That Adams is the most penalized lineman of the past 12 years, much of that time spent tormenting displaced Cowboys fans like yours truly, doesn't really bode well for his longevity.
But he's got one year and $5 million left on his deal with Pittsburgh. I buy Adams, starting tackle of a perennial Super Bowl contender, wanting to stick around.
But I can't see a market beyond the Steelers and this last go-round.
Especially not given his frame, the 338 pounds grinding his menisci into powder. I'm honestly shocked that problem hasn't yet felled Pat Williams, a less but more compact 317 pounds. How he's waddling around at 38 years old is nothing short of miraculous, and probably a testament to mammoth-sized will.
Illegal diuretics or not, even if said diuretics are thought to be masking agents for PEDs, I genuinely respect Williams for that, especially as he seeks a deal on a no-chance, Christian Ponder-led Vikings.
But do I think that's enough for the Vikings to offer him anything more than a one-year deal?
Not even going to dignify that rhetorical question with a response, even if posing it gives it credence and leaves readers waiting for some witty quip I'm too tired to write.
DeSean Jackson: The Curious Case of the Undersized Superstar
This is a tweener, straddling reasons within Austin Collie and Hunter Hillenmeyer slides—only honed in on the most dynamic (and delicate) player in football. Really wasn't sure whether to put that nasty Dunta Robinson hit in the picture, or his Week 11 theatrics. That's how torn this guy makes you.
I'm truthfully not sure that 2011 will leave Jackson concussed for his third time in as many years. (At least I genuinely hope not, given that it probably ends his career and jeopardizes his long-term health.)
But at a player card-bloated 5'9", 175 pounds, I'm not sure he can take it. If nothing else, his frame undermines his ability to withstand collisions. Literally makes him as durable as a cardboard box wrapped in aluminum foil in a demolition derby.
Look: Eagles fans, fellow ambiguously malnourished guys and Jackson himself can insist that size doesn't matter. And, maybe, if he played a different position (say, punter) or played it differently (like his game wasn't predicated on dragging across the middle to lose coverage in traffic), I'd gloss right over this one.
But I can't. That's how DeSean Jackson earns his laughably discounted $565,000 in 2011, the tail-end of a rookie deal from when he was picked in the second round in 2008 coming out of Cal.
That also presents something of a conundrum: How can the Eagles pay this guy mega bucks with a straight face?
For one, there isn't a No. 1 receiver in this league under 6' and 190 pounds. Larry Fitzgerald is 6'3" and 213 pounds. Andre Johnson is as tall and weighs a beefier 225, almost exactly Terrell Owens' dimensions. Calvin Johnson is bigger yet, at 6'5" and 236 pounds (like LeBron James-caliber measurables).
Must I go on?
With Steve Smith's precipitous decline, and Wes Welker's success coming exclusively beside big possession types (Randy Moss in New England, and Marty Booker/Chris Chambers in Miami, sort of like what Smith had in Carolina for years, Muhsin Muhammad, whose retirement seemingly catalyzed Smith's drop-off) is as much a function of his compliments demanding attention as Welker's elusiveness, this league has shifted in a different direction. It's pass-friendly, but unspeakably more cordial to guys who can run the 18-yard comeback, fight for a ball in traffic and don't need 30 seconds to get open (only exceptions there: sandlot-style bombs and jailbreak screens, neither of which are reliable, or deserving of uber bucks).
"But WAIT," you insist. "What about Jackson's dynamism in the return game?"
Believe me when I say that's been factored into the decision, if not the most underlying argument against it.
Yes, I'm wholly aware that Jackson's 2009 was so accomplished across the play-making spectrum that he became NFL history's only Pro Bowl starter at two different positions, wide receiver and punt returner. And I remember the last six seconds of Miracle at the Meadowlands 2.0, a game that will forever level Matt Dodge's ability to go out in public in New York with Steve Bartman's in Chicago (at least from callers to 1050 ESPN New York, you'd think it was that bad).
But who actually wants their best player on the most caustic play in football? Better: Who justifies to grossly showering said best player with green because of supposed value on those plays, which average only six a game? That's both A.) not at enough a frequency for ROI, and B.) plenty often enough for a guy to get his head ripped off.
That's a problem, especially for Jackson. Dude's got almost as many concussions (two) as he does punt returns for touchdowns, the results most encapsulating both ends of the "luck on any given play" spectrum.
So far as I see it, not only doesn't it compel me to lean on such a fragile player, even if his workload at back deep has been reduced to situational home run hitting—Jackson only returned 20 punts in 2010, down from 50 in 2008, and 29 a year ago—it doesn't excuse it.
That's horrendous management of resources.
Needless to say, Eagles fans had better cross their fingers that Jorrick Calvin, Jerome Harrison or Dion Lewis picks up the slack in the kick and punt return game.
TOCHO: Gotta Go. Really.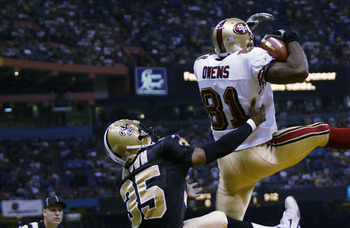 Ronald Martinez/Getty Images
This title is somewhat misleading, given that I'm not calling for Terrell Owens and Chad Ocho Cinco's heads individually.
But that social media-constructed, reality TV-bronzed Frankenstein of personas has gotta go. (Seriously, reminds me of an episode of Dragon Ball Z, only instead of saiyans merging power, it's diva WRs fusing egos.) I think the answers to the debt ceiling, alternate energy and dissolving partisanship from constructive politics lies in separating these two.
Since @ochocinco, 33, has wasted enough of my life already—he's doing to Twitter what T-Pain did to auto-tune, only instead of three-minute club jams, Ocho Cinco is doing it 140 characters a clip—I won't harp on him any more than to mention that A.) he's got one year and $6 million left on his deal, and B.) he's threatened to "whup (Marvin Lewis') ass" pretty explicitly.
Can't see that working out well.
As for Owens, I'm kind of hoping it does.
Truthfully, I don't care how he suffered the phantom ACL tear we can't seem to trace the origins of. Could've been a workout, entirely likely given the guy's crippling addiction to sit-ups. Could've been filming a reality TV show whose name I refuse to Google and give it any more undeservedly free press than Chris Mortensen and Adam Schefter have already.
Don't know. Not sure I ever will, either.
But that's never been pertinent with Owens. Since he emerged in San Francisco, Owens embraced the villain role, which for him (and everybody else with pompousness and fearlessness) is pretty easy. Started in Philly, spilled over into Dallas (and a few too many Percocets), and then ventured into the abysmal small-market mini fridges of Buffalo and Cincinnati.
The way he's owned it, though, deserves serious consideration.
It's one thing to post otherworldly stats, like Owens' number of yards and touchdowns (both No. 2 all-time) and receptions (No. 5). It's another to overachieve with the Bills and Bungles, scraping together career averages in yards per catch (Buffalo in 2009) and touchdowns (Cincy in 2010) with little incentive other than escalators. If you think that's all that matters for Owens, a guy so consumed by a competitive moment that he wept...over Tony Romo...you're goofy. Every time he whined and moaned and ostracized himself from model franchises and warm NFL locker rooms, it was because he wanted to win.
He had to.
That competitive furor was why I initially mulled going the "please retire, and save whatever face your legacy has left" and "seriously, a year in Jacksonville just isn't worth it" route. I figured I'd beg the guy to save himself from himself.
But I've totally flip-flopped. I want to see him come back. I want to see him sign with a team (he's a free agent now) come October, waltzing into some locker room off a completely reconstructed knee and months behind everyone's conditioning and familiarity with a system, and light it up.
Remember: It's rare you get to see a talent like Owens, 36. It's rarer still, that you get to see someone defy sabermetrics, orthopedics and odds in the same self-serving clip. Unbelievable theater.
That, and I still think that somewhere in there rests a good-hearted, guy swallowed by the limelight. I see the same nervousness from Owens in all his public appearances that I did from LeBron James during "The Decision." Fidgeting. Biting his lip. Soft-spokenness. (Talking about tone and volume, not the crass of his words.)
That, to me, screams a guy who's milking an opportunity to be relevant for all it's worth. Taking it a little far, for sure. But more a victim of his own star power than anything.
If 2011 does prove Owens' last season, it will be as much because of his waning health as glimmering opportunity after football (same goes for Ocho Cinco, though I type that more begrudgingly and reluctantly than I have energy to express right now). Dude's already had a few shows, which, again, I refuse to name, and worlds of charisma to boot. For the same reason Jason Taylor belongs on this list (whoops...), a guy with more opportunities than necessity to destroy his body further, Owens does.
That, and he's ancient and running out of friends. Drew Rosenhaus is good. Not that good.
Darren Sharper, Brian Dawkins, Bob Sanders and Mike Brown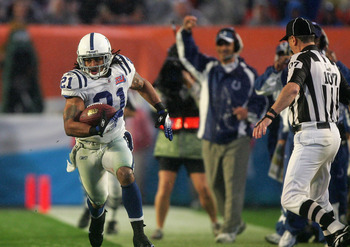 Jed Jacobsohn/Getty Images
I didn't have enough characters in the title for charm, but the nostalgia these names conjure more-than-compensate.
They're all grouped together for space's sake—if you see a 10 zillion-slide column, you probably won't read any—but really should be compartmentalized into subcategories.
In one grouping, you'd have Darren Sharper and Brian Dawkins, specialists with both accomplishments and (potentially) a market beyond 2011. The other sub-strata include Bob Sanders and Mike Brown, one who gleaned his potential, but neither of whom realized it because of injury.
Save for maybe the Woodsons, Rod and Charles, who bookend Sharper's second-most interceptions returned for touchdowns in NFL history, Sharper might go down as the craftiest with the football. He never had Antonio Cromartie's gait or Deion Sanders' quicks, but Sharper just looked like he knew what he was doing with the football. Set up blocks. Tough to bring down. The kind of carrying the football chops that made you Google whether he played running back at William and Mary.
(He played quarterback for an otherworldly high school program, the kind that teaches coverages and installs plays progressions, which makes sense. Figure he reverse engineered offenses and channeled QBs' mindsets.)
I get that his last healthy year, 2009, added nine interceptions to his five Pro Bowl resume, scattered between Green Bay, Minnesota and New Orleans.
But at 35 years old, you seriously question his ability to perform. Microfracture surgery doesn't treat anybody well, let alone guys with 14 years of service to their names.
Kind of surprising that Sharper's body betrayed him, but Brian Dawkins somehow held up.
More than quarterbacking the late Jim Johnson's frenetic, blitz-happy Eagles defense; more than his iconic stature in Philadelphia over a quarterback (Donovan McNabb) and running back (Brian Westbrook, who was loved, but not hallowed like Dawkins); more than anything else, you remember Brian Dawkins for his hitting.
Dawkins was the prototypical strong safety—who played free safety. Dude could hit. Like, momma said (Brian Dawkins) knocked you out.
(I legitimately think the 1990 song was written proactively in homage of Dawkins, who didn't enter the league until 1996.)
Nonetheless, in a classic botched Bill Belichick mimic job, an Eagles favorite, the organization cut ties with Dawkins before his decline, rather than getting suckered into drafting a contract handily rewarding him for his last four years of service instead of his next four. They released him in 2009, a few months before Denver scooped him up.
Other interesting fact about that defensive backfield: At one time, Denver may have sported the oldest, crustiest, most over-the-hill secondary in NFL history. The 2009 Broncos had Dawkins (then 36), 31-year-olds Champ Bailey, Renaldo Hill and Andre' Goodman, and—as if they couldn't get closer to collective career hospice care—signed a 34-year-old Ty Law to a one-year deal mid-season.
To put it in context: Imagine if the 2000 Redskins trotted out three, 33-year-old Deion Sanders and brought Darrell Green out of retirement at the ripe age of 40 to compliment Sanders on Washington's defensive left.
Crazy.
Dawkins will go down as one of the grittiest players of all time, if nothing else for his reliability and consistency. And that's what we're saying about a guy who, for various reasons, missed 31 games in 13 seasons, which belied how often he should have been shelved, given how viciously he hit.
As for when he played: He didn't miss tackles. (Asante Samuel) He didn't blow coverages. (Roy Williams)
He wasn't Ed Reed, but who is?
But, even due $6 million a year until 2013, based on a ludicrous five-year, $17 million deal he signed in 2009, you can't imagine him playing that out. Reports that he's willing to restructure tell you all you need to know: A.) the Broncos know his skills are deteriorated, and B.) Dawkins knows his skills are deteriorated.
Still, there are fewer reasons to dislike Dawkins than there are inches of neck holding up his head. (It's like he's got little emergency brake stoppers instead of traps.)
Kind of how you felt about Bob Sanders.
Not heartbroken, how you felt for each of his six injury-ravaged seasons. He missed 10 games in his rookie year in 2004 (stress fracture in his foot). He was nixed another 12 times in 2006 for a knee injury.
Since signing a favorably leveraged five-year, $37 million ($20 million guaranteed) deal in 2007, Sanders has missed 24 of 33 games for a knee and biceps tear that dragged through his last two seasons.
That doesn't bode well for anyone, let alone a one-year waiver on San Diego's balance sheet for the veteran minimum and escalators.
Sounds crazy to put him on this list, given that he debuted as recently as 2004, was instrumental in the Colts' Super Bowl win in 2006, won the AP Defensive Player of the Year Award in 2007 and is the subject of the quintessential training camp story every year, none of which you doubt that he'll be OK this time, that his bad luck is behind him.
But how can you expect him to hold up, when he's only ever started 15 games in a season, and is batting 2-for-7 in a game of "not suffering catastrophic injury"?
You want to. But you can't.
Neither can you for Mike Brown, an unredeeming sob story.
Brown debuted in 2000 with a career high 80 tackles. He was sort the Emmitt Smith of the Bears defensive secondary. Never the beefiest or speediest. But he was a stickler for detail, capable leader (though, with Brian Urlacher, he never really had to be), more opportunistic than the numbers suggest (he only had 11 interceptions his first four years), deceiving given his presence) and an all-around respectable pro.
***BONUS SLIDE*** Peyton Manning: Before You Hate Mail, Hear Me out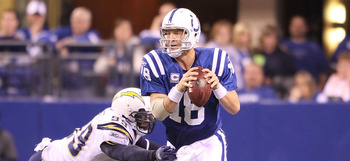 Andy Lyons/Getty Images
Keep Reading