The Sexiest Women of Copa America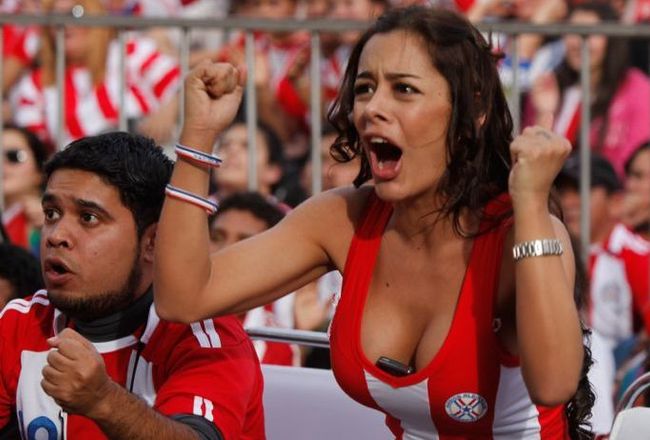 I am a fairly new fan of soccer, recently attracted to the game by last year's World Cup, this year's Women's World Cup, and this year's Copa America.
Soccer was never my first choice as a sport growing up, but the game has grown on me.
And while I have a new appreciation for the world's game, there is something else I also appreciate about soccer: The game's gorgeous WAGs, sexy celebrity enthusiasts and flaming-hot fans.
Thus, in honor of Copa America and my love of the various aspects of soccer, I present to you the sexiest women of Copa America, or, the sexiest women related to the various countries in Copa America.
Listen, it's a soccer-themed slideshow with beautiful women—start clicking through the slides already!
Argentina Fan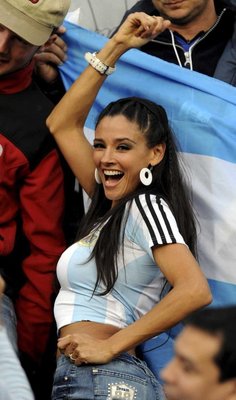 The one thing I've gathered from soccer is that it is a game of progressive tension, slowly increasing until a goal is scored.
When that goal is scored against your team, life feels bleak.
When that goal is scored by your team, life is full of so much joy you simply want to dance.
So dance away, lovely Argentina fan—we understand.
Argentina: Zaira Nara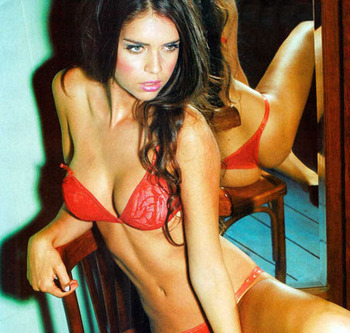 Bolivia: Jessica Jordan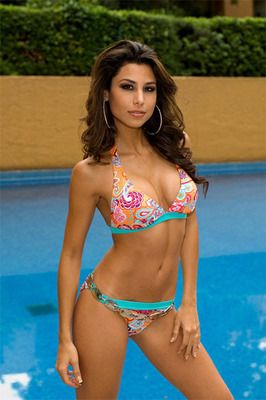 She was Miss Bolivia 2007, so I'm just going to go ahead and assume she is a fan of the soccer team.
Just roll with it.
Brazil Fan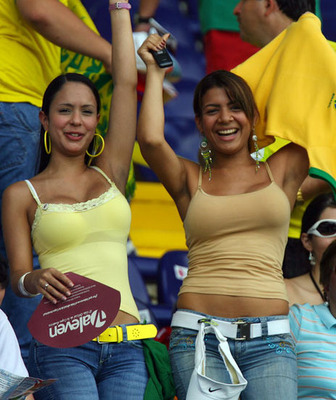 I'm thankful to have been born in America, and I love my country.
But there are times I wish I was born in Brazil.
This is one of those times.
Brazil Fan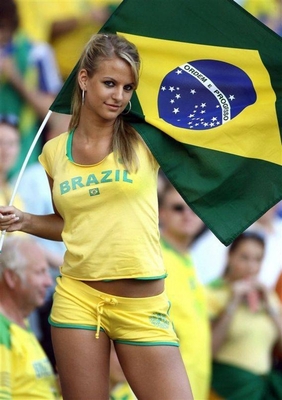 Seriously, I want dual citizenship.
Brazil: Caroline Celico
It was a surprise to many that Brazil's Kaka was left off of this year's Copa America team.
No matter—he and his beautiful wife are surely still rooting on the team.
Brazil: Adriana Lima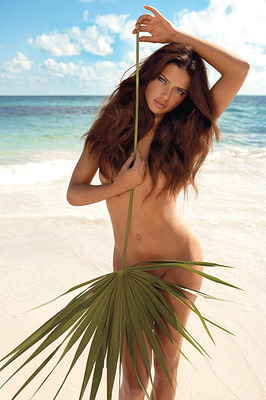 I don't know if Adriana Lima is a soccer fan, and frankly, I don't care.
The fact that she possibly could be a soccer fan is enough reason for me to include her.
Brazil: The Feres Twins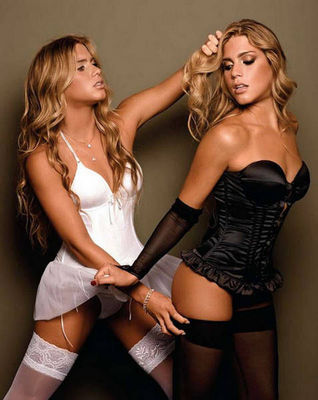 Brazil: Gisele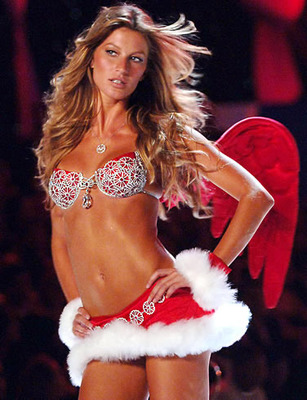 I'm fairly certain Gisele Bundchen is a soccer fan, and she is a football WAG, even if it is American football.
As you can see, I'm pretty much just taking hot women from Brazil and adding them to this slideshow.
In honor of Copa America, of course.
Chile Fan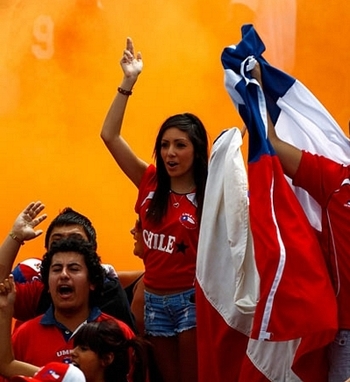 Her shirt says Chile, but she sure is hot.
Insert sarcastic rimshot here.
Chile Fan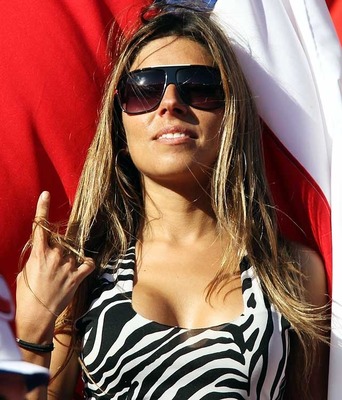 No zebras were harmed in the making of her shirt.
The shirt, however, looks like it is being stretched to its limits.
Chile: Pamela Diaz
This Chilean model is also the ex-WAG of ex-Chilean national player Manuel Neira.
Yeah, there are a lot of "exes" involved in this one, but we're sure she's rooting her home country on.
Colombia: Shakira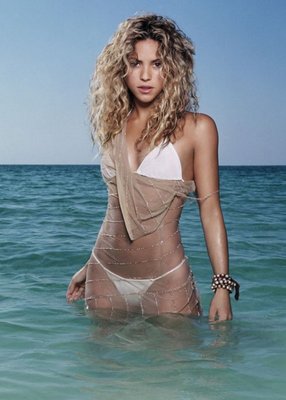 The super-sultry singer is currently dating Gerard Pique, who is a Spanish footballer.
But she is Colombian (and a soccer WAG), so we felt compelled to include her here.
Costa Rica Fan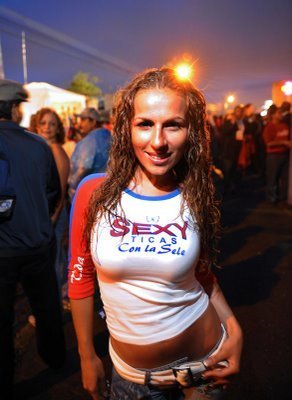 That's a fairly accurate shirt, no?
Ecuador Fan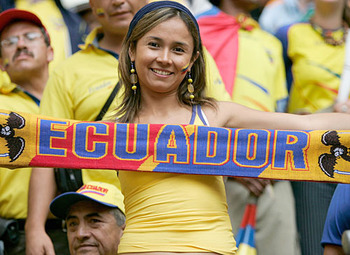 With a win over Brazil, Ecuador—currently in last place in Group B with only one point—would advance to the next round in the Copa America tournament.
Yeah, that seems likely.
Ecuador Fan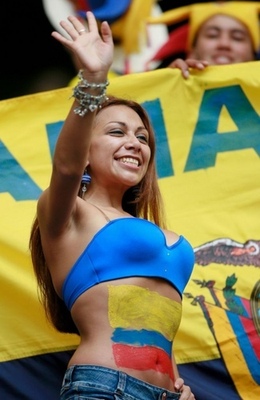 Look, she's already waving goodbye to everyone.
We'll miss you too, Ecuador and Ecuadorian fans.
Mexico Fans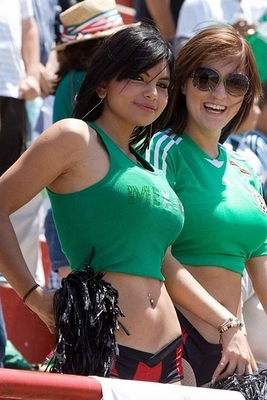 God bless our neighbors to the south.
Mexico Fan
Am I the only one bothered by the handball taking place here?
Yes, I'm pretty sure I am.
Mexico: Ines Sainz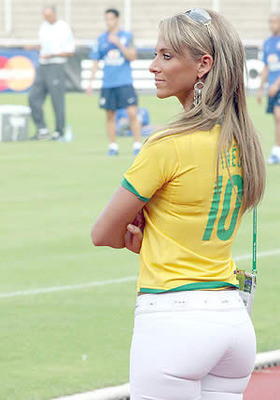 Sexy sports reporter Ines Sainz recently said the following about Copa America, which I translated via Google Translator:
"Of the group C leaves the champion of the Copa America ‬ between Peru and Uruguay with Chile as the surprise!"
Okay, thanks Ines.
Paraguay Fan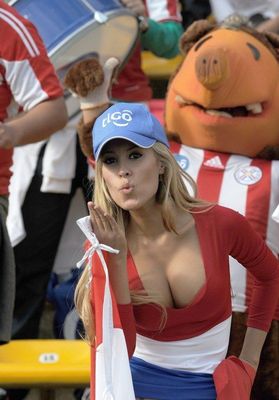 This unknown fan has made quite a splash at this year's Copa.
For more pics of her, I highly recommend going here.
Paraguay Fan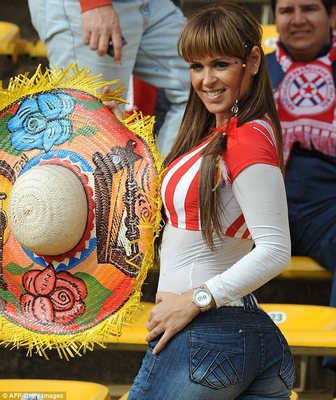 The crazy thing about this photo is that you probably didn't even notice the incredibly bright and gaudy hat she is holding.
Paraguayan soccer fans, where have you been all of my life? Why am I just learning of your stunning beauty now?
And seriously, what the hell is going on with that hat?
Paraguay: Larissa Riquelme
The gorgeous Paraguayan model made me a fan of her country's team with one sentence:
"If Paraguay wins the Copa America, I'll pose naked right there on the field" of Santa Fe's Brigadier Stadium, she said, according to news agency AFP.
PAR-A-GUAY! PAR-A-GUAY!


Peru: Irina Grandez and Daysi Araujo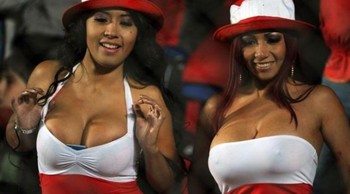 These two lovely ladies have been making quite the splash at this year's tournament, as they are unafraid to flash their assets to help spur their team to victory.
Man, soccer is awesome!
Uruguay Fan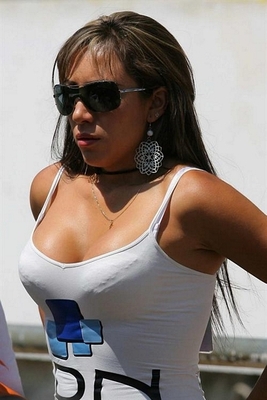 Uruguay need only to beat Mexico to advance to the next round of the Copa America tournament, though they could also advance if they tie and Costa Rica beats Argentina or they tie and Venezuela beats Paraguay.
How long did it take you to look at the writing on this slide?
Venezuela Fan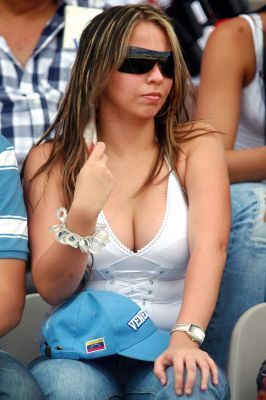 Venezuela is one of four teams that has already advanced to the quarterfinals (Peru, Chile, and Colombia are the others).
She too owns a hat you likely didn't notice, which was the only indicator of her Venezuelan ties.
Hooray for pictures!
Be sure to hit me up on Twitter (@TRappaRT) along with the entire B/R Swagger team (@BR_Swagger).
Keep Reading