Colorado Avalanche GM Greg Sherman Building Positive Team Culture in Denver
July 11, 2011
Doug Pensinger/Getty Images
There is a famous photograph of young Colorado Avalanche centre Matt Duchene, standing in his childhood bedroom in Haliburton, Ontario.
Wearing an Avalanche jersey and grinning from ear to ear, Duchene is pointing to a framed Patrick Roy jersey to his right and a similar Joe Sakic sweater to his left in a room cluttered with Avalanche memorabilia.
The current Avs star grew up a fan of the team despite living over 1,600 miles away from Denver, and on NHL draft day, Duchene's excitement couldn't be contained, as he beamed about being selected third overall by his favourite team in the world.
This summer, Avalanche general manager Greg Sherman traded a first-round pick in 2012 and a second-round draft pick in 2012 or 2013 to Washington for Capitals goaltender Semyon Varlamov, a move that pundits from all over the hockey world groaned about unanimously.
But maybe Sherman has a plan in place to build his team with players who genuinely want to be a part of the Avalanche franchise.
Varlamov, like Duchene, grew up an Avs fan.
"Patrick Roy, he was my favorite player in the NHL," said Varlamov in a recent interview with the Associated Press. "I wanted to play here when I was a kid."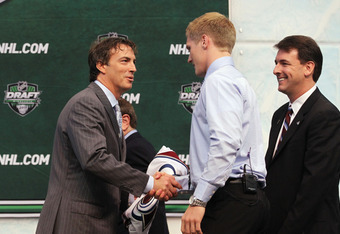 Bruce Bennett/Getty Images
Professional athletes are occasionally a whiny bunch and, when unhappy, often don't perform to their potential. Sherman looks to avoid this by bringing in players that hold Colorado in the highest regard.
Paul Stastny's father, Peter, spent a decade in the Avalanche organization back in the 1980s when the team played in Quebec City and were known as the Nordiques. Paul also chose to play his NCAA hockey at the University of Denver, so his ties with the team and the area are quite apparent.
Gabriel Landeskog, the 2011 second overall draft pick, grew up idolizing Avalanche great, and fellow Swede, Peter Forsberg and the effects are seen in his game. Like Forsberg, Landeskog can dominate his opposition both physically and offensively, and should be able to crack Colorado's starting roster this upcoming season.
With the 11th overall pick in the same draft, Colorado selected Duncan Siemens, a former Saskatoon Blade of the WHL. A native of Sherwood Park, Alberta; what's the draw for Siemens? 
He becomes a potential future teammate of an old friend.
His defense partner on the Blades, Stefan Elliot, was drafted by the Avs in 2009. The two defencemen complemented each other well, as Elliot was the offensive guy, while Siemen's provided solid defence and thunderous body checks. The possibility of playing with a former teammate, with whom an established chemistry is already developed, must be a welcoming factor.
The Colorado Avalanche's first-round pick in 2010, Joey Hishon, is good friends with current Avs centre Ryan O' Reilly. According to RotoWorld.com, Colorado brass allege to have had no clue that Hishon and O'Reilly were pals at the time of Hishon's draft, despite the fact that Hishon visited three Avalanche games at the Pepsi Center in his draft year to visit his good buddy.
Whether they know it or not, the Avs are sculpting a roster that comes with built-in chemistry and established happiness about being a part of the franchise.
Sometimes the most dangerous teams aren't the most talented, but the most united. With the recent pieces added to their depth chart, the Avalanche have certainly taken a step in the right direction.
This can only bode well for the team, as they continue to grow together into a competitive NHL squad, and jell into a tight-knit community amongst themselves.