Monday Morning Rehab: Maurice Jones-Drew's Knee Under the Microscope
Use your ← → (arrow) keys to browse more stories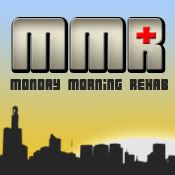 Editor's note: Remember to submit your best fantasy football team name into our July 2011 contest. Winners get Mardi Gras prize-packs!
Looks like I was a year too early in predicting Maurice Jones-Drew's fantasy decline.
Last summer in a column I penned for AskMen.com, I predicted that MJD would finish outside the top-10 of fantasy running backs (He finished twelfth). Not that bold, but considering he was ranked by most as the No. 3 back heading into 2010 it was a little off the beaten path.
Based on what we are hearing about MJD so far this summer, 2011 might be the cliff for Jones-Drew.
The knee that slowed him down last season, particularly during the back-half of the year, continues to rear its ugly head this offseason. Jones-Drew admitted to some extra downtime because of the knee and may only be 80-85 percent healthy right now.
That is not a good sign with only a few weeks until training camps are set to open and just about two months until the first regular season game.
Maurice Jones-Drew [RB, Jaguars]
From ProFootballTalk:
Coming off major knee surgery for a reported "bone-on-bone" condition, Jaguars running back Maurice Jones-Drew faces more questions heading into a season than any time since his rookie year.
Fantasy radars are squarely locked onto MJD's backup, Rashad Jennings. While it is good to know Jennings' existence for fantasy research purposes right now, it still is too early to discount Jones-Drew. Until training camp open and the preseason heats up, fantasy owners will not be able to make an informed decision regarding MJD's status for 2011.
Michael Crabtree [WR, 49ers]
From Fantasy Knuckleheads:
Michael Crabtree's foot injury—earlier believed to just be soreness—is a more serious situation than just than originally thought, and it is the same foot injured in 2009 raising a concern reports the San Francisco Chronicle.
Yet to get off the ground as a fantasy prospect, Crabtree can ill-afford another slow start. Fantasy owners already are starting to lose hope in Crabtree despite the obvious talent. Any slow-down suffered by Crabtree only buoys the value of teammate Vernon Davis, the No. 1 receiving option currently in San Francisco.
Austin Collie [WR, Colts]
From Shutdown Corner:
"Hey, maybe I'll be just fine if my head keeps getting beaten like a pinata" seems like an awfully cavalier attitude, but it also might be the only attitude that makes sense.
Collie is not scared to step back onto the football field despite some horrific collisions during his young career. Good to hear he is not afraid, but if he continues to get his head bashed in by defenders he can expect that young career to become a brief one. Hopefully the Colts can get him some protection over the middle of the field, or the NFL can continue working on protecting players from damaging head injuries.
The MMR will continue to run every Monday morning as scheduled during the regular season. If you have an injury update or want an update on a certain player, please leave a note in the comments.